For 3 years now we have been predicting the slide from listing subscriptions to "instant book" and from customer loyalty to complete indifference.
We have been right on every count.
2017, we believe we will see the door completely shut on any open enquiry based subscription opportunity. Every show of guest interest will lead to a credit card transaction and HomeAway will become another Airbnb, Booking.com or TripAdvisor.
If you're are a guest, it will be hard to tell one OTA from another. Price then becomes more important. Simple search opportunities for guests means removal of property names, less complex descriptions and reduces any personalisation online or through correspondence.
You are not the customer, guests are…
It continues to astound me personally how a company could continue to plough on in the face of such customer complaints, but does not surprise me considering the actual goal.
In this case, the customer is the business that provides properties, but oh…how times change.
Ask any OTA and they will say their customer is the guest; the property is purely a commodity.  Ask yourself this question? How powerful are individual owners or small managers in this OTA eco-system, (>50% of properties)?  I think we all know the answer.
A move toward managers
HomeAway may be wise to address their perceived customer loyalty when they cannot control the product directly. This is another reason why they are targeting managers in 2017, which have single integrations and are easier to curate and support.
"Click" – The door shuts, you can forget real guest interaction
The evidence is all there. For those of you who pay a subscription and have "Request to Book" and enquire, check the HomeAway network as they quietly close the door and make even more subtle changes.
Remember it's not the same on every site all the time as A/B testing and deployments happen in different markets, so you may see something different to this. But this is an example:
Which words DO NOT stand out in the image below?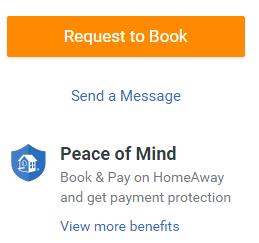 2. Even at "Send a Message" level, we are seeing the guest channeled to a booking and credit card entry process.
Sure you can just use subscription and not have the "Request to Book" option. But then you will never be found amongst 1.3m listings!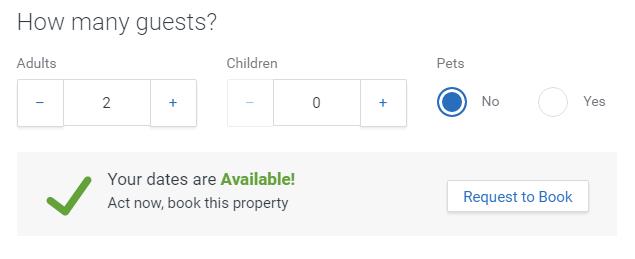 3. The "Request to Book" button then sends a guest to the standard booking page to capture the card details and bill their service fee (£53.07 in the case below).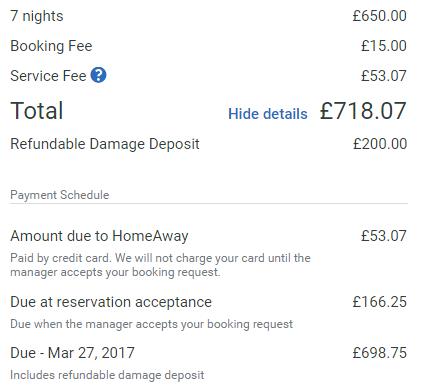 Add in more site "weaponisation":
There is less and less chance of any simple enquiry and a guest avoiding the "traveler route" and at the very least the service fee. Plus hundreds of annoying emails then generated.
Good bye "Enquire / Inquire"?
Why keep it? No reason at all in a pure e-commerce model, except when you transition from a previous income model. It has been to simply maintain by stealth, a client base and to avoid a cash crisis and allow major cross site and partner integrations.
As we have seen a pure listing does not see the light of day unless a service fee can be bolted in, so these owners will simply drop off that model anyway.  Its a shame, as not so long ago the most appropriate rental marketing model was listings. Start this video at 16.30 minutes! to see what HomeAway CEO said in 2014.
Bolting the door shut
The rules of the e-commerce marketplace model, require that buyers and sellers do not see each other, so eloquently put by Brian Sharples in one of his lectures along with many other revealing facts and thoughts!
Expedia acquisition, the integration of services requires complete booking control to maximise income. This means using every trick in the book to distance guest from property owners or managers until money has passed hands.
After all, you are just cleaners by another name!
The effects
Guests will be charged more and as there is less opportunity to connect at a personal level with the guests prior to arrival problems will occur.
It all means less conversions, more misunderstandings and a hotel style perception by guests of an industry that is far from this.
Is it all doom and gloom?
No, but it does mean thinking laterally, if you accept that these OTA's really couldn't care less about the suppliers of product and they all need to comply completely.
The PR  that has been spoken about why the change was made: "guests demand  it, its to help you etc" is of course  not entirely and in many cases completely untrue.
It's a money issue, pure and simple. There is nothing wrong with this, but honesty is part of customer service and loyal customers are the best payers.
In the last week, due to our crowdfunding exercise, we have received literally hundreds of calls and emails about the market challenges and what can be done.
More predictions
So here are some more predictions that will affect the OTA's in the next two years and may bring some joy to frustrated owners:
Prediction 1
New sites will appear that do play to the more traditional, enquire, lets engage and book off platform. This week tripz.com entered our radar. There is a vacuum, it will take work, but one of more of these platforms will see traction. Owners are scared if they support them, they will sell out too.  It's all part of running a business, be ready to change and don't put all eggs in one basket.
Prediction 2
Guests who plan will become more savvy and price plays a part. Expect more meta search BUT, expect to see more direct to managers and dilution of OTA's in meta. Expect more comparative pricing tools, browser plugins, or re-marketing site tools.
Prediction 3
Incredibly cheap data silos where alternative non-OTA sites can access large volumes of owners who want direct business. Owners can store all property data and be approached for marketing on platforms on their terms. This is not a channel manager or PMS, this is a service approach to allow more marketing reach.
Prediction 4
There will be more market niches that focus heavily on local & various sectors. This ensures OTA's cannot compete at this level because of the required knowledge and support.
Prediction 5
Groups of owners or managers cooperating on an industrial scale.
Prediction 6
More acquisitions by large managers who will come to compete on scale with OTA's themselves.
Prediction 7
Guest services, tours and attractions brought to independent sites via API's. They'll use social tools to compete with Airbnb Trips at the same professional level.
Comments