In June this year, The Telegraph newspaper published an excellent article with respect to how technology companies are controlling a growing number of aspects of all our lives. Although the article was considering the escalating valuations it does highlight the invasion of the fabric of the Western world's consumer and business infrastructure. If you added in Microsoft to these "FAANGS" (Facebook, Apple, Amazon, Netflix and Alphabet's Google) as a large company and it's pretty certain that you will have used one of these services today and are using one right now! The following graphs show the rise and rise of their share prices and capitalizations.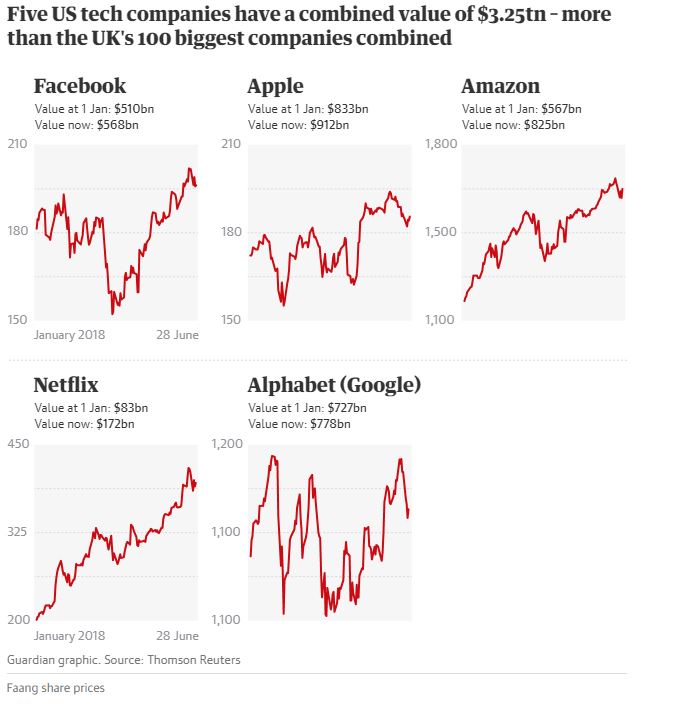 These companies infiltrate each aspect of our lives. If you have a phone, the operating system is probably developed by Apple or Google (Android), if you use email it could well be Gmail and your search engine is Google or Safari. Amazon makes over 1.6m deliveries per day and will soon be delivering groceries worldwide and has its heart set on any number of marketplaces. Rentivo runs its tech from Amazon servers and is guilty as charged! Netflix has made massive recent inroads and Facebook needs no introduction. Also, remember these businesses own lots of others, you may not be aware of either and have been buying tech and brands continuously for years. Alphabet's (read Google) list is substantial a reflects the direction of the company too. AI, language, visual/virtual reality and data exchange are recent acquisitions and are a sure indication of what is to come.
There are people who love and hate these companies, there is all manner of social problems and data misuse issues being addressed, but who has the best-paid lawyers and biggest bank balances? Apple has $250bn in reserves (2017), much of it waiting to be repatriated after "minimizing" tax. That's a lot of acquisitions, product development, and market influence.
These businesses need traction and growth and this means making all their products not just useful but addictive. The net result is that these businesses are very influential, dangerous and useful at the same time.
Is the future of Traditional Vacation Rentals in good hands?
The FAANGS share prices have fluctuated but their growth has been undeniable. This stimulated the rental neurons: how soon would this large company approach affect our humble rental industry and would it be completely dominated by one or two businesses?
Our previous research shows that OTAs were not being well accepted as they invaded the traditional space. Despite this nearly every respondee used over 2 OTAs (EU) and 3 OTAs (USA) to generate bookings in our survey a couple of years ago. Despite the pushback, they have continued to make inroads into the market at what some may consider, an alarming rate!
It is also very clear, the FAANGS have introduced an effortless, frictionless way of getting what you need. Amazon has everything in one place, delivered next day, with endless reviews and supply penalties. Apple has tied its user to a technology experience and mints cash from it. Facebook plays on social addiction, Google dominates search questions, professional email use, web tracking and more and hence the marketing of the major companies they are aligned with.
The Parallels
Paralleling this the OTAs have adopted a tried and tested e-commerce business model. Aggregate for choice, build brand trust, reduce booking friction, use the booking community to create the selection by reviews. This is just the beginning, the use of profiling for smart marketing, AI and any number of unseen digital forces mean that we can expect to see more pressure to be onboard.
Being afloat in an ocean where no-one can see you, is rental death. There is too much choice. You have to be found and this is the foundation of every successful platform. Visualising the extent of the how difficult a proposition this may be without digital marketing is hard to imagine. If you would like to visualize this be amazed by Google Earth (them again) and the ability to drill down to single houses.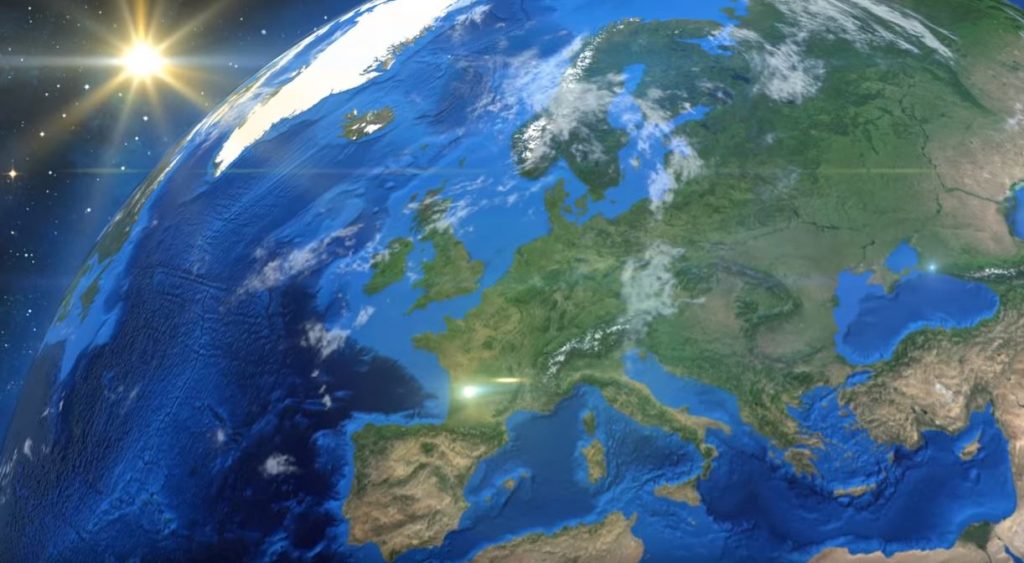 In doing this, however, the accommodation market has been commoditized to a large extent and differentiation is harder to demonstrate, despite no single product being identical. AI is being used to improve the journey based on a customer's profile. This level of application plays to the largest companies opportunity, not the small manager currently attempting a direct booking. No doubt these services will be able to be bought in via a data connection in the future for the rental community. Already well established with hotels we already have services that will scan social media to help prioritize and elevate the response to inquiries and presentation of inventory and cross match previous bookings, surveys and purchase history. GDPR and the growing awareness of privacy may well hinder this, but even here there is an opportunity as people can be paid to reveal their data.  Businesses already exist that are doing this. This is almost akin to the music licensing industry.
It is hard to graph the OTAs success and true financial penetration, generally being part of larger businesses as the companies involved cover a wide range of accommodation and travel sales. The companies themselves, however, are substantial, by our market sector standards, identifying the opportunity to monetize a diversified and fragmented product group. We published an article on the "mouthwatering rental market growth" that has attracted the significant investments in this sector over the last few years.
Inventory growth has been substantial and expected to accelerate for 2-3 years.
The big 3 in Accommodation: BAAE
The companies who are beginning to dominate this space are Airbnb, Booking Group and Expedia (Inc HomeAway). More about Google later!
Airbnb
With Airbnb heading to an IPO, some of the estimates of their growth and income are now being presented. The graph below illustrates the expectations. Bear in mind they are nothing but a marketplace, they have never cleaned a toilet or kicked a guest out, ever! Read more of the analysis here.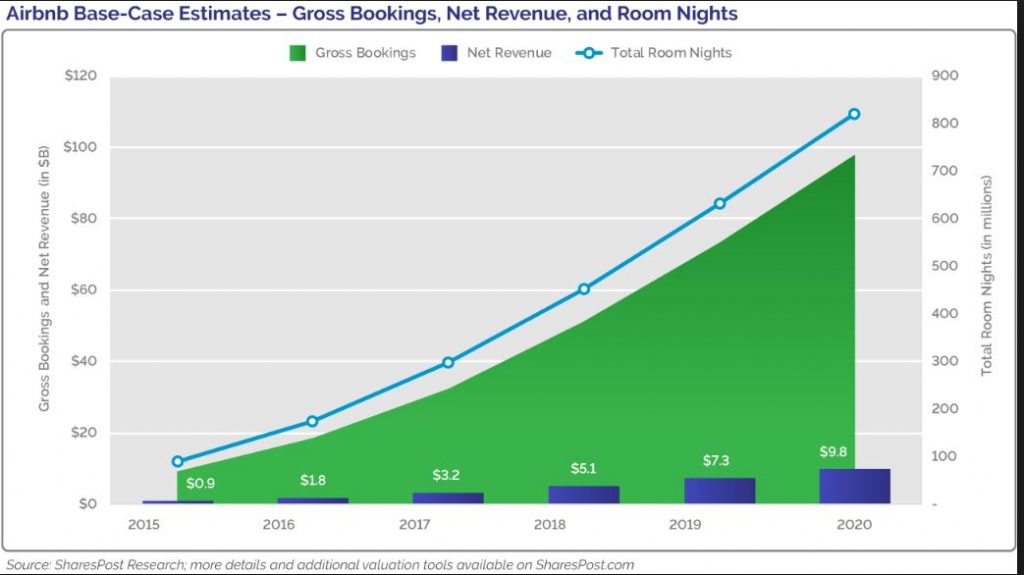 There is no hiding the fact Airbnb have lost their initial host focus mojo. It has a natural focus on the guest now and this is not just the live "like a local" experience. They are integrated to hundreds of managers dynamically, push to instant booking, very short stays, cheap prices and most of the inventory is now full properties. They purchased high-end businesses such as luxuryretreats.com, they work with chains such as Dominos and they have created Airbnb Plus and Airbnb Business, plus partnered with construction businesses for Airbnb branded and "Airbnb Friendly Apts".
Their vision has moved on and the Airbnb brand has permeated to the far ends of the earth. Now people use a "Hoover" to vacuum, ride "Escalators", take "Aspirin" for headaches, wrap valuables in "Bubble Wrap", keep their coffee in a "Thermos", drive on "Tarmac, sign their rental agreements with a "Biro" and stay in an Airbnb! (All lost trademarks but everyday words, so take care all you Airbnb startup URLs). We published an article on this recently.
Expedia
Expedia made significant inroads into the rental market through its $3.9bn+ acquisition of HomeAway and is beefing up its tech and more closely integrating HomeAway with Expedia.
| | | | | | | |
| --- | --- | --- | --- | --- | --- | --- |
| Millions $'s | Income | Income | Increase  | Revenue | Revenue | Increase |
| Full Year 2017/2016 | $8,746.00 | $5,979.00 | 46% | $906.00 | $689.00 | 32% |
| | | | | | | |
| Q1 HomeAway 2018/7 | $3,947.00 | $2,697.00 | 46% | $234.00 | $185.00 | 26% |
| Q2 HomeAway 2018/7 | $2,814.00 | $2,123.00 | 33% | $297.00 | $224.00 | 2% |
With 1.5m properties and closing on $10bn in gross income and $1bn in revenue, this would indicate an intrinsic value of $650+ per property per year revenue. You can see why servicing pure listings are less important as Expedia pushes to a full e-comm. model.
Expedia has seen hotel direct bookings challenge their position and damage their earnings but have made a note that HomeAway is expected to boost its future revenue. The hotel distribution market is far in advance of rentals and easier in many ways to handle technically with no need for minimum stays, signed agreements and damage deposits etc.
The direct marketing exercises that we have seen (e.g Stop clicking around) are having an effect and will continue to develop and grind away at the OTA mass market approach. Rentals are still early stage in distribution and the lessons learned by OTAs with hotels will no doubt be on their strategy timelines.
Booking.com
We published an article on BCOM last week and the move to cross-channel marketing, with less dependency on Google and BCOMS growing brand strength. They are becoming a rental force to be reckoned with and claim 5m+ rental listings.

Booking.com mints money and is without a doubt the leader in instant booking. Completely guest-centric and with a vast amount of experience in conversions, pricing, and the booking journey, they are the profit center to be challenged by the others.
| | | | | | | |
| --- | --- | --- | --- | --- | --- | --- |
| Millions $'s | Income | Income | Increase  | Revenue | Revenue | Increase |
| Full Year 2017/16 | $12.43 | $10.31 | 17% | $2,340 | $2,134 | 9% |
| | | | | | | |
| Q1 Booking 2018/17 | $2,928 | $2,419 | 17% | $607 | $455 | 25% |
| Q2 Booking 2018/17 | $3,537 | $3,024 | 15% | $977 | $720 | 26% |
Booking mainly books accommodation (they do publish some car rentals and flight income) and its clearly a booking machine. This is in millions and works out at

This works out at $18 income per booking or $118 gross per unit sold. With high-value homes from the likes of Luxury Retreats and Airbnb+ etc now adding to the portfolio, margins and bookings will increase. It's not just cheap or modest rate hotel rooms anymore, its the complete spectrum of prices and accommodation.
Supplier Dependency
This largely depends on where the property is, the type of property, the levels of activity of the owner, how long it has been a rental and more! The news, however for those worried about being too dependent the mainstream marketing channels, is not great!
Statistics will also become more mainstream in the rental market as is grows but are thin on the ground in a consolidated and global level. Reflecting on the hotel market stats will however give some idea of their importance. In Europe, the OTA market share is circa 40% of the travel bookings (and 52% of millennials prefer to book on an OTA), in APAC (Asia Pacific), 70% and the US 40%.
VRMIntel broached the subject of the potential barriers to rental success but illustrated the levels of dependency by one big US agency on OTAs, the company is "Vacasa" and this is what their CEO said:
Quote:- "Skift also posted an interview with Eric Breon, CEO of Vacasa, an emerging company that has quickly become the second-largest vacation rental provider in the United States and one of HomeAway's largest suppliers of inventory. Breon said, "About half of our bookings come through our own website, and about half come through third-party channels."
50% is more than the average for hotels in the US (40%). Larger operations have more marketing muscle and can compete on PPC, direct mail, social etc, so 50% is high although Vacasa is in a growth phase and will naturally spend fast to build quickly. Building an organic business takes longer.
Individual owners are akin to a small mainstream consumer business who needs to sell online. These days, eBay and Amazon are the key players who parallel the OTAs dominance. Thye sit out front and have made it easy to purchase, review, pay and get a delivery.
These online shopping and web systems are more mature and also do not require the levels of tech multiplicity and are therefore it is easier to manage an online business which may specialize in a range or specific service. We are now seeing the likes of Yell, Bark, and Bidvine out-marketing small service businesses (Plumbers, electricians, photographers etc) and taking a sizeable commission for the privilege.
The kickback is just as extreme as the early days of OTAs as the supplier's bid to the lowest value and in a service business, this is not a good practice, as you get what you pay for. Anyone can buy a camera, a wrench or wire cutters! In the rental world, there is a danger that these effects may come into play as well. If the income is insufficient, re-investment, cramming, poor insurance, lack of attention to detail may well prevail damaging the whole industry.
We think OTA penetration of the individual owner may now be well over 60% and rising in mainstream EU and US markets and well over 70% in APAC, this means critical mass has been achieved and stepping back is not an option. The only way forward is to seek other routes to market and this will probably be based on centralised data and businesses that need to make less for their shareholders and is perhaps just incremental income, not total dominance of a single market unless its on a level playing field.
Opinions are changing
We see it daily. OTAs are mainstream. Once upon a time subscription sites were better value, everyone could chat and ask questions and book the way they wished.  There are still lots of these sites around but they seldom dominate mainstream keyword search on organic or PPC.  The problems are legion and growing when attempting to generate direct business.
Guests want a choice
Guests want trust and security (perceived or not) in the process.
Guests want a slick and frictionless experience
Guests are expecting a more hotel-like experience
Guests often want the flexibility of arrival and dept dates and shorter stays
OTAs have the guest's eyeballs and once contact is made, they are fair game for rebooking somewhere else.
Owners have needs to and these are often in conflict with those of the guest and hence OTAs.
Owners do not want to administrate endless calendars
Owners are often not always tech savvy
Owners want a simple process and booking flow, they have plenty else to worry about
Owners often do not want to add to their daily work by blogging, social work, direct mail, etc
Owners understand guests want 1 to 4 above and the best efforts are putting money into the property and great photography (the "field of dreams" approach)
Owners generally need to pay loans or mortgages
The effort involved to become a minor brand and rule some search space is beyond most individuals and OTA apathy has set in. This is not the case for managers, who need to maximize the commission, which is a fraction of the whole booking value (10-30%).
It's early days still but managers and brands will dominate for a while
The big challenges are yet to come if the big 3 can dominate the space and see a share price and profitability parallel to the FAANGs, or if they can become a truly household names for vacation rentals. (Booking.com is close for hotels). The problems they face are not owners so much as the larger managers, who, the bigger they are the more they need an OTA BUT  will pro-actively also seek far and wide for better and more direct and more cost-effective opportunities and game the marketplace systems.
On the one hand, OTAs need them, on the other, they then too have significant supply risk.  Below is the reason owners will see even more challenges polarising between OTAs and large local managers who will grow in the face of owners issues.
The industry at large has "minimum occupancy issues" and basic bottom line economies of scale. This means big brands and hotel supported infrastructure is likely to see more success.
Data exchange and sharing are still poorly addressed. Large companies are more adept and tech savvy.
The properties are all owned independently and not all run for maximum profit or run as businesses. Corporate ownership allows flexibility.
Local regulations are changing. Consolidated inventory in the hotel like locations and managed as such may well see this circumvented.
A small change in interest rates can radically change the market shape. At scale, rates can be negotiated.
To compete in a growing market requires an increased spend on marketing. Large companies can spread the budget and cross-sell.
Investors expect growth, this requires reinvestment and increased profits. Its easier to deal with one client and a thousand property than 1000 clients!
Hotels are looking carefully at this space. You can't blame them!
Rentals are full property bookings generally not fractional like hotels. Hence a larger inventory can accommodate more guest requests.
Rentals do not offer secondary income (bar or food). Larger companies can build in revenue along the booking chain.
The Billion Dollar Question
There is no doubt that the OTAs need to grow. To do this they need more properties, more guests, less leakage and more income. At what point do we see saturation, oversupply and reduced income for owners, who generally "get by"?
There are billions of people who have never experienced a rental and many homes available. Matching the two is the challenge. Add in the growth of business focussed accommodation for +30days & the serviced apartments and the move to list small hotels on Airbnb and growth is inevitable. This of course providing the income is there to dominate search and more importantly become a household brand in the future.
If OTAs squeeze more from the owner (or their manager) then supply will diminish, other outlets will see favor and prices will go up. If guests get charged more, then as technology develops we are likely to see more opportunity for best deals elsewhere from companies in a growth phase.
A common thread we hear is one of dependency from managers. They know all eggs in one basket is a poor strategy and are always looking for better and more cost-effective ways of generating bookings and securing future guests.
How can the challenge be met if guests are to get the best deal and there is enough money left in the pot to run a rental without dying of rental related stress? Realistically this can only be achieved by large data access to siloed inventory and smart technology. It can also be helped by businesses who do not want to be mainstream trave organization. Opportunities abound to disrupt this ongoing battle and no doubt some will emerge soon. They may also get snapped up and shut down, but one stands front and center above all!
The Elephant in the room: Google
In 2014, in my management days I wrote an article: "An open letter to Google, a cry from the search wilderness," which highlighted the transition from Google and benevolent business model, leveling the playing field, to the exact opposite, supporting the highest payers and the rest can just whistle. Google has benefitted substantially but is now seen as a dangerous partner by the big advertisers too, so Google adapting its approach and competing with its big spenders.
Google, has access to all data that passes its borders, which means the big 3 could become the big 4.  BAAEG, but Google is not pushing to be recognized as a travel brand just a smart facilitator of information which makes a lot of money.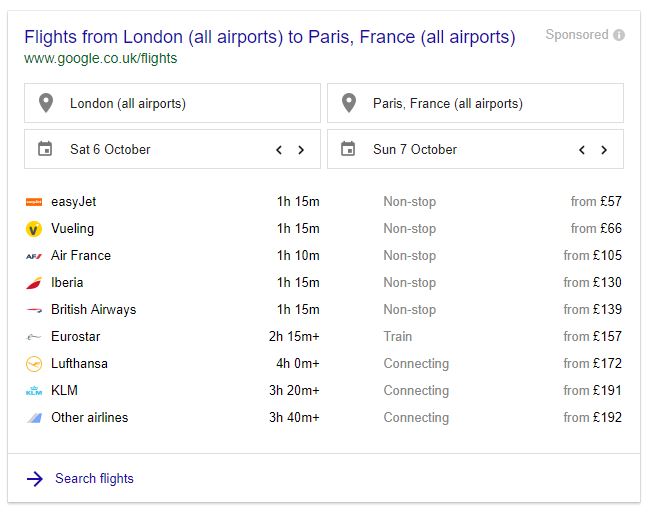 Google will provide and is already providing the opportunities to build brands within its structure. Google Hotels, Google Flights are already making significant gains. Everyone knows Google is information based and hence may well be a good long-term bet for booking streams outside of its PPC Adwords.
Google holds the big 3 to ransom, so the big money has to be on Google Travel information services and this may well allow smaller businesses to thrive at the same time. Google is excellent at localization and of course search, mapping, AI and more. There is no doubt that Google business listings are already affecting the traffic to the big advertisers. Just below the ads are mapped and with a click shows the whole page where individuals and companies can get direct links to their business, add phone numbers and ask for reviews. There is light on the horizon for owners!
Of course, the OTAs are also in this space and no doubt Google will want to monetize the business channel as its takes valuable screen space, but also draws in more Google users for their other services. It may also allow the rules to be determined by the inventory holders not the channels and the cream will rise to the top naturally, not based solely on profit-driven markers. It would stop companies trying to force square pins into round holes which results in poor service and guest experiences.
Ideally, there should be an industry standard to allow for the plethora of global business needs and who better to drive this, than Google.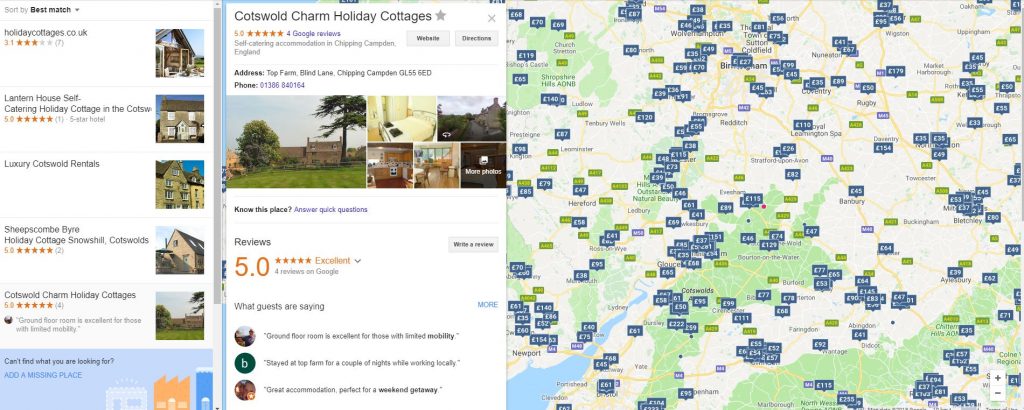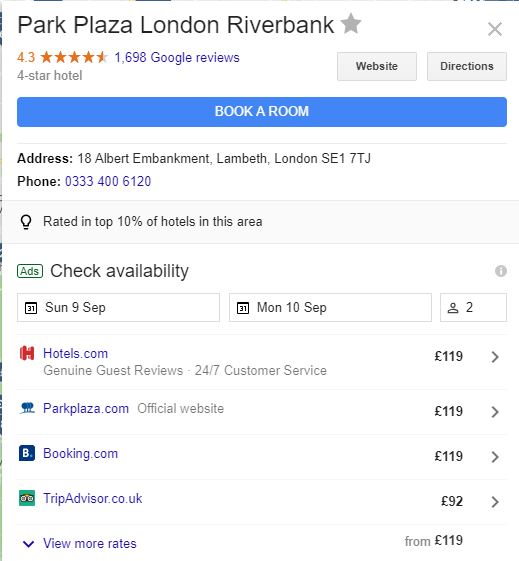 Of course, the OTAs are also in this space as the image to the left shows as Google accommodates a meta approach to making a booking, but there are many more variables here.
One thing is for certain, I got to it via Google, the first port of entry and if I booked it my Gmail will log it, add it to my calendar, put it on my mobile, remind me, send me instruction on how to get there, warn me of traffic on the way and lots more.
In fact, everything OTAs do except Google owns the routes and the tech to deliver it and has a great deal more wealth to achieve it. It makes a good income from these links out to OTAs but at what point do the scales drop one way or the other and supporting direct business makes more and expands their user base at the same time. In this situation, having 1000 owners using Google and paying a commission AND using Googles wealth of tools as well, is a better option than one customer with 1000 properties who are intent on diluting the ad income!
In summary, the small businesses will need to up their tech game, but that is inevitable anyway. Google may go back to its moral roots and we can all leave the party with a balloon, but in the meantime, OTAs will increase inventory and marketing power and diversify accommodation types. Managers will get bigger and create their own brands and owners will see more pressure to collaborate with managers and use OTAs.
In the meantime owners should look closely at Google, it may turn out to be the winner in the booking and journey research of the travel sector.
Comments