Stay Safe, Crisis Management and Plan
We have held off publishing our normal bi-monthly newsletter, due to Coronavirus and this fast-moving global crisis. As a rental technology company, we are seeing the business crisis in real-time across Asia and Europe. We are so sorry to see the effect that this virus has had on both urban short term rentals and traditional vacation rentals and wish all clients and non-clients the very best in this incredibly tough period.
Free Online Conference Event
March 25th – 1PM EST / 6PM CET / 5PM GMT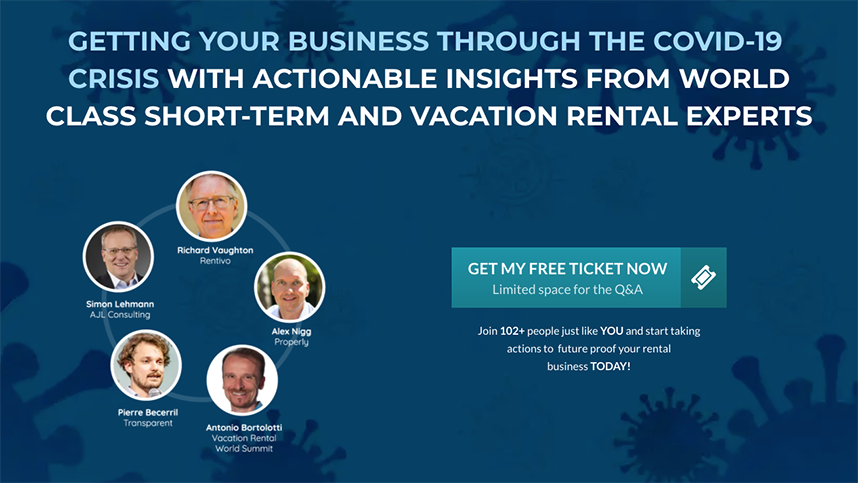 More details about the sessions here:  https://www.rentalscaleup.com/covid19-conference/
The speakers:
Industry  Leader Simon Lehmann from AJL Consulting
Vacation rental market data provider Pierre Becerril from Transparent Intelligence,
Beloved Vacation Rental World Summit host Antonio Bortolotti
Property cleaning expert Alex Nigg from Properly, Inc
Myself, Richard Vaughton of Rentivo. Planning for the future.
Rental Scale-Up's very own writer, Adrienne Fors, who is also a consultant for small property managers and owners by day, will also share the actions that she's taking right now to help her clients. As she knows her channel managers, PMSs, and cancellation policies very well, this will be a very interesting and hands-on talk.
Our contribution is a 10 point break out plan and discussion on what will need to be addressed and even changed as an industry in the future.
Three main points to consider right now!
Although there is a wealth of non-viral news to publish and will be found on our blog later this week, we feel the real focus right now can be compressed into 3 simple elements and every company needs to look after their own, but share information to help others. Our advice is to be pragmatic and concentrate on staying afloat until the lifeboats arrive and the tidal wave has receded.
Stay safe and obey your Govt recommendations. You can have all the money in the world but if you don't have your health……
This crisis is not going away soon and we do not know when it will die down and for life to come back to normal. History shows this will be months, not weeks and will no doubt last years at a global economic level. Your priority is cash and staff management. You will likely be under significant booking refund pressures or the money has already been refunded for bookings by third parties. Govt's are promising help, so keep abreast of all these things and do not be hasty!  The Govts. will likely offer loans and extended repayments and grants and is intended to defend the travel industry.  This period is about firefighting the current situation and once you have done all that is possible then plan.
Plan for the breakout. This will come and people will travel, they will be naturally cautious, on international flights even more so. Staycations, travelling by car will no doubt be the first raft of bookings at breakout, as and when this happens. Once damage limitation is managed and the business is likely on pause, you will have time to review your business in detail at all levels. This will help margins going forward and reduce future challenges.  Join the conference to see more.
How can Rentivo directly help you?
We have had an enumerable conversation with managers and owners and are happy to extend this knowledge should you have issues with your business, your technology, your guests or owners and we would love to hear from you and hear your particular issues in this very tough period. We would add however that most of our interaction as been outside the US, being EU and Asia and each country is facing its own variations of advice and support from Governments.
We have always seen strength in numbers, a collective approach to all problems. Our industry has had to survive on thinner margins for the last few years and this has meant fewer reserves and buffers in times of crisis.  Sharing information is the first step to developing a more level playing field in the years to come.
Please leave a message or question on our Rentivo Coronavirus Help Form.
This is comprised of: Your question, your name, email, business name only. 4 points.
---
Comments