A 10min  guide to answering vacation rental inquiries.
What's a Duck Hawk?
The Peregrine Falcon, also known as the "Duck Hawk", is widely regarded as the fastest animal in the animal kingdom. They are tenacious hunters reaching speeds of over 200mph, catching moving prey MID-FLIGHT.
Duck Hawk's are awesome.
Why am I talking about the Duck Hawk? Because you can radically improve your conversion rate / bookings and become top of your vacation rental food chain by answering guest inquiries with the speed & bodacity of a Duck Hawk.
Let me explain…
…and I'll promise to stop writing Duck Hawk (maybe).
We decided to gather intel on local competing holiday rental agencies. The goal was to understand how fast they were answering inquiries in comparison to us. This involved sending fake inquiries and waiting for a response.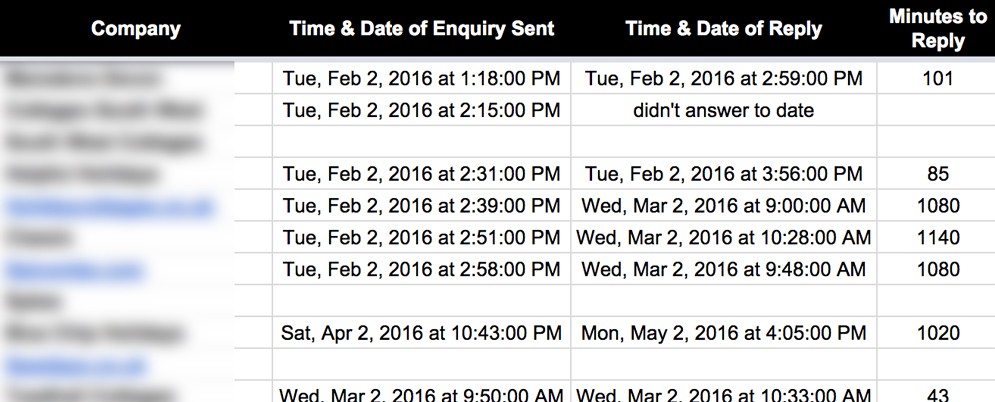 We found the average response rate was 9.5 hours. No company answered an inquiry after 5pm, only 2 answered within an hour and many didn't reply (presumably it wasn't available).
It was easy to see where to make improvements:
Respond faster
Respond later
Cross sell properties when unavailable
The Stats
Our internal study was relatively small and focused on a small area. However, a larger study conducted by Holiday Rental Services showed that in general the average response rate is 8.73 hours, with less than 25% of responses in the "golden" 1 hour window!
The results of this study overwhelmingly indicate that; low time-to-response, persistence in follow-up and focus on renting only your property rather than a "rental pool"  – Holiday Rental Services
Additionally, and perhaps more shocking,  responding within 1 hour makes you 7 times more likely to qualify the lead and 60 times more likely than a competitors who waited 24 hours (Harvard Business Review, 2011).
Now consider this.
The average traveller visits 4 listing websites & inquires about 7 properties (Blizzard Internet, 2012).
So, to convert more inquiries into bookings:
Catch guests MID-FLIGHT by responding at 200mph. Just like the Duck Hawk.
[mailmunch-form id="193298″]
Just answer inquiries faster?
Sounds easy right? Just answer inquiries faster. Yes but in reality it's harder than it sounds. What if an inquiry arrives at 7pm (when most people are active online)? If no one is working the booking maybe lost to the other 6 properties a prospective guest may ask about.
What if you're busy? What if you don't see the notification in time? What if it takes too long to respond? Someone else will take YOUR booking.
The statistics are overwhelming and the answer to dramatically improving your conversion rate is clear. However, perhaps slightly harder to execute.
How to be a Duck Hawk
If you're unable to transcend human form and re-locate your consciousness into a Peregrine Falcon, I've compiled some useful tips to help you become a master of your inquiries.
Zero inbox
Don't let your inquiries build up. Always maintain a zero inbox by replying to inquiries immediately. Don't wait, you'll have to do the work later. This enables you to answer inquiries almost immediately.
Vacation rental auto-responders
Useful if you can't maintain a zero inbox, auto-responders aren't new and often ignored if it's obviously a boring machine. None the less, it's re-assuring for the guest knowing that you'll return their message.
Recommendation & SETUP
Depending on which email client or system you use it's fairly straight forward to setup. I recommend using Gmail combined with Google Apps for Business to  use your own domain name ([email protected]).

You can use a vacation responder or for more advanced settings with filters on who receives auto responders read this article.
STAY personal
Make sure to require the name field in your contact form. It's important use their name and stay personal. Have character in your email. If it's a textbook auto responder, people won't read it.
Holiday Lettings have provided a good example of what NOT to do:
Dear [insert holidaymaker's name],

Thank you for enquiring about [insert home name here] in [location]. We're happy to answer any questions you may have and aim to respond within 24 hours. In the meantime, please feel free to contact us by telephone [enter contact number here].

We update our availability calendar on our Holiday Lettings advert regularly, so you can double check to see if the dates you're looking for are available.
Matt Landau's idea of adding personal touches such as, "It's our hottest season, so remember to your bucket and spade!" is a great way to break down barriers.
Provide relevant information
Using filters, set up different auto responders for different types of inquiries, depending on your inquiry form. Therefore, it's important to provide all the relevant information and NOT ask the guest to do the work. Cough, Cough Holiday Lettings.
Antonio from Vacation Rental Secrets had an awesome idea to make a personal video about your holiday home business and it's beautiful location, which is embedded in all your emails. A great way to convey easily digestible information, quickly & personally.
KEEP IT SHORT
Although it's important to be personal & provide relevant information, keep your emails succinct, relatively short and easily digestible. Again, it helps with a video.
GIVE PEOPLE A REASON TO STOP MID-FLIGHT
If you can convince a traveller to stop their property search mid-flight and wait for your response, you'll stand a far great chance of success. The only way to achieve this is by convincing them they've found the company they're looking for.
Regardless of availability, cross selling your inventory and promoting your ethos, brand & dream is critical.
Email response templates
To reply in a matter of minutes, it's essential to have a range of pre-written templates for various scenarios.
Some scenarios may include:
Different properties / locations
First inquiry
Unavailable dates (suggest alternatives)
Traveller asks for a discount (NOT offered)
Traveller asks for a discount (offered)
All points mentioned in the auto-responder section apply here too.
SETUP
Outlook & Gmail both support canned responses. Here's a great article on how to use canned responses in Gmail.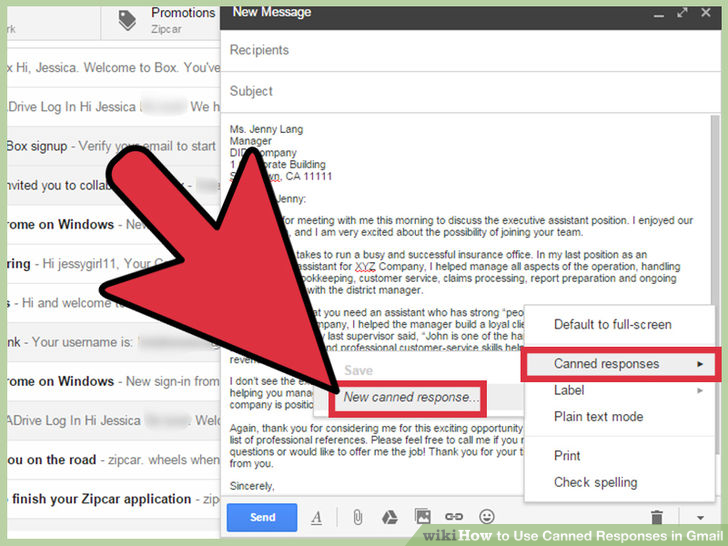 Alternatively you could use online software to handle your inquiry management & automation. Fetch My Guest does just that.
MAInTAIN CONSISTENCY
Your responses should remain consistent and inline with your auto-responder (if used) & previous correspondence (if any).
ReSPONSE CHECKLIST
Follow this checklist for ideas to your responses:
Greet the holiday maker & stay personal
Confirm dates
Answer any immediate questions
Confirm rates & additional costs
Provide instructions on payment & timeframes
Sell properties USP's, facilities & location (sell the dream)
Provide links / alternative links (if they're better suited)
Say when they can expect to hear back from you
Include contact details, name, email, phone & mobile
Attach a booking contract
Attach relevant videos / photos
Close the deal
Don't give up, follow up
If the guest doesn't reply to your response, it's worth following up the next day with a canned response. If the catch flies away, it's your job as a Duck Hawk to get it!
Master notifications
You may be the fastest Duck Hawk in the sky but it's no use unless you can see the prey. Or in this case, the holiday makers inquiry.
On a side note, I'm not a fan of referring to the holiday maker / inquiry as prey, it just works in this metaphor ;).
MOBILE TEXTS
There's many ways to ensure you spot the inquiry, including text messages. Various listing sites provide text message notifications as an option. However, what about direct inquiries?
Using services such as IFTTT means you can connect multiple services together. For example:

If a new inquiry arrives in Gmail send a text message. Simple!
NEVER MISS ANOTHER INQUIRY
If text messages don't do it, how about Facebook, Twitter, Slack or even buying a smart lightbulb. Every time you receive an inquiry your entire room flashes!

Instant customer communication
Another method to convert more inquiries into bookings is encourage instant messaging rather than email. Emails convey more but with a continuing trend towards instant gratification, holiday makers want an answer immediately. Besides, it's exactly what a Duck Hawk would do.
LIVE CHAT, SUPPORT & FEEDBACK SOFTWARE
By far the most outstanding live chat system, combined with marketing automation, support and feedback modules is Intercom.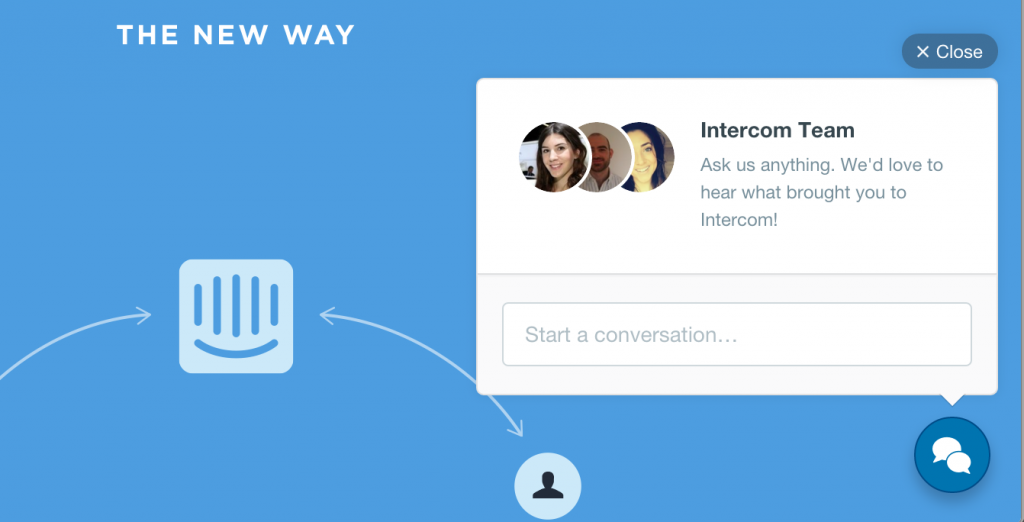 The downside to live chat is you always have to be available.
A good idea would be to ask the potential guest for their preferred dates, property name & any questions in the opening message.
However, there's obviously options to hide the chat when you're offline, to which travellers will send an email.
Encourage phone calls & "click to call"
If you don't answer the phone I suggest you do. It's well known phone calls convert better than emails in the vacation rental industry. It's also instant which, like live chat, means you're more likely to stop travellers mid-flight.
MOBILE STATISTICS & CLICK TO CALL
In one of our previous articles, "Phone Calls vs Book Now", we explore the statistics behind holiday makers searching, inquiring & booking through mobiles.
According to a study commissioned by Google, after adding a "click to call" button to their mobile websites:
70% of mobile searchers use "click to call" and that calls are an important channel for consumers.
The study explored behaviours across seven different categories: Travel, Restaurant, Finance, Retail, Technology, Local Services and Auto.
Therefore one of the greatest ways to improve conversion on mobile searches is include a "click to call" button (which only displays on mobile) on your website. Here's ours on a Rentivo powered website:
Descriptive inquiry forms
A simple way to speed up the process of replying is to glean as much information as possible, without deterring the holiday maker from inquiring in the first place. Simple things to include are:
First & last name
Email address (obviously)
Phone Number
Arrival & departure date / number of nights
Number of Adults, Children, Infants
Message
Depending on your location different questions are commonly asked. Record your inquiries, find patterns & include relevant fields in your form.
Flexitime & remote working
The final point to being a badass mother of a Duck Hawk is to answer inquiries past 5pm. Travellers search for holidays when they have spare time. Travellers have more spare time after work.
Most holiday home agencies won't reply out of office hours. Full stop. Therefore, you could potentially reply up to 16 hours before your competing hombres.
Rotate shifts & FLEXITIME
We now employ flexitime between 3 staff to handle inquiries from 8am – 11pm. They rotate shifts and all spend 2 nights a week working later. A simple but an effective strategy to convert far more inquiries into bookings.
Remote work
Ever thought about employing people in different timezones? Answering inquiries doesn't necessary mean you have to be in the same country nor work from the same office. There's been many studies showing the benefits of working remotely.
Check out this article about "The Most Common (Bad) Arguments Against Remote Work".
You could technically have inquiries answered 24/7, with awesome  working hours for everybody!
Conclusion
All-in-all the concept of answering inquiries faster is a simple one. It does, however, have the ability to ruin your life. I wouldn't recommend becoming a Duck Hawk if it comes with the stress of never ending inquiries.
I hope by using some of techniques discussed in this article you can become a master of the sky with no stress.
If you enjoyed this article, please feel free to share using the links below.
Comments