Instead of the usual format, we decided to focus on the major influence that affects us all and has recently seen a lot of news and announcements. With August always crazy and September bringing fresh air, we have covered recent announcements that are focussed on what the next year holds as this is the time to plan.
Big money continues to hit the market!
Many businesses have a tendency to grow in sprints, from a plateau to plateau, often based on funding times. The Short Term Rental world is no different, however recently we are witnessing sprints of unparalleled speed and performance within the industry, covering inventory control, tech and data.
Please note we are using Short Term Rental (STR) not Vacation Rental as much of the accommodation available is increasingly being used for business stays and in typically serviced apartment territory we are now seeing VR stays.
The power behind this next sprint
It will come as no surprise that the power source is money and large commerce, based on perceived future market values and influence, so a quick dive into what's happening! The small managers and tech companies are seeing pressures applied from large business and will need to address their own business models going forward, focus on niches and specifics. Generic businesses without an edge are finding themselves under increasing pressure day by day and this will continue at pace.
OYO
Interestingly many people will never have heard of OYO! Recent press will typically portray OYO as the Third-Largest* Hotel Chain in the World. So what has this to do with STR?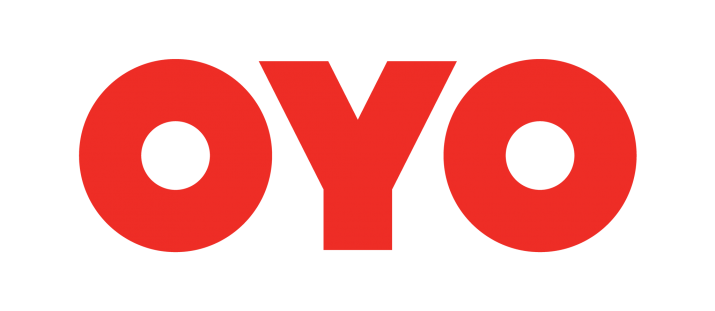 If you look at recent acquisitions, you will see they now have 30,000 VR properties under management and 115,000 in total
How much money does it take to create a business from nothing to this size?  A lot? Recent reports show more funding of up to $1.5bn. The jury is out, but this level of interest with a strong focus on data to improve bookings, positions and overall performance, we are witnessing a new look at how this industry could be disrupted at scale. Previously AirBnB had been mooted as a potential investor too. The jury is out on strategy overall, but well known for budget plays, but as this scale, sub-brands will no doubt appear to cover market segments.
Urban businesses are also now focussed on both vacation rental marketing, business rentals and longer stay serviced accommodation and seeing sizeable investments. As compared to the traditional shared commission businesses models, the Master Lease model is seeing increasing traction. With Sonder, Stay Alfred and Airbnb investing $160 in Lyric. We can expect to see more cross-market investments and big players to extract fees from the booking process and real estate potential. 
Google
Needs no introduction but their recent showing on the first search page of the four-block of STR's and more specifically vacation rental portfolio, with a disclaimer that they never intend to be an OTA is a wake-up call. Agoda (Owned by Booking Holdings) may not agree as they announced last week they would not list rentals within this new "Google Travel" environment and after spending billions on Google ads to build their brand, do they need to, with mobile now the tool of choice. Google does not have Airbnb either so although these properties may be listed on channel managers and Expedia, the largest selections are missing. If Google opened up its API to less than the 10,000 units minimum, they would see a raft of smaller and direct management players becoming engaged. 
They are the gateway to the internet for a large percentage of the planet and with so much SEO work, independence promotion, this move decreases the chances of being found organically. Being below the fold on smaller screens is a real negative for many individuals and small businesses. Its is also apparently a problem for Airbnb who are not listed and now Agoda (Booking.com) who have announced their removal from the listings in this market. This now limits their inventory and they will need to hook to channel managers, who may well come under pressure from other quarters not to play!
Does this mean smaller players can eventually get onto the search via API's and will this level the playing field over time? It's going to cost, so whichever way this goes, it's still going to hurt the pocket! Plus Google says its not going to be an OTA. If the full search page is anything to go buy, they already are in a meta fashion. Who knows where it could go, but it will be monetised and the Magic 15% will no doubt be a target at the supply chain level, so Google will no doubt be a facilitator across the spectrum of supply.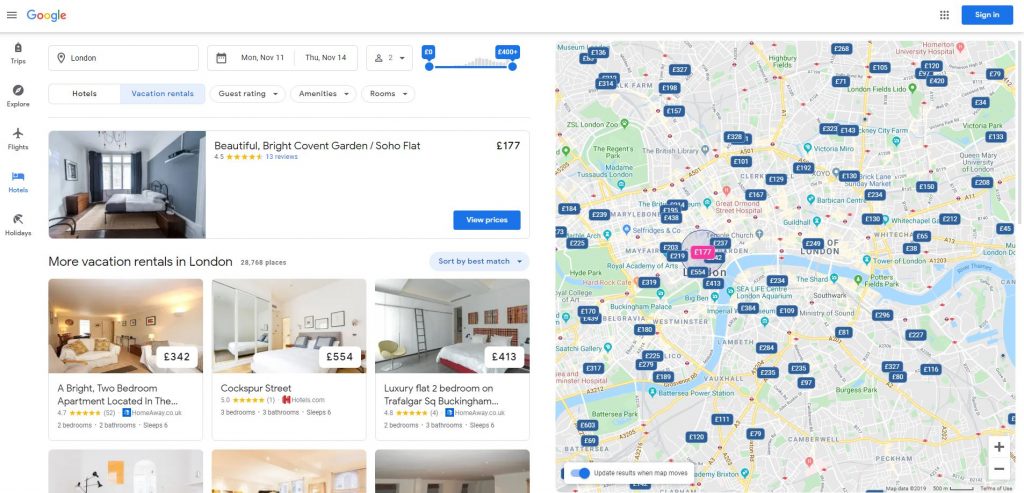 The big play here is mobile apps where there is less Google search influence and app brands can begin to dilute their influence, but this type of presentation is also designed for mobile and guess who controls Android!
Booking.com
Again needs no introduction, but over the last week they have announced a star rating system for STR properties. Hotels have long had variations of this and now after years of research, they have introduced a software-based system that analyses properties across a spectrum of data and no doubt blends this with reviews and comments. Could this be the next standard? Bookings rely on reviews, Airbnb's system is considered meaningless by many in the industry with the mutual review system in place. One to watch.

Marriott
Marriott is an exceptionally well-regarded hotel brand, with designs on the rental world. They tested the water with rentals using Hostmaker as a supply chain of a limited number of properties which would have been evaluated for quality and management, but have now adopted more and more rental properties (releasing Hostmaker) and are serious about offering their loyalty program members alternative accommodation. Where its going only time and those in the know can tell, but it's a sure sign that  the hotel behemoths are seeking entry based on clear parameters and staging progress. Accor and others had their fingers burnt but this one seems well thought out! We did some research on Hostmaker and found an undercover reporter had taken a video of their sales pitch on how to avoid the 90-day rules!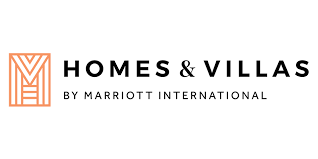 The big question: How does a manager get its portfolio listed on Marriott? A little research and you will find a Press Release: "September 3rd, 2019 (Irvine, CA) — BookingPal, the leader in software technology solutions for vacation rental property managers and owners worldwide, has been named the exclusive provider of connectivity technology for all property management suppliers on the newly launched Homes & Villas by Marriott International platform. BookingPal will bring its advanced vacation rental technology to Homes & Villas by Marriott International, the new home rental offering from Marriott that provides access to thousands of curated, luxury and premium vacation rental properties.Alex Aydin, BookingPal's founder and CEO said, "We are very excited that Marriott has chosen BookingPal as their exclusive channel integration partner for Homes & Villas by Marriott International. Our technology solution will help drive performance of this exciting new offering for Marriott."
Manager roll-ups
Anybody managers in the UK reading this will recognise this trend. With Awaze, Sykes Cottages, Travel Chapter, Original Cottage Company etc buying management companies wholesale and generally equity investment funded, the local managers may see trouble ahead or opportunities, based on niches and personal service at a granular level.
Independent companies such as Turnkey in the US, also continue to raise money with this one in particular announcing a $48m investment in July for their luxury focused business.
In July Vacasa announced in July they have entered into an agreement under which Vacasa will purchase Wyndham Vacation Rentals for approximately $162 million, adding 9,400 exclusive units to bring its total inventory to over 23,000 homes.
According to its press release, "Vacasa will finance the acquisition through a combination of cash and equity. The sale will be comprised of $45 million cash at closing, up to $30 million of Vacasa equity, and the remaining balance in either seller financing or cash at closing. Vacasa expects to complete the full integration with Wyndham Vacation Rentals by fall 2020.
Tech roll-ups
Internationally US equity firm Greater Sum Ventures (GSV), partnered with Insight Ventures has been  rolling up large technology companies in the vacation rental industry, acquiring majority stakes in Streamline Vacation Rental Software, Bizcor, Bluetent (which purchased Visual Data Systems), Rental Guardian, Virtual Resort Manager (VRM), and most recently, LiveRez and now we believe SuperControl in the UK. They also announced to its Vacation Brands and Property Brands teams that it has combined its short-term and long-term property management companies into a new brand—Inhabit IQ. with its Trademarked strapline: "Software for Exceptional SpacesTM"
Marketplaces
Time for yet another aggregator? Holidu raised EU40m. Founded in 2014 by siblings Johannes and Michael Siebers after they say they had a frustrating experience trying to book a vacation rental for a surfing trip in Portugal, Holidu's  search engine lets you easily search for and book holiday accommodations. (Sound familiar?) With Tripping.com going to the wall, Home2go taking the lead is there space for another. Think Trivago's journey!
This one admittedly sounds different and almost a pivot as they acquired hundredrooms.com a local competitor (presumably struggling) and has also developed a service for holiday property owners aswell. "Bookiply," offers a single interface to list properties on the largest travel websites, including synchronizing calendars, creating multilingual descriptions and sourcing professional photography. Their team handles traveler communication. Just when you thought it was getting crowded! So metasearch and metasearch in one package.
Data
If anybody has been sleeping through the above, this is a good time to wake up! 
Data is driving everything. From the simple feed of property information to your website, to the more complex two-way distribution to OTAs to data mining of all this public data.  The latter exposes rich seams of information on competitors, daily pricing advice, occupancy and more. 
In this data segment and management of pricing, investors are active. BeyondPricing, for example, raised $42.5 million to provide a fully integrated solution for property managers to manage revenue and demand across sales and expanding in Europe, Australia and Asia.  OYO bought a Danish data company Danamica to help manage their massive growth and in particular the rental acquisitions mentioned above. In a more generic space Google has spent $2.6bn on Looker a data company.
With companies such as Transparent and AirDNA are making deeper inroads into this space and managers are recognizing the increasing need to be on the ball. Investment is pouring into this space and will continue, with all businesses needing to be involved at some level. AI and machine learning are fundamental to this as well and expect more investments.
Summary
Big money is forcing change and guests are being influenced. This cannot be ignored. Instant gratification, mobile and two of the major trends not to mention the rapid growth of alternative accommodation. Getting eyeballs on fast converting inventory is key and blends many disciplines, but the writing is on the wall for anyone involved in the STR industry. Get involved in your data, a greater focus on the guest experience and find your niche, the only thing that large companies struggle with. The rest is common sense: photos, focus on guest experience, go the extra mile…always.
If you still aren't sure then check these financials and booking numbers, the sharks are smelling blood!
However then there's WeWork and Uber with valuation issues which must make investors nervous and Airbnb's IPO still up in the air!
Comments