Welcome to our June newsletter, that replaced the weekly "Smarthosts" newsletter.  This new series of newsletters keeps our industry partners updated regularly and hopefully provides a macro view of the trends, some deep dives into companies or sectors of interest.
Keeping it Short for Summer
We are fighting to keep this newsletter short. We know that the summer is not the time when managers typically have time to relax. Guests are arriving in droves, managers are continuously firefighting and everyone but the support businesses are there to enjoy themselves. Add to that the current EU heatwave and we expect not only temperatures to rise but also the number of problems and guest pressures.
We have a new angle for managers looking to improve their lot!
If you are a manager with more than 20 properties and you recognise any of the issues below, then let's have a call!

I need a new website to promote my destination
I'm not sure how to invest in software to run my business
My software doesn't do what was promised
The OTA's are eating my breakfast
I'm losing inventory to my competitors
Growth has slowed or stopped
It is time for me to engage in growth
Owners are demanding more reporting
Local taxes and admin are swamping the company

If you would like to know more: Submit your interest here
What's happened in June?
As usual, we have seen some investments and roll-ups
Vacation-rental management company GuestReady Group is acquiring Paris-based home-sharing company BnbLord in an effort to become Europe's largest provider of services to property owners, agents, and developers.  GuestReady, founded in 2016, belongs to a new wave of property managers that automate processes to wring out inefficiencies. It targets the short-term home-rental market with professional services, such as creating listings on Airbnb, Booking.com, HomeAway, and FlipKey, checking in guests and coordinating cleanings.
It's interesting and a very labour/travel intensive business for management and occupies a semi-dangerous space where regulations can affect inventory and residents can affect guests and vice versa. How big can these companies get and what are their value without accommodation consistency and the increasing regulatory risk factors? It's hard to generate a significant brand and therefore loyalty or improved direct booking margins unless the fundamentals are controlled, but still a fast-growing space.
On the other hand, Airbnb is trying to control the fixed environment by working with developers and building units in Miami and Austin, under a "designed to share" title and a Natiivo brand! There have been a few issues with Miami's initiation into this market with $4m worth of fines issued up to 2016, so this approach rather than scattergun listings makes sense.  No doubt they will train owners in the ways of hospitality!
When the first 249 Natiivo units open in Austin in 2021, owners will be encouraged to rent out their apartments when they are out of town. They can choose to list independently or with Natiivo management, which will take 25% of the rental income on top of Airbnb's 3% listing fee. The buildings will include amenities like co-working spaces and hotel-style food and beverage programs, and apartments can be purchased furnished. Units may feature an extra closet to store sensitive belongings and digital locks for keyless entry.
And a few more technology investments
This link will head off to Skift for a short breakdown. We are seeing more money being pushed to marketplaces and other travel businesses. Any French readers out there may be interested in MagicStay who have raised about $9m since startup and "want to sign a quarter of the major French companies and approach one million homes before the end of the year, thanks to the exclusive technologies we now have at our disposal," said Valéry Linÿer, CEO and co-founder."
One to note – MagicStay: We have witnessed a few marketplaces go to the wall over the last year, mainly due to OTA search dominance, PPC spending capacity and market guest brand awareness
directed to the OTA powerhouses. We think they are correct to focus on one area but they currently list 200,000 properties most of which are no doubt sourced via API.  We wish them well but suspect that for any company that has a worldwide generic inventory available from many sites especially the major OTAs the challenges will be very hard indeed.  They run a loyalty program as can be seen from the PR but with 80% of loyalty programs having little effect the incentive is diluted and unless you control the inventory, you don't control loyalty.  This excellent article by Rocco gives great insight into hotel loyalty programs.  If that's a specialist French focus then the pivot may be the answer.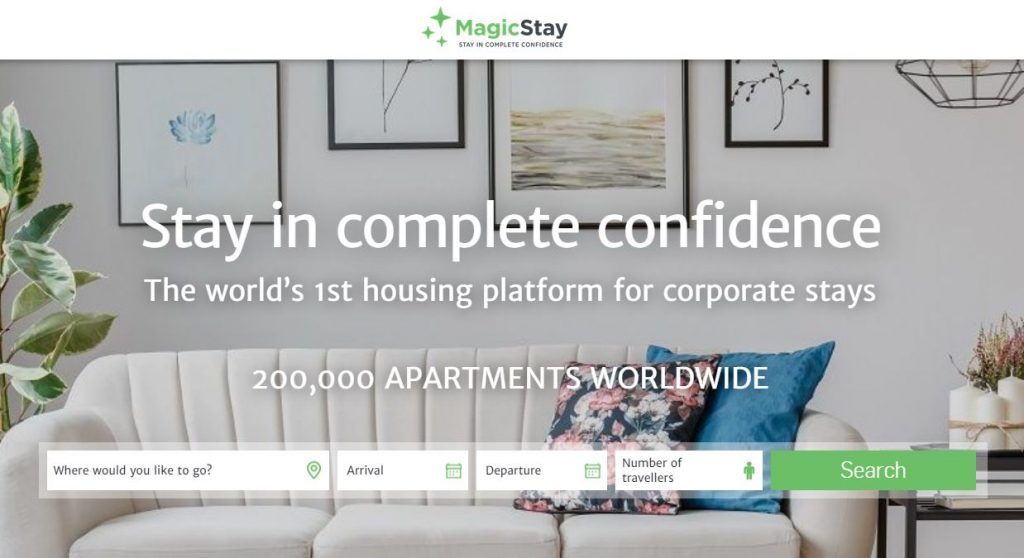 Where have all your luxury bookings gone?
If you are a marketplace and not a manager and you compete in this space, you may well have noticed a slide in bookings this year! Well, the OTAs and hotel chains are sucking up your bookings! Airbnb is promoting Airbnb Luxe and marrying the inventory from Luxury Retreats who they acquired a couple of years ago, with 5,000 curated properties.  Guests booking a Luxe property also will have access to what Airbnb is calling a "trip designer," an employee of Luxury Retreats available to book everything from airport transfers and car rentals to childcare, chef and spa services and activities and experiences – including ones not offered on Airbnb's Experiences platform. Payments for the services will be done through Airbnb's platform. Less automation, more curation and guest services. Nice as a cottage industry, but lets see the price comparisons and how its shapes up in reality.
Worrying guest expectations. The Amazon effect.
We also considered how guests attitudes change when experiencing services above and bGuesteyond the norm, does it become the expectation for every stay. On top of that guest, expectations are increasing as other consumer markets evolve. This article explains the issues and references the likes of Amazon that are creating this effect.
Impossibly spoiled guests
For those owners and managers who go the extra mile and offer a few very personal friendly touches, not on the booking, but as a one-off courtesy or off the cuff gesture, you will enjoy reading this article and you may well recognise the selfishness or overzealous expectations of some guests!
Greater Sum Ventures have acquired yet another business, iTrips
Yesterday, iTrip executives announced to employees that a majority stake in the company has been acquired by Vacation Brands, the private equity funded vacation rental industry rollup led by Greater Sum Ventures (GSV).
Vacation Brands will add iTrip's vacation rental management franchise model to the list of vacation rental industry companies it has already purchased, which includes property management software companies (Streamline, VRM, and LiveRez), web development and marketing companies (Bluetent and Bizcor), and travel insurance provider Rental Guardian.
This roll-up must have market targets. No sign of them in Europe as yet and not an easy target, so we are watching with fascination and expect a few EU companies to join the fold, but there are few that have the size that warrants this and pricing differentials are significant for Saas services across the Atlantic.
---
Notable trends
What is VisitBritain doing?
We have witnessed not just in the UK, but globally, the OTA companies influencing the corridors of tourism power. We aren't sure why some of this is happening, but its a very worrying trend doe local tourism authorities, especially as the average manager is continually losing more and more margin to a US controlled third party. The net result is that guests are paying more and the UK will invariably see less inbound business and more outbound tourism. Money that could and should be re-invested is leaving the country and specifically underfunded tourism destinations.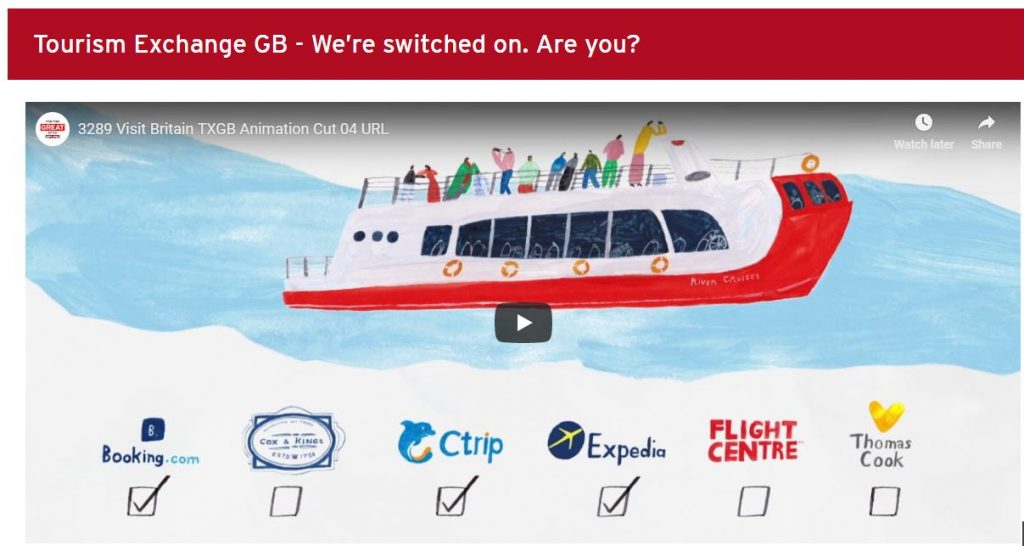 The promotional video is pretty unclear but seems to want to leverage local services (buses in this case) to inventory suppliers (distributors) and give the supplier extra revenue, but you also need to connect your PMS system to their channel manager (TXGB) to distribute to the big OTAs. The PMS connections are limited (Bookeo, iBex/Seekcom, My Fidelio/Oracle, Rezdy, RMS, RoomMaster/InnQuest) and we wonder how many are used in the UK. Plus most hotel PMS systems of note are directly connected anyway, so why add another layer of potential data issues and even higher costs (we have some presentation material that shows additional costs of 2.5%).
It doesn't seem to focus on rentals as yet and why is there a continual push, (probably using non-UK tech) to create more margin discomfort, when they should be supporting local DMO's who do a sterling job to keep money invested locally?  It was only recently that VisitBritain teamed up with Airbnb. A Trojan horse?
Surely technology and marketing clout should be used to direct guests to better priced and direct communication businesses, not Expedia, Booking.com etc. Sure they certainly have a role to play but should only be part of the marketing mix, not the whole basket of eggs! Use OTA,s but also local community marketing has more expertise and personalisation. Google can answer all service destination questions, no one except a local can answer the in depth up to date ones and sell a destination.
We will be doing a deeper dive into this next month! All comments and thoughts welcome.
Digital Marketing – Are you struggling?
Maybe it's us and maybe it's not, but social media marketing and driving this to create bookings, from what we understand is not the easiest or most productive task. Its gets a lot of press and there are endless experts prepared to push content into the social channels. Rentals, unfortunately, is not like lipstick and the whole look to book process is more convoluted and the purchase is often only once yearly and carries a heavy cost.
No one will argue that social activity helps bring awareness, support brand development etc but being used to just drive simple bookings, then your work may be challenging to say the least. There are some serious success stories based on language, niche markets etc, but if you are dead centre generic inventory, the mountain is hard to climb. If you haven't checked your stats to see what the bounce rates or conversions are, then don't throw all your eggs into the social media basket just yet!  We see 90%+ of social traffic not producing results and as social is ephemeral and mobile, then you will really need to be set up for it and focused.
We are often served advice on digital marketing and this short post seems to offer a good variety of options including content and video, still a prime consideration going forward.
Rentals vs Hotels
After years of saying Airbnb isn't affecting hotels, the press and the trade know that life isn't as calm and collected in their traditional comfortable world anymore. With increasing numbers of people using apartments, be they serviced or Airbnb or well managed Travel Apartments, such as Stay Alfred, the challenge is now there.  With Airbnb targeting business travellers and being in the hotel space through acquisition (hotel tonight), then they cover both last minute and high-end. Expect more aggregation. This Phocuswright report will explain more.
Even "Time Shares" may morph to a more formal VR subset.
No doubt we have all looked at timeshares and wondered, why to go back year after year with the world travel access increasing. In 1950, this was low 100millions, today over 1.4bn.
Our take is that millennials will want a different experience year in year out for the foreseeable future. We know many Time Shares stand vacant, but the fixed fees stop innovation and mass marketing in many destinations to maximise the revenue of even cover owners costs.  Despite this global numbers are circa 75% occupancy and continued growth in purchases in a $6obn economy. Is this the baby boomers, who want to return year on year or new untapped economies? Is this interest in Time Shares or simply the numbers of people who can and will travel.
Wyndham, in light of Marriott's recent foray into rentals, has come back with its own version on news. It's not clear, but you would have to suspect that we will see Time Shares become vacation rental mainstream as part of the converging accommodation market, in the not too distant future with modified terms on "investments". With 5-6,000 timeshare resorts around the world, the VR online inventory may see new listings increasing the downward pressure on prices and upward pressure from OTAs.  Investing $1bn themselves may help Wyndham!
---
Unique Products & Services
Toilet Rolls – This should save some management time and expense!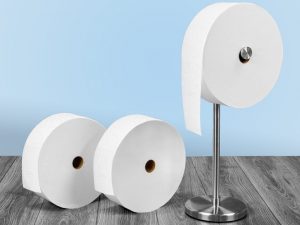 ---
Quotes we're pondering
"We said, this is our last chance," explains Alan Talbot, the airline's chief information officer"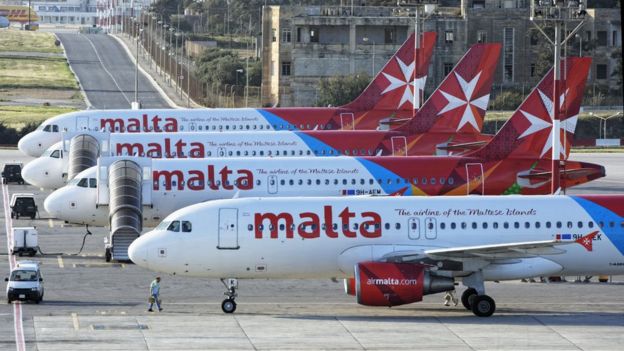 So what has an airline got to do with rentals? The rental and many other business sectors revolve around data management and distribution.
Quote: Two-and-a-half years ago, Air Malta decided to redesign its computer systems around web-based APIs (Application Programming Interfaces) – publicly available ways one company can make its data available for others to use.
Any business in our industry needs to exchange data across marketing platforms, payment solutions, mobile apps and more. With the increase in tools and distribution, API's are powering the world.  It saved Air Malta, it may save you!
---
Let's give something back
Rentivo Triathlon. Charitable Concerns – Donate to great causes!
Here at Rentivo, we are always concerned that businesses can do good, but may also inadvertently do damage. Like many people worldwide we have witnessed an increase in homeless people on the streets of many popular destinations. There is research being undertaken to understand this in more detail, but the word homeless, when your business is established to assist people to make money from their second homes, does not seem entirely correct. We would like to put something back into the pot specifically to help some of these people.
Marc Ribail our commercial director already spends some of his spare time bi-weekly to cook for the homeless of Barcelona. He is now preparing himself for a triathlon in October for charity to support this cause. This is Marc just finishing one of his training events: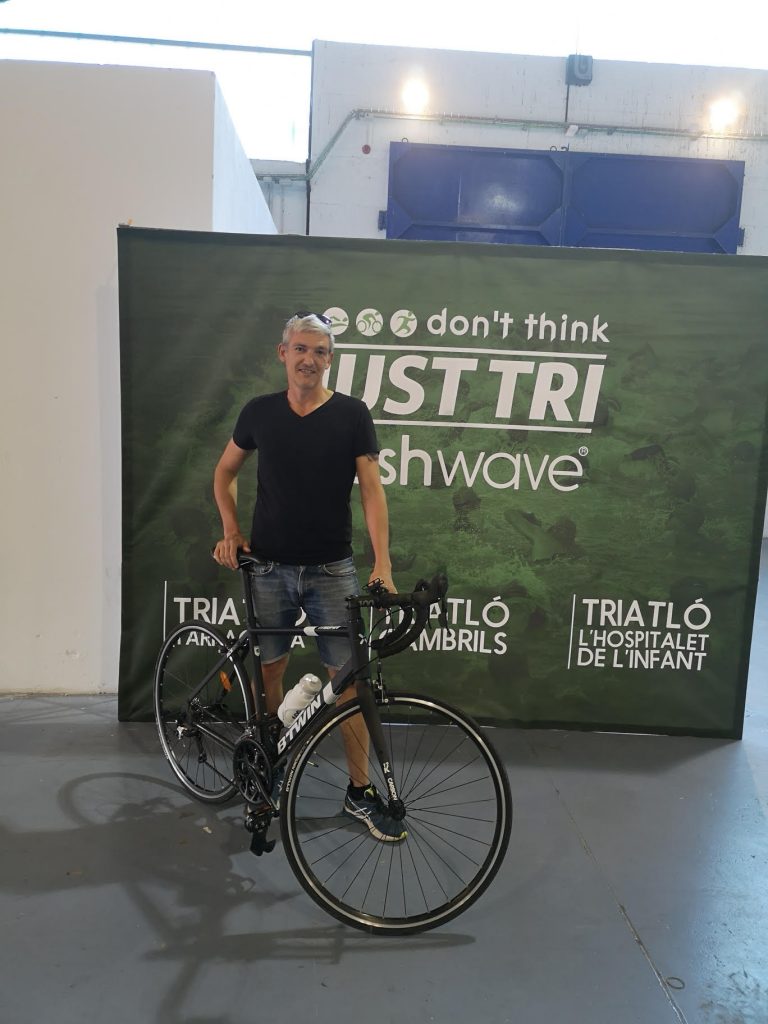 You can check the event out here, which takes places on Oct 6th this year in Barcelona: https://www.barcelona-triathlon.com/
We will release the donation and more information in the next edition.
Comments