Welcome to our Autumn newsletter, that replaced the weekly "Smarthosts" newsletter.  This new series of newsletters keeps our industry partners updated regularly and hopefully provides a macro view of the trends, some deep dives into companies or sectors of interest.
Our comments are in Italics!
What's happened this Autumn?
OYO, which admittedly is better known for hotels, saw more investment news with a new $1.5bn round A significant amount of speculation how this will wash out in their large rental portfolio acquired through @Leisure. So much press and speculation on a rapid scaling, budget brand, play, especially in the current large investment climate on non profitable companies.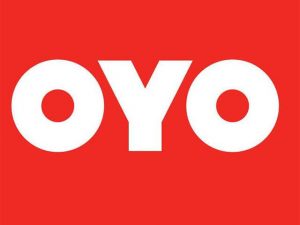 Will it be a rush to the bottom on revenue management, without understanding the operational dynamics and guest expectations? But you can expect to see more of these logos on a road near you!
Google moved ahead with its Google Travel product, but only a few days later after presenting at conferences Booking Group announced its withdrawal from this part of the Google business only to see Airbnb becoming part of the inventory. To date this is beginning to look like a Meta Search engine with all inventory coming from "aggregators" themselves.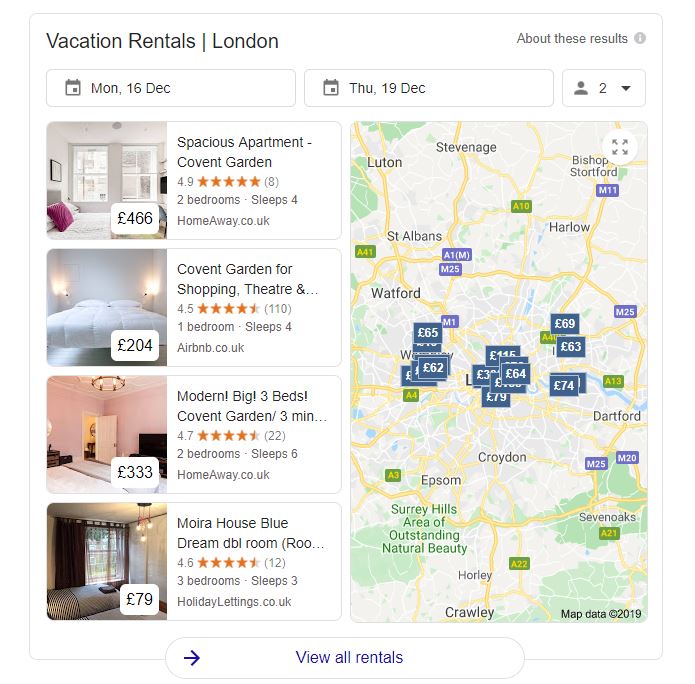 Google promise that they are not becoming an OTA either. If it looks like a duck, waddles like a duck and squawks like a duck, then its most likely a duck!
If perchance they do open the API to smaller inventories then this will be a bonus, but the commercials are unknown to date. This extra four block display manœuvre is increasingly pushing any organic search below the fold, (actually well below the desk right now on vacation rental search terms). This will push more players to OTAs, PPC and Google Travel and increase their revenues again. 
Google's corporate mission statement is "to organize the world's information and make it universally accessible and useful." They certainly make it accessible, but useful is a contentious term where the best product at the best price, with the best service is hard to find and probably income based and no more. Google is rapidly losing business admiration and the search world needs to redress the balance.
Airbnb. Such is the newsworthy machine that no month can pass without comment. From the ongoing city challenges and destruction of communities, to the shootings in California at a Halloween party which provoked banning party houses  and a promise they would review every listing by the end of next year to ensure that their address, photos and other details are accurate.
Then there was the creative scam that makes significant money through the T&C's, systems operation and some smart timing. Finally and we are still scratching the surface Airbnb are now Olympic sponsors for the next 9 years and ex Olympic athletes are being encouraged to offer experiences via the portal.
Will the 2020 IPO happen, will investors still be jaded by the WeWork and Uber issues and its reflection on real-estate.  Will the impossible scale of such a business to ensure quality and predictability without functional checks and measures be too much of a challenge? One thing is for sure, they have been very successful in their growth and implementation, but the live like a local, left the room long ago. The jury is still out!
Two of the super managers were in the news recently: SykesCottages and Vacasa. We now have two heavyweights facing off across the Atlantic.  Sykes with its 17,000 properties (2,000 in New Zealand) in a country, population of 66m and Vacasa with 23,000 in a country of 327m (being a Brit, we must be winning).  Vacasa netted $319m, taking its total to £526m and will expand using some of the funds to open more brokerages.  Sykes was sold for £375m by Livingbridge to Vitruvian partners (a previous backer of Skyscanner).

Where is this going? Good question and the plans may well not be similar. None of these companies are household names as yet, like Airbnb or Marriott, but it may only be a question of time and that mobile space/app will become very important as a brand/booking delivery mechanism. The local office approach also keeps owners loyal, centralisation of the smarts is no doubt productive but both companies are still dealing with staff, guests and owners!
Jury is out  on direction and the big game play for each but the smart money may well be on Sykes when it comes to a single focus, with smart tech at scale, plus service driven business and excellent management and a top award to show for it this year! 
There is another super manager which has been very quiet for a few months. A former Expedia senior director (Kjellberg) is now the boss of Awaze and this is his take on the future
With such deep pockets and resources, we will watch this one with interest too. Perhaps the quietness is due to the business being more US centric.
---
Notable trends
Market size increasing, according to Skift. Read this one for yourself but alternative accommodations represented 10 percent of the overall industry in 2014, 12 percent in 2017, and, due to its above-market growth rate, expected to have crossed 13 percent share in 2018 and increasing.
Voice search: This "snuck" in at the last moment as its a favourite of some of our staff!  Having written about this before it is now entering the realm of reality. Another Sykes Cottages development. The following video can be viewed on a LinkedIn post.
QUALITY! This has been deliberately capitalized as it's the elephant in the room currently. The quality word goes hand in hand with predictability and guest expectation. With Booking.com's announcement of a star rating system for vacation rentals (explained on both VRMintel and Skift.) one of the biggest players has dipped their toe in the water. There are many polar opinions on this move, but the concept seems to be generally well received. Booking.com rates rentals on about 400 factors and is software based.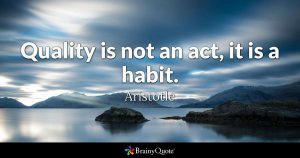 AI and machine learning are all becoming mainstream and easier to test and implement at scale. The key term here is "algorithm" and how these are used to determine star quality. No doubt reviews are also included, but the industry has no universal standards, which are applied at a source level.
We all know if we book into a Marriott, or a Best Western or Premier Cottages that our expectations are generally met. But checking into an Airbnb or a rental anywhere has a certain level of chance. Airbnb Plus  attempted to elevate certain properties, but may have been a step too far controlled at source and not independently. 
Local or national organisations such as Visit Britain will accredit and inspect but is not universally adopted and with so much stock available there is a lack of predictability on any booking. How can this be overcome, almost certainly by technology which could well be the conduit between booking channels, inspections, local authorities, insurance, reviews and equipment testing certificates and all mobile. A space to watch. Expect a flourish of startups!
---
"Unique" Products & Services
Rentivo exhibited at HOST this November and one of our Directors spoke on technology selection. To say there were a lot of companies exhibiting their wares would be an understatement and it was great to see so many in one place. It's a sure sign the industry is fragmenting into specialties and hardly anything is unique anymore!
In terms of earth-shattering moments these are few and far between these days but some solid tools and developments are apparent:
Checkin-Scan. With so much emphasis on identity and sending guest details to the authorities this business is worth noting.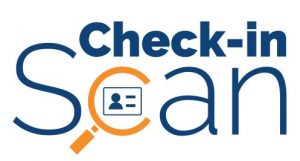 Properly: Not new but every time there is a new lateral benefit to its use and with our thoughts on that next big thing "Quality and Predictability", this must be a leader in the space

Marriott:  Everyone knows Marriott, but we can't help thinking they have got it right with "Homes and Villas"!  Accor failed and others have stumbled. It's a long play but just the mention of hospitality training and products and you know this is a serious endeavor and is growing a healthy brand and has over 100 million loyalty members to accelerate its development.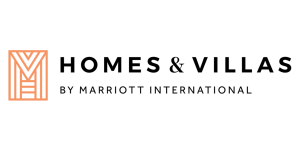 ---
Quotes we're pondering
This quote is from the Awaze CEO:
"It's (travel) moving online, but it's moving online at quite a slow pace. Twenty years from now we will still have a large amount of people buying travel from the high street agents.
What do you think? With everything being delivered at home: Amazon and multi-food deliveries from ghost kitchens and supermarkets, not to mention super fast internet, what will travel booking look like?  We are already in the infancy of AI, plus machine learning, voice search, social recommendations, virtual reality,  haptic feedback and much more.  It has to look substantially different, perhaps a massive expert network all connected with smart home media tools, under one brand (no doubt).
---
This month we are also posting a video. Gave us a good laugh and reminiscent of the many challenges thrown out by businesses who want to reinvent data management, distribution, create complex multi-currency networks and dodge taxes, minimise OTA influence and all on automatic! It's a funny reflection of some rental demands and tech companies may appreciate it!
Comments