A 10min read exploring the term "luxury" in the vacation rental industry and how its overuse has led to different meanings. What does it even mean anymore?
This is a tough one as its all relative to who you are,  your standing, experiences, wealth, perception, philosophy and beliefs.
The world's 62 richest people now own as much wealth as the 3.6 billion people who make up the poorest half of the global population, according to a new study by Oxfam.
Undertaking another survey of this group, based on the perception of luxury, would probably see some surprising results, but overall, luxury would be a term that has a linear correlation to income. The lowest paid people make barely a $ a day, which would take them over 40 years to stay in the most expensive Savoy Hotel suite for one night or a "Luxury" villa for a week.
We can normalize this of course for the sake of luxury vacation rentals and the populace at large. Even within this, there will be a difference of opinion and its this opinion of the term that needs questioning.
There is no Star or Quality rating that makes gives a vacation rental property a universally understood "luxury" tag, perhaps there should be!
This is the Cambridge English dictionary definition(s):
Great comfort, especially as provided by expensive and beautiful things

Something expensive that is pleasant to have but is not necessary

Something that gives you a lot of pleasure but cannot be done often
Only the last line avoids the word expensive and relates directly to a non-expense experience,  but does highlight opportunities to raise the rental game.
So we need to look at the word expensive, particularly as assumed beautiful things are often not cheap, Ferrari's diamonds, etc. The definition for this is simple:
"Costing a lot of money"
So if we take the median household spend per year on holidays, which is just under £2000 we can begin to get a measure of what is expensive or costs a lot of money. Average income for a UK household is: £35,204 or 17 times income. We can assume that anything over £2000 is going to start being considered more expensive and anything double that "expensive". So by definition, an average UK holiday maker will start looking for "Luxury" above and beyond their average spend.
We know from stats that less than 50% of the spend is on accommodation and for a UK rental, circa £800 per week. Flights, meals, car parks, car hire etc all add to an overseas holiday. We have stats that show EU spend is higher on accommodation by a few hundred EU's, but it's not dramatic.
The same or better than I have at home!
Most people do not consider they live in luxury and hence any accommodation has to be considered in light of the guest's expectations. Admittedly the location may add an expense point that may be lost on internal decor and services, but it's a fine line. People expect at least the same as at home. Luxury is an all encompassing word, "luxurious" however can be attached to individual items or rooms. This can help develop niche elements of a rental through smart spend and attention to detail.
Luxury surveys
We did a little research on hotels (as there is so much more available) as to guest expectations. This was quite revealing.
High speed internet and return to "service" was one report. Free internet is an absolute must these days and service. This has to be close or number one anyway for a hotel, on any day of the week
A good nights sleep is the answer from a 4,800 survey
"What our research suggests is that people really value getting the basics spot-on. The ability to properly recharge in a restful environment far exceeds other considerations, such as endorsements from famous people or high-tech gadgets.

"We can also see just how important gold-standard service is when it comes to luxury. In a commoditised world, travel brands should focus on this and on creating spaces for people to relax properly and switch off."
Other comments from this report note:
For American, British and German respondents, the two most important factors that define a luxury hotel are exemplary service followed by an ideal location.  For Germans and Britons, the third defining aspect of the luxury hotel is a large room size, while for Americans it is a luxury bathroom.
When asked what would damage the perception of luxury in the hotel environment, travellers are clear that the biggest turnoffs are (1) lack of cleanliness in the hotel, (2) thin walls preventing that all-important good night's sleep, and (3) expensive Wi-Fi. The latter is most irritating to German guests.
So what does luxury look like?
We all have imaginations and often the same likes, dislikes and desires. Space, superb views and location, pools and a perfect climate may well fit many peoples idea of luxury. Most of us can imagine spending a few days at this location below in Koh Samui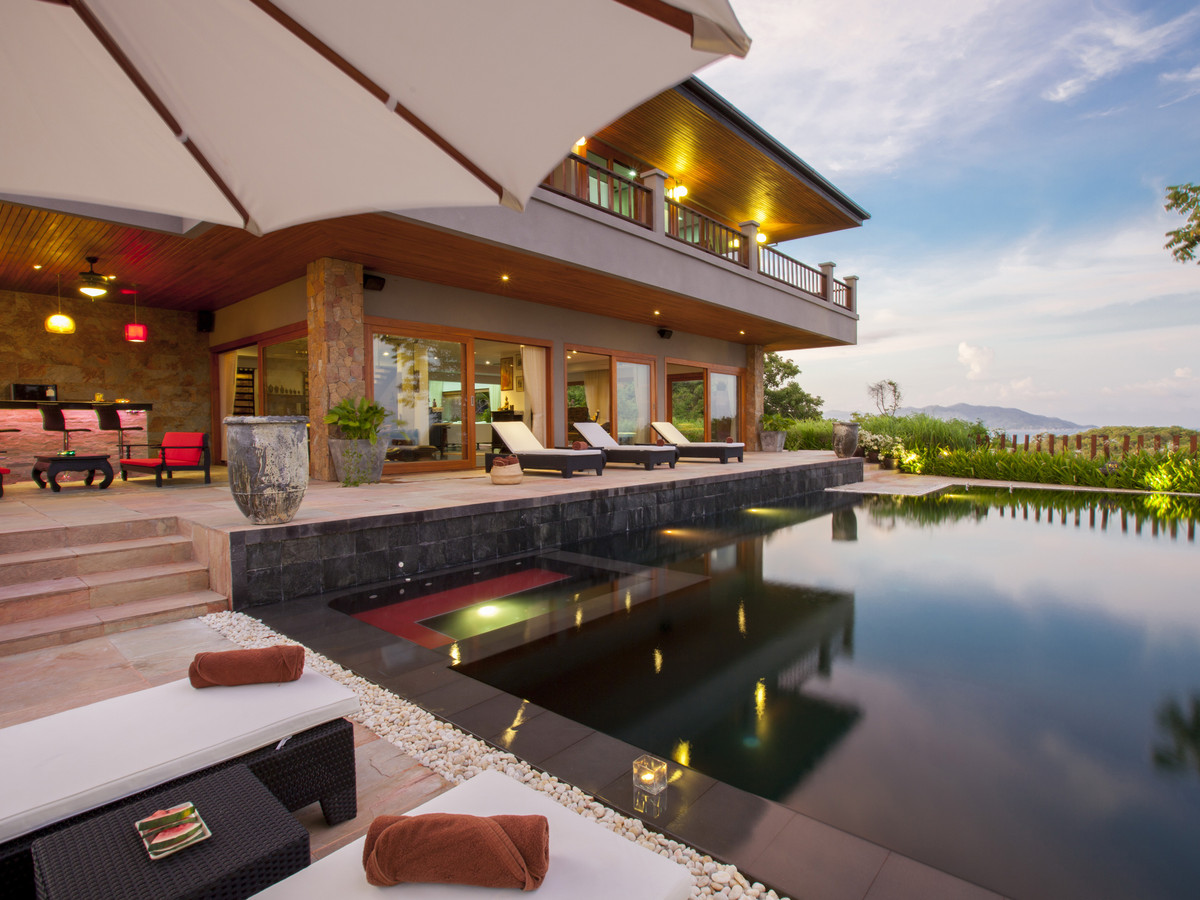 But it depends on your perspective and tastes, which thankfully, differentiates us. This particular property may not be seen as attractive to many as it has "opulent" tastes of grandeur and is a throw back to times when servants were necessary. The former property is a modern easy to manage but large space and comes with staff.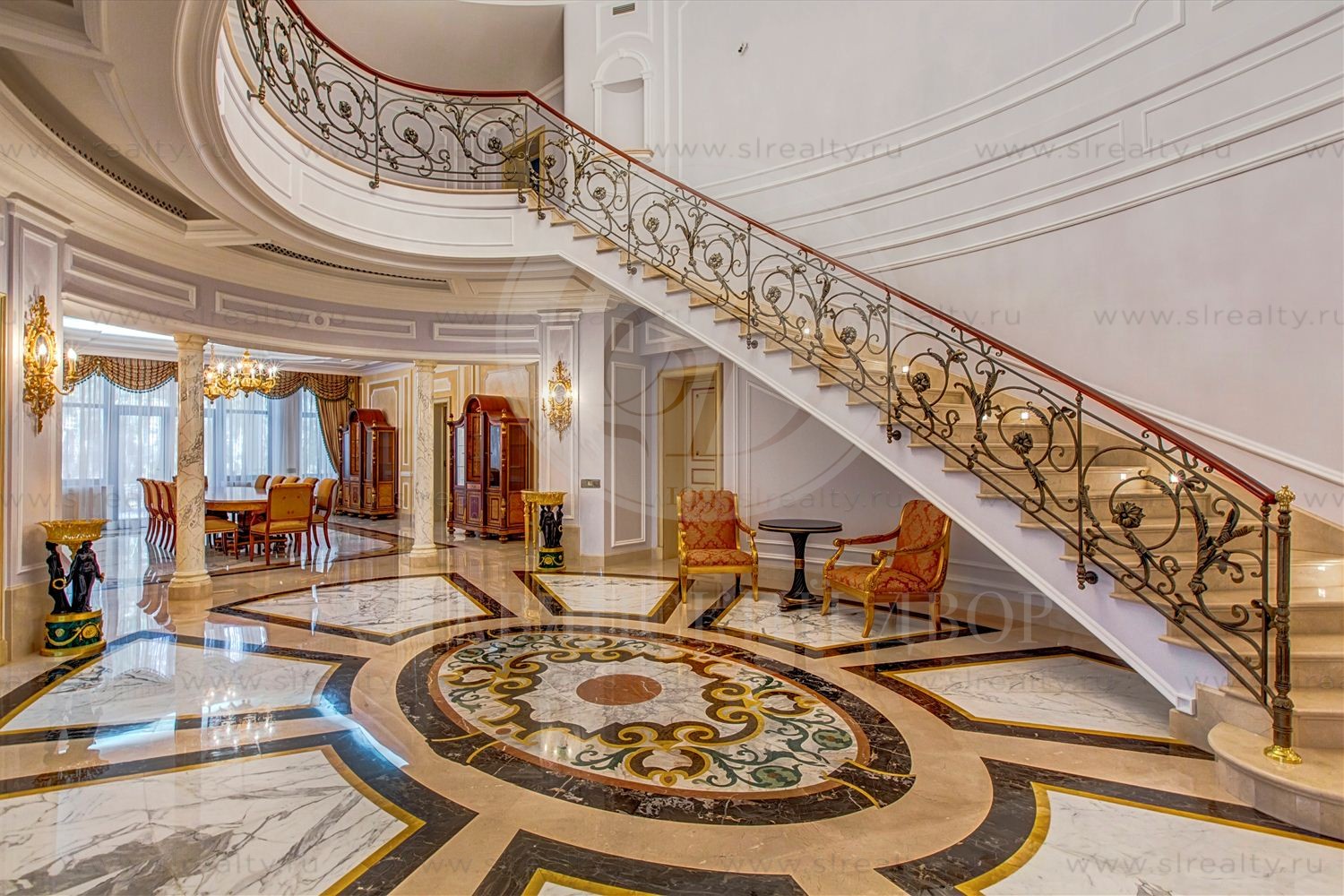 It's all comparative
The UK is famous for its beach huts,  most of which sit on windswept beaches that see too much rain, have no accommodation element, but a couple of stored deck chairs and a camping Gaz  stove to make tea and cook sausages. They certainly have no toilet, full kitchen or Wi-fi. No-one could call these luxury, unless you were a poor soul who lived on the streets or slums of Calcutta perhaps.
Now enter a "luxury" beach hut, complete with toilet & shower, mezzanine king bed, full kitchen with a parking space and right on the beach. Plus it comes with free Wi-fi. It also has underfloor heating, double glazing and skylights.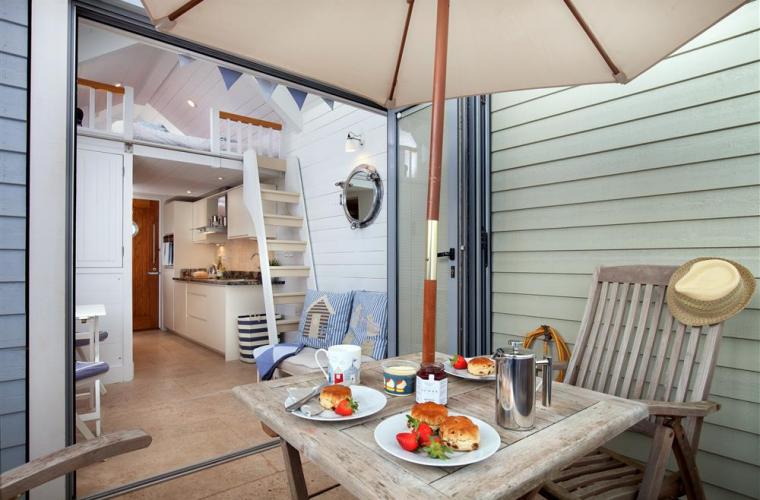 The luxury association is based on a comparison between beach huts not comparing it with the Al Burj hotel in Dubai!
Categories and Comparisons
Having met hundreds of owners, one thing always comes to the fore in discussions and this is their personal angle or opinion and not that of a searching guest.
Two very similar cottages may have different locations and see wildly different occupancy.  "Luxury features" clearly play a role, but so does location, parking and presentation.
These are all the reasons that no single property can easily be defined a "Luxury" and the industry badly needs a categorization element. Reviews can assist with judgement,  but again it's not and industry standardisation but a comment from a person's particular standpoint.
Every owner can achieve "levels of luxury"
This can be achieved quite simply and with payback. It is impossible to change locations and generally improve views. Location and views carry premium prices but are capital intensive and need higher rewards.
Most levels of luxury can be raised by internal spend, simple external amenity improvements and going that extra mile. Remember the market is increasing in size and those who up the game will win. Those left back in time will fade away.
Luxury, as we can see, is a perception of spend and affordability, combined with a guest experiencing a getaway from it all and rest. This is supported by a good nights sleep, having the same or better amenities than at home and seeing a high level of service from look to leave.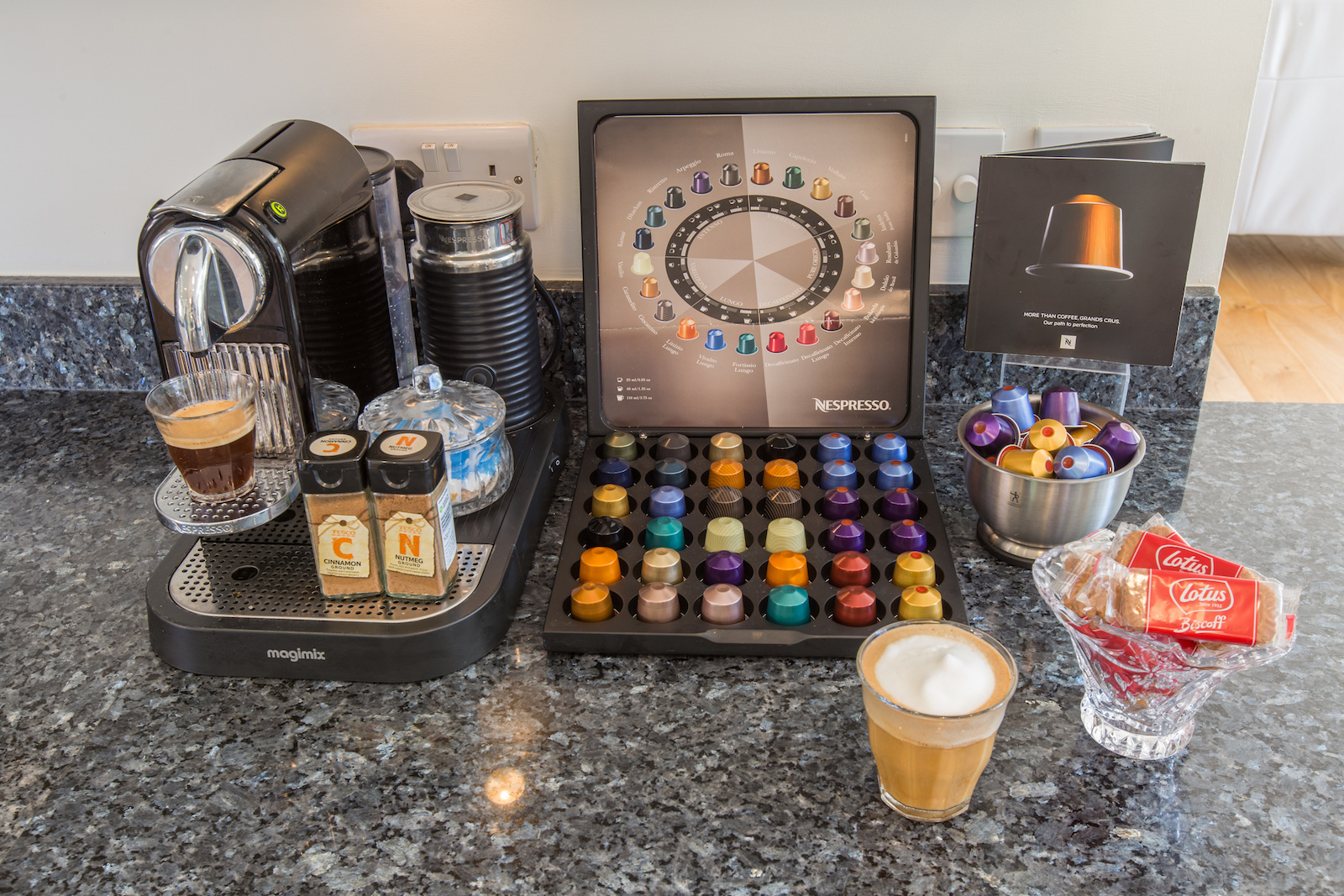 Do you want to provide a luxurious experience?
We have seen people pay more for elements of luxury and in such a competitive world small changes may make all the difference.
Taking a leaf out a hotel book again we see top hotels with guests using 4.5 towels each per day. OK in a rental that's a lot, but consider increasing the number and quality. As above, invest in quality products and present them beautifully.
Luxury hotels provide branded toiletries too. It's not expensive and adds a nice personal touch. If you are going to invest in reparations or improvements, then a great king size or bigger quality mattress and a great bathroom! How many times have people turned away at the bathroom shot?
A report from 2013 on technology in US hotels was also revealing. Only 77% of hotels had flat screen TV's but 92% of guests expected it. For luxury hotels, they also expect extra services such as satellite TV etc.
Don't forget people like to spend time outside as well. Consider seating, shade, garden or terrace ornaments, ease of storage and don't let them get weathered and make sure the grass is cut and weeds removed!
We mentioned above that Luxury has a definition of: "Great comfort, especially as provided by expensive and beautiful things"
Beauty is not always expensive. Nature is beautiful and inexpensive. Fresh flowers not only add a personal touch, they have lovely scents and help make rooms more appealing.
There are a million words spoken on how to improve a property and see it rented more successfully but it's only going to succeed if taken from a guest's viewpoint, not necessarily your own. Germans as we have seen as grumpy unless they get free Wi-Fi and so they should be! Americans focus on the bathroom, so make sure it's up to scratch if this is the target market.
Whether any property can be called "luxury" is hard to define, but levels of luxuriousness can be elevated and used in marketing.
Luxury in vacation rentals is almost exclusively presented through a visual medium to capture that interested guest' fleeting glance. Ensure whatever you do is highlighted professionally and pushed to the fore.
If you have a "Luxury" property we would love to hear from you to research how you position your home
Comments