A 7min read diving into the "alternative accommodation" sector, looking at where & why the money is heading towards luxury villas & high-end properties.
Dreaming of a holiday? What is the first thing that comes to mind for most people? Perhaps its visions of warm sunny days by a pool or overlooking a calm deep blue ocean with white sands. In winter it may be snow clad ski chalet with wood burner and hot toddies after a day on the slopes.
The big corporations know this and are refocusing their attentions on higher value, luxury, family experiential accommodation. The arguably incorrectly named "alternative accommodation" description is gaining ground and bringing more traditional vacation rentals into the mainstream fold with all its corporate service support.
Top ten types of holiday taken in the past 12 months
Each country's population has its own preferences and the UK is well served by data, so for the convenience of this article, we have quoted the UK alone. As you can see by the image below, city breaks are by far the most popular and renting a private home only 7%.
City breaks these days in the rental world is Airbnb and Booking.com territory, but these tend to be short breaks and fiercely competitive, more likely to see an instant booking at lower values.
The image below shows where UK visitors take their holidays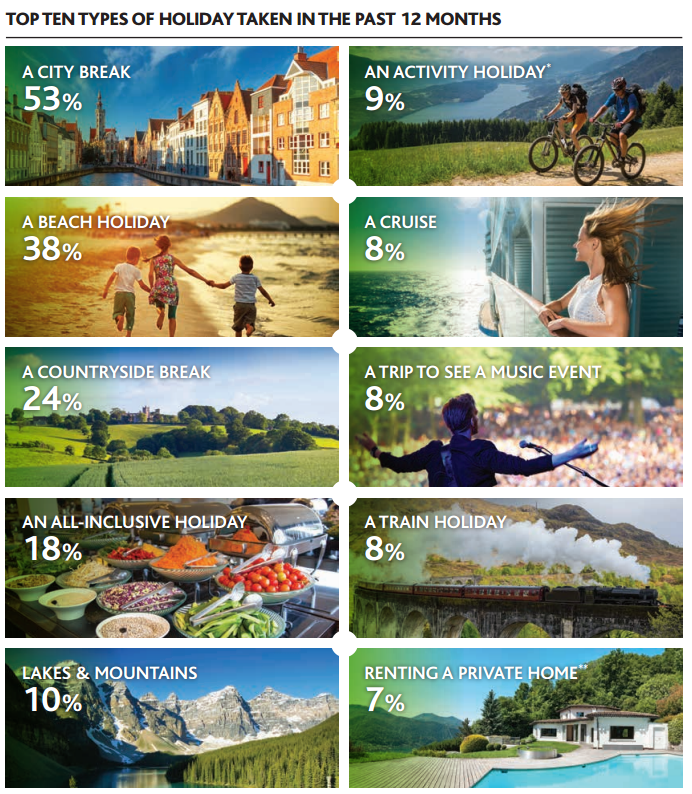 However, the renting of a private home, which can range from a small apartment to a 30 bedroom chateaux is on a strong upward curve and looks set to double over the next 5 years.
Add in the increase in travel and the opportunity crystallises further.
Long haul holidays are no longer the preserve of the intrepid traveler. According to TUI UK, Thomson and First Choice holidays have seen a 350% increase in long haul customers over the last ten years with an 800% increase in families taking long haul holidays.
There were 45 million holiday visits from UK citizens in 2016, spending over £30bn with an average stay of 10 nights, Example destinations are Spain topping the bill at 14.6m visits, USA 5th with 3.6m visits and Thailand 30th at  320,000.  See full list here.
Villas, villas and more villas
Remember villas.com from booking.com, they clearly identified an opportunity in this market but was quietly discontinued for all manner of reasons. A poor decision where it simply replicated booking.com and even then poorly in the process, diluted with apartments and rooms.
The world is awash with villa websites and has clearly been seen by many as a wonderful opportunity to create a business and generate a lifestyle income based on focused marketing in key locations. This will get tougher for the small players as the corporations enter the marketing game.
There are hot spots around the world that are developing quickly such as portfolios of Thailand villas or for the ski chalets enthusiasts or perhaps the get way from it all Muskoka rentals in Canada.
What's the income per booking?
Take a quick look at HomeAway for example with over 1500 properties in Koh Samui, the cheapest are £12 per night. A week may cost less than £100 and the experience may not be great! The commission is minimal for HomeAway based on their guest service fee and booking fee, probably in the region of £10.
Now check the most expensive properties, these can reach £26,000 over Christmas, this is very lucrative if a business is taking 15% such as Booking.com, not bad £3900 business for connecting the guest to property and worth 390 cheap bookings. Obviously a much more rarefied atmosphere, fewer people able to afford this, but also less inventory supplying this level of the market. There are even more expensive properties around the world such as Villa La Casinella on Lake Como at over EU120,000 per week.
A perfect investment storm
So we have a rapidly growing market, more travel, increasingly wealthy demographics, clearly, potentially large profits made per booking and these properties falling into the "great experience" bracket: superb accommodation, enviable locations, concierges, chefs, support and transport services and much more.
No wonder many large companies are looking carefully at the opportunity and in particular businesses already in the hospitality space. In addition, the threat posed by the likes of Airbnb as an alternative to hotel rooms (and no doubt others offering alternatives to upper-end hotel rooms) illustrates concern and the need to educate.
The luxury Four Seasons hotel chain which operates a rental division in some resorts sees the Airbnb acquisition of luxury retreats as a step into their territory and the luxury end of the market looks set to heat up.
These are a few examples of recent investments and partnerships which illustrate the early movers…
We expect more investments to follow and a lot more press coverage.
Comments