Who remembers the good times, or was that just how it appeared? Since then the industry has, morphed, been under attack and will not doubt soon see an explosion of specialist short term rental psychiatrists!
The following is an early 1999 snapshot of ownersdirect.co.uk. A popular website where owners could advertise their rental and get enquiries. Charging £100 for an advert was considered quite expensive in those days.  Personally one advert would generate about 8-10 bookings per year and an equal number from a small local website!  For owners this was great. Even as a manager (who were not allowed on the site) and taking a 25% margin from owners, it was also excellent. On these types of sites, managers could also list a few properties and offer others (the old bait and switch complaint) as all bookings were made off system and through enquiries.

We have a single property at £130 (still no managers) and more upsells

9 years later in 2008

. Still excellent.

And 7 years later still in 2015, also not too bad!
By January 2016 the new world of booking began to emerge and the last 4 years have witnessed a sea change in the way the vacation rental (even the name is changing globally) are booked.
E-Commerce was inevitable
The move to an e-comm model was inevitable, aggregating a market with such a fractured structure was going to happen once technology could accommodate it.  Companies supporting the infrastructure still struggle however with many of the granular data challenges as (unlike normal mass produced amazon type  products) each is unique in some way. 
Guests love  choice and are human!
Even in the basic ownersdirect days, guests could research lots of locations and properties and undertake their bookings directly with what are now called "Hosts".  Refusing to believe that this approach was never going to last is akin to the proverbial ostrich sticking his head in the sand. If you use Amazon at all, it's the same process. Easy, frictionless and most consumers have no idea or even care what the commercials are behind the scenes or how much effort or source cost is involved! This is where most margin is lost.
The balancing act for Guests all revolves around access to rich information, ease of use, trust and financial benefits and risks. Well worth remembering for your own website! Also remember virtually no-one reads the T&C's! 
Why are margins shrinking and guests are paying more? The reasons for this are clear, but have been accelerated and compounded for many reasons both through technology and global economics.
It's no longer a cottage industry (pun)
There are millions of properties listed world-wide, too many to be accurate, but Airbnb has over  5 million and although high percentages of these are also on Booking.com, Expedia (VRBO) and TripA brands, there also probably another million or two out there not listed on the majors as well and in various accommodation type subsets.
With such size and a primary internet sales funnel, this is now an ecosystem that has to rely on technology for both visibility and transactions. As we have seen in every sector, with the FANGS, the biggest companies control large swathes of the market and this is a major part of the margin dilution. No real estate, no assets, just brand, marketing power and technology. 
Margin is lost everywhere.
As any business grows it sees enterprise and change. The current model is challenging and more players are vying for slots in the booking chain.
In 2016 we compared the London underground (old image below) to the dilution effect of the margin leakage and since that time more costs have been added as the industry becomes more professional and marketing fees have also increased.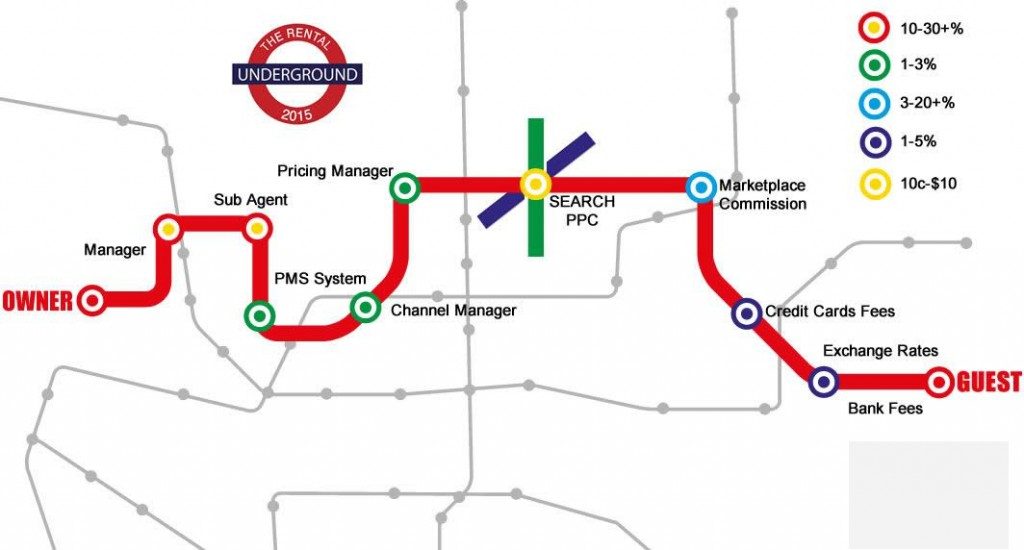 With more services being available daily such as luggage storage, concierge services, cleaning apps, remote monitoring devices and door opening tools, ID systems, tax and finance APIs etc, there is more pressure on the booking margin and less in this finite value to coordinate it all with staff, who are still a vital part of regional VR  businesses.
This is less so in urban centres where automation is the name of the game. Their problems however are even greater in times of crisis leveraging inventory at scale and with higher fixed fees and competitive ecosystem.
It's a balancing act
One one side we have an owner or a manager/agency who contracts the owner and looks after all the bookings and guest liaison and hundreds of disparate activities and organises operational management. Or is the owner themselves.  On the other we have all the barriers to profit, which deliver the bookings, provide the technical and financial services.
The bookends of the business are the property, its capacity to generate sufficient revenue to satisfy its owner and on the other all the activities that go into generating that revenue consistently. In broad terms this revenue seesaw below has properties on one end and the booking funnel and technology at the other. 
Insiders to this industry know how complex and stressful it can become. With a move toward increasing bureaucratic demands, health and safety regulations, financial reporting and more demanding guest expectations it does not get any easier. In addition the rapid increase in technology and its application to every element of the business sees owners and managers are often ill equipped to meet the challenges both in time and knowledge. This alone has spawned more webinars than ever before, some worthwhile, many not so!
Some of these costs can be passed to owners of course, but they too are watching the pennies. Most VR companies are also seasonal and the bookings are made across the whole year but are concentrated in specific periods and this provides cash flow for the rest of the year. There is little room for error or any buffer and its like walking a tightrope.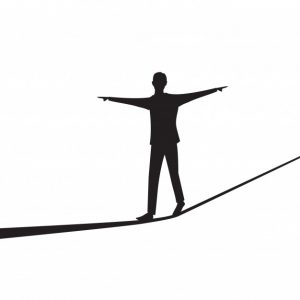 Other Income streams can help
Seeking more income is therefore a natural thought process and this has focussed on upselling products such as insurances or local supplies, but also to charge the guest more, by uplifting prices on OTA channels and building this into the commercial terms with owners. 
Apps that can be populated with booking information and affiliate programs, offering tours (think Airbnb) and no end of enterprising sales uplifts have been applied. This all take work.
Which costs are the most important and most inspected
There are a raft of operational elements involved in running a rental business but two are central to efficiency and income.
1. Technology
Consumers are used to paying relatively small fees for commercial cloud software and struggle with rental software prices. "After all, it's only software" is a comment often heard and guaranteed to make any developer's blood boil.
PMS prices, web development fees, channel support, payment gateway fees etc are often under scrutiny.  Many consider giving up £150 on a £1000 booking to an OTA is acceptable, but arguing over a card fee of 1.5% rather than 1.4% for processing that booking payment is considered time well spent. Without that complex data flow, support, servers, relationships, PCI compliance, coding, staffing etc, the booking would not have been possible let alone administering the finances and connecting to countless other systems to make updates and communications.
The STR industry has thousands of small management businesses and I am willing to bet that within that ecosystem not one single business is identical to another. All have variations, country specific demands, languages, pricing demands, taxes, accounting rules, channel demands, payment solutions, operational and automation differences, to mention a few. Running such multi-bespoke software solutions  and maintaining architecture, plus providing support is a complex and expensive task. 
Cutting any of these critical tasks, may well cripple an entire business and increase the time needed to administrate a business substantially.  This has substantial value as anyone who has tried to run a management company off spreadsheets will tell you.
API's now rule the world of data exchange and we sit in an industry with no standards and a lot of instability, confusion and marketing obfuscation. The software tech market is also seen as easy to enter and is why we see companies now folding or merging. 
The only people who really understand the software problems sit in darkened rooms in front of screens and expect to be fed and offered up unlimited cans of diet coke. They are often undervalued but are what makes your world work. 
Apps that provide door entry systems, or monitoring, staff communications are all critical in normal times. Removing them completely is not a great option if they are embedded in the business and are an added bonus if they reduce staff costs. Hardware is on the increase but monthly fees especially in managed inventory can escalate and now needs to be part of an owner discussion. Margins need to be absorbed elsewhere and this can only be guest or owner.
Expecting a premium software package, top quality support, and some bespoke tailoring for the price of a monthly gmail account is unrealistic. Without these tools however it becomes impossible to manage OTA data, fulfill the guests and the owners reporting and comms demands and connect to the multiple services that are increasingly expected, efficiently.
Saving Money:
Squeezing the core technical services results in poor support and this is the industry's biggest complaint. For certain money, can often be saved on card fees and merchant providers. We still see people paying 3%+ on EU business when there are much cheaper providers. Most tech companies have to be flexible as its a very competitive market so ask for terms. Also consider your budget in terms of % vs fixed costs on products. Much of this is a business size decision. A 200 property company turning over £5m is not going to look favourably on a 3% charge, let alone a 1% charge. A single self managing owner is may make more sense.
Good and scalable, fast, mobile first websites are going to be very important, so try to avoid skimping, just ask for payment terms. Direct marketing can be a mid term lifeline and this will be your shopfront and with 65-70% mobile traffic needs to be a focus. Even a small increase in direct pays a lot of bills! Some companies offer Freemium, but the core product you needs is in the "mium" part so don't be fooled.
2. Marketing – The big drain
This is the big one and generally constitutes the bulk of lost margin (up to 20%) especially in urban locations and has been creeping into traditional VR year on year. Until recently when businesses had been acquired, P&L statements would have had various lines attributed to marketing. These days it is not uncommon to see "OTA Fees" as a line and this has become an accepted norm. It's an indication of its acceptance and when questioned as a strategy, there is a certain degree of acceptance and capitulation and is one area that acquirers with greater resources know they can shave through brand and technology.
In recent years there has been a lot of publicity on driving direct business. This is no easy task and takes some months of intensive work, but will pay dividends eventually. It de-risks any ranking issues on OTAs and potential price increases and puts the manager in charge of the cash flow and in direct contact.
Increasing direct bookings by 20% on a £1m T/O, could realise an extra £40K profit for the business. Shaving fees across all the other services and seeking group purchasing, or free services may add another £10K per year.
Realistically in these times of thinning margins there is little option except to charge the guest more as seen on OTAs and this also plays to direct bookings by working toward your brand or property searches by the guest and being found. All part of revenue management.
Many companies are seeing this billboard effect and despite its predicted death knell it clearly still exists in the rental world. Four very important points however, getting traffic is one thing, converting it, is another challenge, so consider:-
Websites need to be up to scratch 

The guest needs to trust the process and business 

The process needs to be frictionless

Incentives to book help.
Some of the costs to explore
Below are some of the regular costs we see, and growing daily, not all are necessary and most can be excluded. BUT beware is this at the expense of service and management and owner/guest retention?
Information apps for guests
Door entry systems
Remote video surveillance
Remote monitoring systems

Air quality, humidity, Temperature
Noise/disturbance awareness

Alexa and Google Home apps
In House tablets
Key holding services
A good selection of these added together monthly are probably less than the average marketing fee on a booking.
It does beg a question of OTAs future, will they merge with large tech distribution businesses, such as Amazon and dominate the hardware integration side too?
The only solution here is to have a rich and diverse marketing mix, think mid term, invest in your USP, your direct opportunity. Work with locals in the same situation as you. Collaborate, talk to your DMO. Your destination is where people are coming to experience the holiday and your accommodation is inextricably linked to this. Visitors generally research destination first, so find your way into that funnel and think niche, granular information, excellence in presentation and empathetic dealings with guests.
What marketing margin should you aim for?
No simple answer as portfolios can be very diverse and absolute margins significantly different. Airbnb stormed the market with 3% charge to the supplier and this was smart. It allowed onboarding of managers at scale, who were seeking better margins. The guest paid the rest, but this is not a good long term model as the market evolves.
Its up for discussion but on average a healthy <5% on market delivery of bookings overall with full control of the guest. In various conversations we see managers happy with a CAC of 6-8% for external channel marketing and is largely dependent on the company size and portfolio. This is a long way from the 1% 20 years ago of course, but it's a different ocean and a lot of predators are now swimming in it.
Where is this headed?
COVID-19 has illustrated the lack of a solid balance sheet, built over years where margin as profit has been retained. Cash is king and even if none is flowing these companies are much better placed to access resources from those horribly risk averse banks. Living on a knife edge is not only a bad place to be in difficult times, but is stressful.
A few thoughts on this going forward and a couple in blue that we see as a way to develop local opportunities.
Large corporations have also been hit and they have shareholders, so expect newsworthy ideas focussed on increased margins. 

There is little or no extra margin to be taken from the current agreements with owners, so many owners will consider undertaking bookings themselves on OTAs directly and engage operational management.

Smaller managers (the 100 standard type property threshold) will see more acquisitions

The larger managers will increase their brands and focus more on direct/PPC and develop their own loyalty schemes

Many urban businesses, and some traditional due to COVID-19 (and current trends) will disappear and others will need to merge.

Smaller and heavily invested tech companies will be re-evaluating their losses

We will see survivors seeking to remodel businesses that give them a local USP and look to spread risks and develop their own traction

Smaller businesses who want to succeed will need increased or higher value business and look closely at revenue management (not just pricing) and much more useful information on their business operations

Booking businesses will want to control their cash flow and be merchant of record

New platforms will arise with novel approaches to booking and focus on niches where rich data and expertise is involved.

Destinations who have seen their subscription incomes disappear to performance based brands will adapt technology and we will see increased collaboration

Increased official tax and guest reporting to authorities and licenses delivered via technology

Tech supplier business partnerships, not simple product scaling based on massive investments.

A remodelling of relationships via T&C's with guests and owners
These much loved VR assets and urban investments all have varying degrees of income potential dependent on many factors.  The fact remains, there is only so much money that guests are prepared to pay, owners are happy to receive and managers can survive on. As a manager or owner, analyse your margin leakage and overheads and nail down whether they can be improved.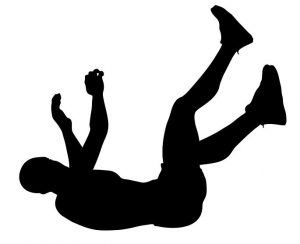 Think long term, not short term, if possible, as short term could see you fall off that cliff very quickly with only small market adjustments.
How can we help.
If you have problems with any part of your business then feel free to get in touch, whether this is technical, commercial or supply and distribution based, then feel free to contact us.
Comments