Our bi-monthly industry newsletter has been shortened substantially as we let the dust settle. At Rentivo we have been looking after clients and taken the view that there is a solid VR future and this is now a good time to plan and help the industry build a more robust approach. As anybody who knows us will realise, customer support, collaboration and a long view is important. It is a very uncertain future still for all, so just a few lines and links that will help plan, all free:)
If your business has no balance sheet or personal buffer then read our commentary on "Margin, the lifeblood of any business", trends on the shrinking value, the reasons why, the damaging effects, the future challenges and the solutions.
---
There are lots of webinars and people willing to help the industry from all quarters, most are free.  I have been involved in a couple and have attended many more over the last few weeks. This one on April 15th "The road to recovery and profitability" should prove worth listening to.  AJL Consulting have also produced a white paper that supports this conference and has granular examples of the benefits when you can rethink your business and operations.
On the 16th there is another organised by BookingPal: How Property Managers Can Navigate the Changing World of Vacation Rentals. This has Jennifer Hsieh – VP Homes and Villas by Marriott on the panel and would be good see how COVID has affected their launch into this sector, bearing  in mind the hotel booking meltdown globally too.
---
Not often we recommend reading other people's blogs, but we would thoroughly advise anybody in the industry to follow Thibault's reinvigorated newsletters and posts on  Rental Scale Up where his finger is definitely on the pulse. In the current climate has access to lots of information that will affect us all!
---
"To Guests, With Love,"
David Jacoby from Hostfully and Andy McNulty of Touch Stay were brainstorming ways to try to unite the vacation rental industry and do something uplifting for our community.  They came across this heartwarming video of dancers across China crowdsourcing a video to keep everyone's spirits up.  They want to channel that concept for the vacation rental industry (don't worry…no dancing skills needed!)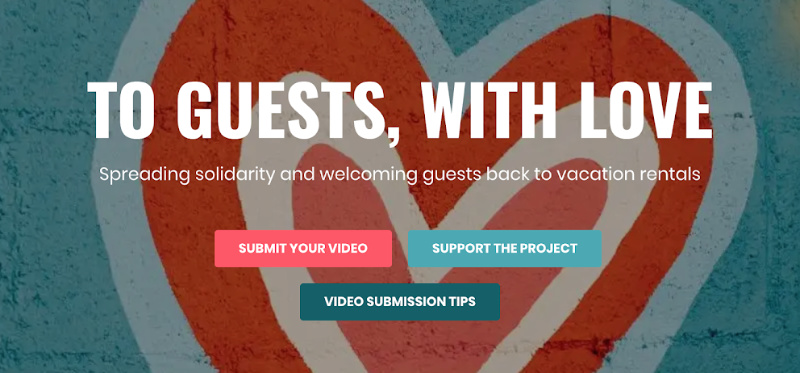 So with that inspiration, they created the project "To Guests, With Love" in which they are asking hosts, property managers, owners, vendors, to film a very short video of them doing something in preparation for welcoming back their guests.  Ideally, it is silly, and ideally, it's in one of your vacation rentals. The "To Guests, With Love" teams will then edit the clips together to create a video celebrating the international diversity of the vacation rental industry, how we are united, and how we are ready and can't wait to welcome guests back into our homes.
Both David and Andy truly want this to be an industry-wide effort and are downplaying their specific brands as the organizers.  Rather, they want everyone to feel ownership of this project.  And they want the promotional page to have every logo of every vendor and property manager who wants to show their support and show we are united.
(Text taken from Rentalscaleup.com)
---
Stay safe and stay in touch. If you want some help on tech, services or other industry issues, just connect on Linkedin. Not a good time to try and sell me anything however!
Comments