2min read on how mobiles are surpassing tablets in online traffic / bookings and how they have both reduced desktop for researching  vacation rentals.
In January we posted an article on the use of mobiles and potential for increased conversions via a phone call (yes that's where people talk to each other).
We thought it might be helpful to show how important this has become and how mobiles (phones) are supplanting that all important tablet which featured so heavily in Christmases past and how both have reduced desktop use for researching rentals.
The figures below have kindly been given to us by a "non-city destination portfolio" European client with a mobile friendly site. This shows the reduction in desktop use, the increased use of tablets and the latest convergence of these with mobile phones!
Percentage of visits by device
300,000 average session views  per year.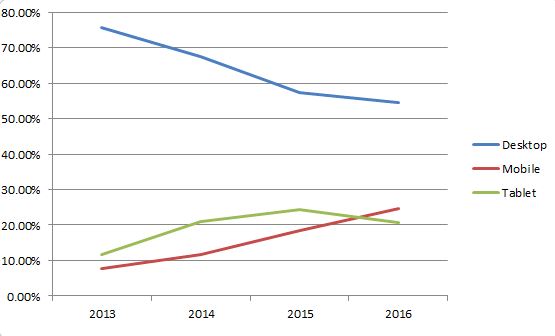 Page views & dwell times

Based on the above, mobiles continue to accelerate, desktops look as though they are levelling off and tablets are dropping and there is less time to make a conversion on the mobile. Obviously, site design and mobile flexibility is part of this and the page view figures above would be subject to more analysis. Anecdotally however, watch how ephemeral and transient mobile use is with visual "scanning" more prevalent. Capturing that micro-moment of attention is important!
Watch how ephemeral and transient mobile use is with visual "scanning" more prevalent. Capturing that micro-moment of attention is important!
In the consumer world globally mobile has driven past static: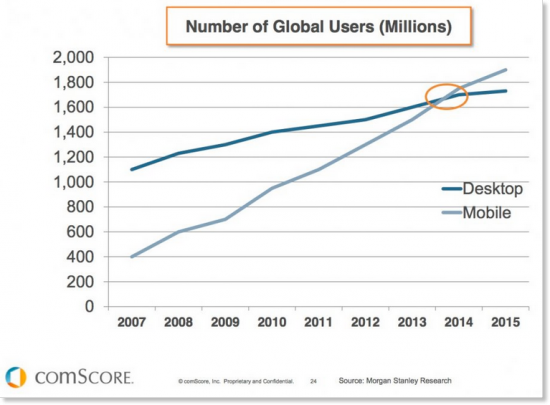 Mobile devices
Some more interesting stats from this client:
These statistics reveal that overall, Safari is used in 41% of all browser views to the site, leaving Chrome second! Cross browser compatibility is a must!
Where does this leave us? Clearly mobiles are much more prevalent and their rise continues and all businesses need to focus on how customers can be attracted to this different medium.
We say "different" in that use of mobiles is more transient, can be reached via different delivery mechanisms, but on a mobile, it is harder to display a property's full potential in words and static pictures.
Indications are that attention span is probably less, key booking drivers will also see  association with other fast delivery information based on mapping and routing plus local attractions. Bookings need to be less complex for those guests who do not need more information. For those with more booking demands or guests who want to drill down further, think mobile to phone or email (which needs a very fast reply).
If you want to see some facts and figures on mobile checkout this link. 
AI and bots may form part of this future, but for now reorganising and simplifying data, more visual work and obvious contact details are a starting point.
Previous Article:
https://www.rentivo.com/blog/phone-calls-vs-book-now-mobile-pushes-online-booking-aside/
Comments