In March 2015 the TripAdvisor® Vacation Rentals Survey, showed  VR stays are on the  rise with 59 per cent of more than 1,800 U.S. survey respondents planning to stay at a rental in 2015. What's more is that  87 per cent were deemed more likely to book a vacation rental because of an online presence.
Marketing, increased awareness, economics, changing demographics and consumer habits have all played a part in this.
When it comes to making a booking in a rental, again we have seen massive changes, impressed upon us by OTA's with ambitions to filter rentals into the hotel booking channel.
Mobile has been lauded as the next big converter. No argument, but it has problems for OTA's
We can't ignore mobile
There is a weight of statistics to show the increasing importance of mobile across the planet. You only have to watch people in a queue, at a bus stop, train station or coffee shop.
The use of mobile is part of the very fabric of society.  The use of search on mobile phones has grown substantially. This is accompanied by an increase in use of the phone as a phone (wow!)
Calls convert better than clicks & impressions
The following is part of a report from BIA Kelsey.
"After a decade of media adoration, clicks and impressions aren't valued as highly as a ringing phone to businesses. Calls have become a valuable currency in a world where growing smartphone penetration pairs low funnel purchase intent with a device (the phone) that is ready to make a call."
By 2018, BIA/Kelsey estimates that mobile search will generate 73 billion calls to businesses in 2018, up from 30 billion in 2013. They also point out that one of the driving forces behind the growing importance of calls as currency is the growing sophistication of call analytics, to measure call quality and gain strategic insights from call data.
Plus the value assessment of calls is highest in local verticals that place a high value on new customer acquisition (e.g., appointment-based local verticals such as financial services, home services, and professional services such as lawyers, doctors). – THINK VACATION RENTALS
Consumer products vs VR type businesses
A product is anything that can be offered to a market that might satisfy a want or need. A set of headphones, a bar of soap, a box of chocolates are all volume products and supplied across multiple outlets. They are all identical.  They are sold on price, quality, comparative performance and availability. These are almost always generally lower values compared to a hotel or vacation rental and also available from multiple sources at the same time.
Hotels and VR's are very different
There is also a significant difference between hotels and VR's. Hotels may have hundreds of rooms and are "productised": a room, a bed a bathroom and TV.  Similarly they are priced in a more complex manner but compete at a less intricate level than a vacation rental, which are more often than not different in size, amenities, locations and services.
As they are unique "products" VR is different in that it requires more information to ascertain suitability for use.
Complex services require phone calls
Invoca a very successful technology call management company has a lot of data that reflects the growing importance of calls. The various graphics below are sourced from one of their reports.
These are general numbers, but purchases most likely to see a phone call will fit some obvious criteria:  They will be more expensive, have complex conditions, will be hard to show all details on limited screen size and have financial penalties attached to them. Making an instant booking/purchase via a booking button is significantly less likely to happen.
This drop in conversions means OTA's need other drivers. It is no surprise then that OTA's want no financial cancellation penalties, simple pricing rules, easier descriptive elements and more of a hotel approach.
Phone number or not?
Showing a phone number for booking support, is useful as it instils trust in a guest but also comes with expectations. If a business takes a call, the caller would generally expect the sales person to have product or service knowledge, not just show them where to add their credit card details.
To add an owner of manager's phone call to a "Book Now" commission/performance listing (Airbnb/HomeAway/Booking.com) just reduces their opportunity and see income "leakage".
They do recognise the need however to have a number and have "booking support numbers". The staff have do not have more than basic knowledge from what they see on a screen.  An unexpected "foreign" voice and lack of knowledge can certainly reduce the chances of a booking or return to the brand.
With the massive increase in mobile search and natural gravitation to calling from the same device, to ascertain more detail, the opportunity is there to increase conversions.
Tracking & the importance of click to call
Affiliate tracking of calls was always an issue and many affiliates saw their own leakage. With new companies such as Invoca solving these problems and affiliate businesses integrating call tracking and monetisation, we can expect to see more drives to actual phone calls.
[mailmunch-form id="193298″]
75% want assistance.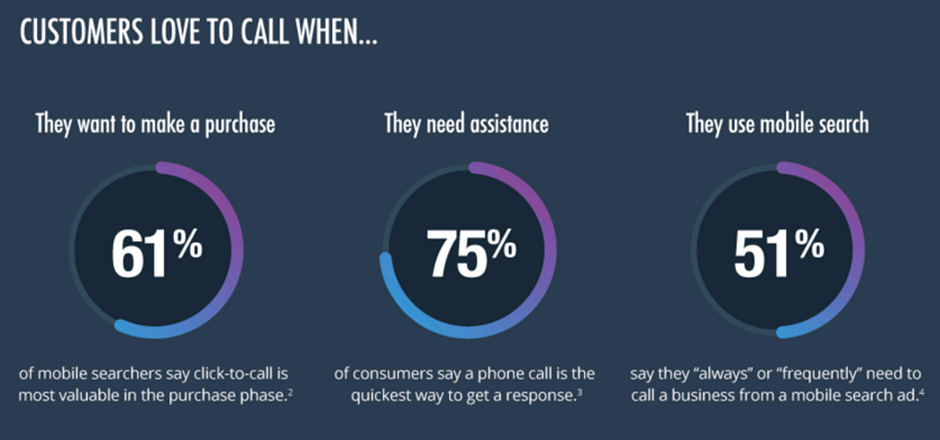 45% is from mobile search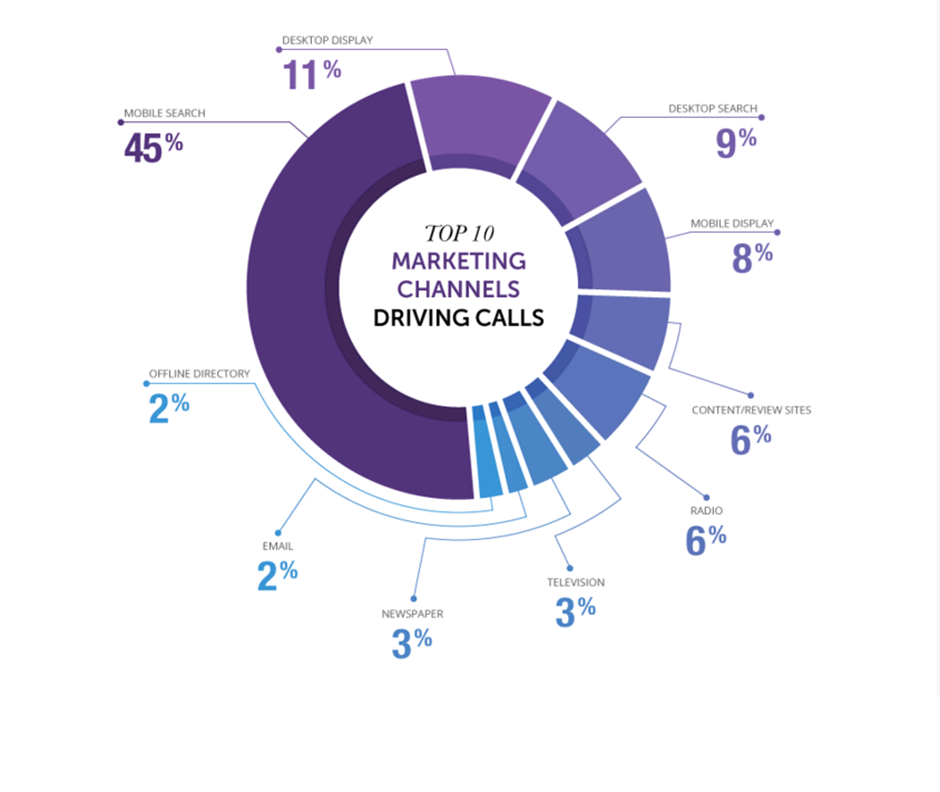 Twitter introduced a Click-to-Call button in 2014, Google and Yelp both offer this. If we have a look at FlipKey in 2014 when they raised prices on pay per qualified lead, email rate rose 28.5% to $9, up from $7, but the fee for phone leads increased 20% to $12, up from $10.
The industry leader in paid advertising is Google.  Google commissioned Ipsos, an independent market research company, to understand consumer attitudes about click to call within organic and paid mobile search results. They surveyed 3,000 mobile searchers who had recently made purchases to understand the role that click to call played in the purchase process.
The results showed that 70% of mobile searchers use "click to call" and that calls are an important channel for consumers. The study explored behaviours across seven different categories: Travel, Restaurant, Finance, Retail, Technology, Local Services and Auto.
https://think.storage.googleapis.com/docs/click-to-call_research-studies.pdf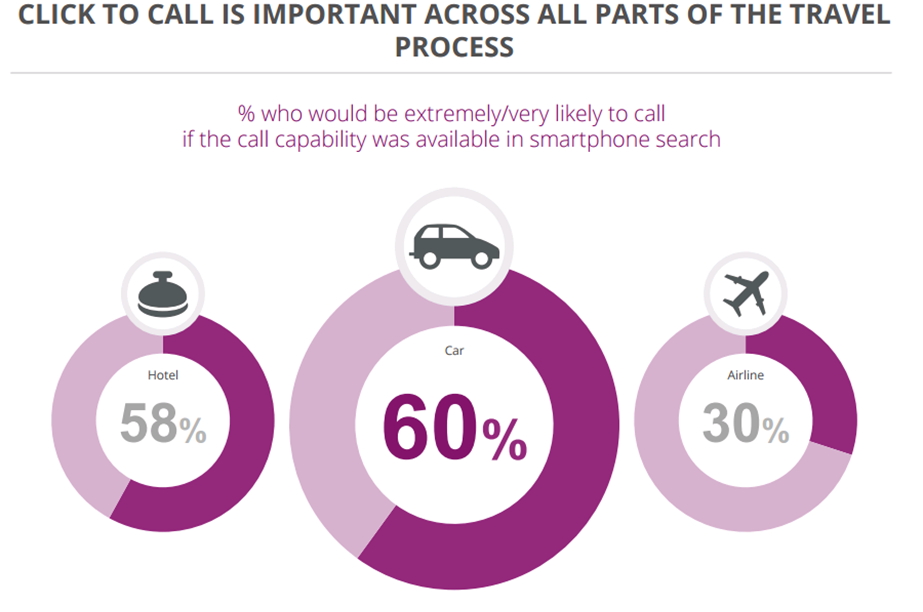 There are no direct figures for vacation rentals, but as part of the travel industry and with the direct comparison with hotels now being made, the figures below will be of some interest.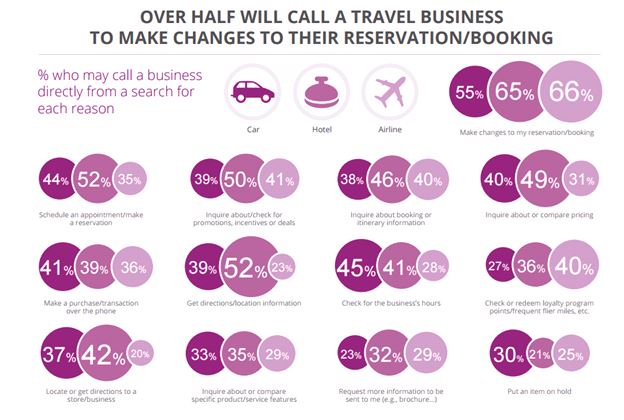 Interestingly, making changes to a reservation is the highest percentage shown and is an illustration that any business that involves a time or distance purchase, often needs more information or adjustment.
As mentioned earlier, having a phone number can establish trust. 27% would be less trusting and 47% frustrated or annoyed without a number and more likely to explore other brands.
The following graphic illustrates these points.
Who wants to speak to guests?
We are definitely beginning to see a polarisation within the industry. Mergers and acquisitions are creating "big" brand management companies. Local knowledge is less likely in these large companies, but provided they have direct property management access and the scales brought by volume allow more advanced data use, they are more likely to have helpful and well trained call centres.
The smaller managers are often below critical mass to have sufficient staff and cannot respond the calls promptly but will likely have more detailed knowledge.  They often rely on sites such as Airbnb or Booking.com to provide business.
Super agents, who simply aggregate, are less likely to have in depth knowledge unless the questions are referred externally and this means a significant drop off in the booking opportunity.
OTA's
The OTA's are themselves paralysed in the VR industry, where knowledge is imperative to many bookings. Certainly some guests' research a property, call, email a host and then try and book on a big brand as they perceive a greater level of trust, until they read the fine print or want to re-manage a booking.
As can be seen from the figures above, even on a mobile, a number is very important and often used for getting more information. If the OTA is the first port of call, the lack of a useful number must see a significant drop off. There are numbers available of course, but will they have the salient information needed to satisfy the guests questions.

Call centres are expensive and you will notice most  pure non contracting commission/performance booking sites do not have CTA visible "go to" numbers. Where are the obvious Airbnb numbers and why do you speak to somebody in Jamaica to book a Scottish Highland rental?
Growing trend back towards human interaction
Certainly a great number of owners and managers want to speak to prospective customers as conversions are so much higher than other forms of contact and local/property knowledge and personal contact are the two most important factors.
We can expect much more focus on vocal human interaction in the coming years, which is a little odd when we have spent so many years attempting to remove and automate it!
Little can replace a million years of social genetic engineering.
How to benefit from this trend?
If you have a website (and I really hope you do) and especially a mobile website, think how to show your contact number(s) on the mobile version clearly: In fact slip your phone number in anywhere you can!
Using the vacation rental web builder, we've made a mobile responsive website for our Devon holiday cottages portfolio and created a "click to call" button which only shows for mobile devices. See below: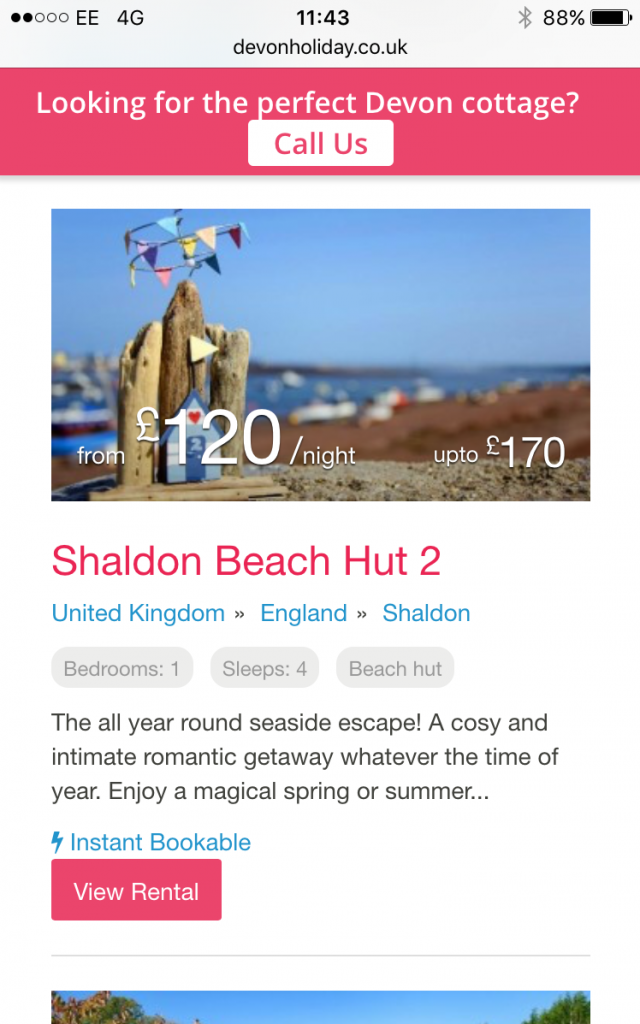 The potential guest may be on the move, in a place with poor web access speed and the need to find more out quickly and make a booking is hampered by screen size. As we can see the majority will call to find out more.
There are many ways of doing this and in last week's post, (Vacation Rental Growth Hacks To Increase Bookings) check out "HelloBar" which is a great tool and will allow you to place a phone number prominently on each page.
At the same time add a few more drivers: "Book Direct" and "Best Price Guaranteed".
Comments