An article in Skift caught our eye this week and highlights further the complexity and challenges facing managers and OTA's alike.
The rapid insertion of OTA's (such as Airbnb, HomeAway, Booking.com, VRBO & TripAdvisor) into the booking chain has caused disruption, discontent and disaster for some managers and now the challenges are mounting and it's not just bookings but ancillary sales and service as well.
The report from Hostfully covers a lot of areas and has several well-known contributors have added their thoughts, such as Eric Mason.  The report includes references to gaining platform independence, a word we have heard a lot lately and not just in vacation rentals.
Although the article has some focus on the ability for managers to technically support extra services, specifically with a management solution (PMS), this also brings into question the ability of OTA's to refine these services at such a detailed booking level if supplied to them by managers.
We all know distancing guest from owner and managers further is necessary for any OTA to try and plug in more revenue opportunities and reduce the financial leakage through guests seeking direct contact. The addition of service at a local level with manager complicity is yet another and even harder task to manage. Currently, this can only be achieved through scaling and consistency across borders and central supply.
Current industry focus
This comment below from the report/article summarizes what most of the industry have been focused on recently, seeking new avenues and reducing dependency on single channels. Note the comments on re-targeting, websites and multi-channel distribution.
This growing desire for more direct business, Jacoby noted, was reflected in the fact that the top complaint among respondents was about the recent changes HomeAway has made to its booking process, making it more akin to the online-only process found on platforms like Airbnb.

"What we're seeing is a focus on more platform independence," Jacoby added. "Property management software where you enter your property on one place and it lists it all over multiple sites, and that syncs reservations across all those platforms, is growing, as are marketing websites that help vacation rental managers build their own sites and focus on retargeting ads on other sites."
Key takeaways from Hostfully's "Scaling Hospitality" report
There are also few key comments that the survey produced, a graphic of one is shown below: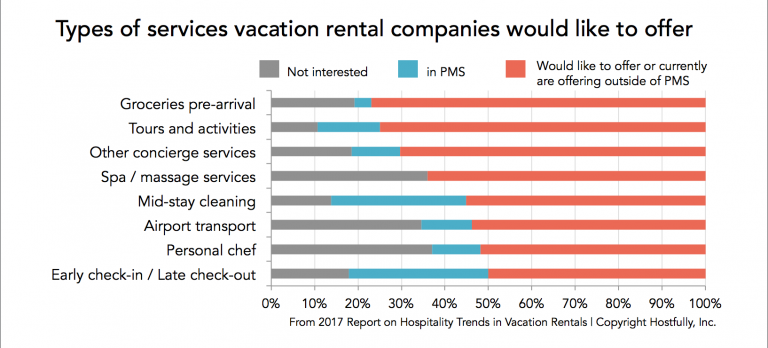 The survey is clearly spread over a widespread geographical area, a percentage of high-value inventory and/or international destinations. Inclusion or a personal chef within the results seems to illustrate this, but the report highlights the importance of food-related services.
Are the right tools available?
There is no doubt that providing extra services is an option many guests will adopt and on occasions need. That said, the ability to provide these services comes with headaches. Those that can be provided by OTA's under OTA only control will be limited and food-related services are the hardest unless mainstream brands or restaurant API's (such as OpenTable) are integrated, but these are not on-site.
Any property management system worth its salt should be addressing the opportunities to align incremental services either through direct input of information into the PMS with aligned reporting and scheduling or via API's who integrate seamlessly and remove the pain of actually providing these services (such as Vreasy).
Direct input of this service data into a management system (for example details on groceries, prices, delivery times etc) can be complex and almost impossible to synchronize with an OTA who are not set up to accept data from literally a world of differences! They prefer the navy KISS system!
Technology isn't the only problem
The market is segmented into urban (seems to be latest buzzword for everything) and non-urban, which could be anything from a resort complex of apartments, to a lodge in the mountains a yurt in the countryside, a campsite in the jungle, a castle in remotest areas, a villa on an exclusive island or a cottage by the sea.
The market is also controlled at source by owners and not all owners have the same needs, desires, opinions and cost acceptances, despite managers pushing for consistency. Possibly 50% of the observable mainstream market is now controlled by "managers" and increasing.  But even this nomenclature needs qualifying. A "manager" may just market the properties and handle bookings but pass off the actual management (linen, cleaning, call outs etc) to several third party companies or the owners themselves. They may all use different management systems and have different working practices adding further to the complexity of service provision.
Analyzing the opportunity in the scope of supply services is therefore quite difficult and not necessarily due to the incapacity of technology or lack of desire, but due to the "on the ground" logistics.
"The empty fridge dilemma" (quoted from the report)
The report shows that of those asked only 4% offer groceries pre-arrival within their PMS, 27% outside their PMS and 50% do not currently offer it.
At the base level, individual owners who self-manage locally can structure these arrangements on and offline, but this is often more a service than a significant profit line and often loved by guests especially if it has a personal touch.
However, imagine a manager with 300 properties spread over a 30 miles radius and there are major challenges: Working with local suppliers needs sophisticated data exchange systems and well managed logistics for delivery within very short time scales. Imagine 200 of the 300 properties requiring grocery packs that have different components and all delivered over a 5-6 hour period on a Saturday.
The only way to achieve this is to preplan for delivery with the cleaning teams and requires prepackaging, budgeting and forecasting. This precludes finely tailored packages. If the cleaning is subcontracted to multiple businesses then the logistics are even more complex.
Many of the problems with supplying these key services (e.g groceries) lie in the ability to provide them in less urban areas. Local shops are not set up for creation of tailored packages, they need supply forecasts and have their own business demons. Supermarkets could support this with their delivery schemes, but this needs well defined delivery times and with so much remote entry and wildly differing guest arrival times, would be rather difficult to implement.
Then there is the guest. There is a wide range of likes and dislikes: vegan, vegetarian, gluten free, packaging, brand love, quantities, pricing and more. Give somebody a choice and often they want choice plus! It could be better to buy this all before a guest's departure and for guests to take it with them. Flights, car space etc would be problems and the perception of great service flies out the door.
Already the logistical permutations are significant and like most industries, it needs an economy of scale. 20 properties booking out at many thousands of dollars per week allows extra margins and more personal service, those managers on finer margins are challenged to reproduce such levels of service and incremental business margin.
Some companies do use supply of hampers for every guest as part of their luxury brand promotion, but their booking margins allow this luxury but its receives a warm welcome!
Many booking systems allow extras/services, so on a small scale it's easy to automate. Provision of all these little extras goes a long way to enhancing a managers brand of course, but this is best served in the brands own name not an OTA's even if it were possible.
Mums in particular love this sort of thing and it's often talked about on sites such as MumsNet.
Losing the local experience!
With over the 1m+ properties spread across the globe how easy would it be for HomeAway for example to implement tailored owner and manager services into their checkout?
On the face of it, technically easy to create lists and billable extras that can have a margin extracted on addition at checkout. As shown above however the permutations are too great, the synchronizations with hundreds of systems complex and the danger of local personal service failure could seriously damage the reputation of their business (further). This will keep the KISS process in place.
Large scale global supply structures can work of course, but not everybody wants a Domino's pizza on arrival. The OTA's use partnership API's to sell insurance, car hire, flights and mainstream global services and this requires large brand businesses relationships.  This provides seamless and well proven systems, but is hardly personal and the much vaunted "live like a local" experience becomes Starbucks delivered by Amazon. Big brands, "blandness and sameness" and hardly what the industry has been shouting about for the last 5 years!
Airbnb moved to selling personally organised tours which is dependent on third parties in each destination, but is scheduled after arrival and not an immediate concern upon entering the holiday home. The same could work for chains of spas or gyms of course but moving to mainstream VR groceries and personal detail, unless managed by a solid company that takes responsibility for the delivery and support is a non-starter, globally, right now.
The problem is not necessarily technology, its logistics and choice. The ideal solution is to deliver goods when a guest has arrived and is available to receive them and also bill them as they make these choices. Supermarkets already do this, but not as part of a cohesive international or even national structure with third parties and have wide ranging delivery slots.
Companies like Ocado in the UK could be a solution but they do not deliver everywhere and would need to schedule accurately close to guest arrival or with access to properties prior to arrival.
It seems some things are easy and could see global implementation providing they are supported by large commercial organisations but those with too many parameters, too much personalisation and truly local supply are a stretch too far right now.
The question on PMS systems is akin to complex pricing. It is needed within systems for those that go the extra mile, but for distribution to channels the permutations and supporting organisation is too complex and risky.
An opportunity?
A wise sage once said, "Out of chaos comes order." Perhaps the ability to personalise can elevate the direct booking opportunity over those seen on OTA's and create new niches! Imagine…….
http://hamperwitheverystay.com/
I know just the company to run the platform!
Have  a great rental week!
Comments