We are concerned for the welfare of our industry and the need to differentiate the market sectors and avoid being a commodity-based business. This an explanation why changes in marketing could commoditize the traditional market and see dangers ahead with even greater search and brand dominance.
Online travel agents (OTAs) may have a booking dominance of 70%+ in a few years
We have recently been seeing quotes that anticipate OTA (Online Travel Agent) booking dominance of 70%+ in a few years! True or Not? This report from the European Commission as far back as Q1 2016 shows over 40% market share for OTAs in the hotel sector. This Credit Suisse Report covers many aspects of OTA, growth, and penetration and is aligned with the European commission's report. There are lots of reports and most seem to indicate a hotel market between 40% and 50% OTA penetration. Rentals now find themselves in this situation.
This quote from Phocuswright illustrates the OTAs anticipated growth:
The OTAs are crushing it. They are growing much faster than the U.S. hotel market. In fact, 2016 was the first year when OTA lodging bookings in the U.S. exceeded total hotel website gross bookings. And they're growing even faster overseas in the more fragmented hotel markets of Europe, Asia and elsewhere. Such aggregation of demand among two major players means enormous leverage at the negotiating table.
Is this a self-fulfilling prophecy for rentals and hotels or just the modern marketing machine? The corporations that are beginning to dominate this marketing space and according to the industry press, they see this growth as inevitable.  Is this because the big businesses are US based or the press making global announcements are US based? The US has much less inventory that Europe, so is the information power curve misaligned or is it because their crystal ball has a better lens?
Is the term "vacation rental" becoming invisible in this OTA space?
Vacation Rentals is a true US term and like many US words, has a habit of being exported. This is a Google Trend snapshot in the travel sector for the term "Vacation Rentals". Despite the huge growth in this sector, VR is not a more popular search term.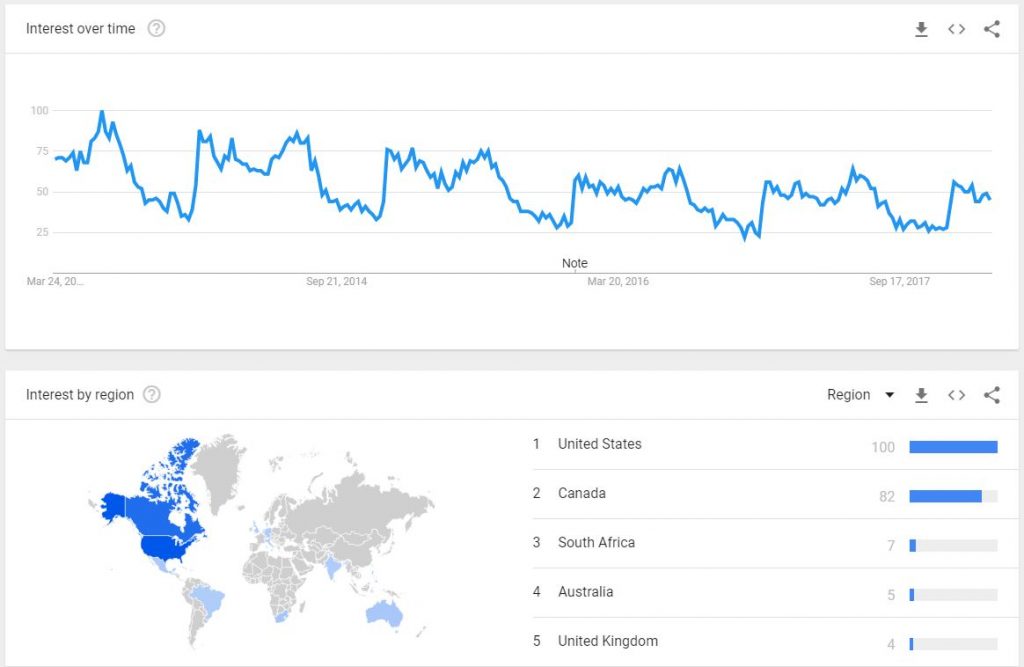 The collision of urban and regional inventory on OTAs is creating guest expectations that cannot be matched by all types of suppliers. Airbnb with its original sharing approach and "live like a local", opened up new vistas, new business models and caused a whole heap of residential, local and governmental concerns.
Soon the sharing community proved that full accommodation rentals and a pure investment approach to the business could be lucrative. Now with over 4m listings and 600K+ hosts, it is changing the face of cities. This is the Urban market and competes with hotels and serviced apartments. Booking.com and metasearch are also aggressively chasing this sector.
At the time of writing, we see over 53,000 rentals in London of which 53% are full properties. This total compares to approximately 45% of all the traditional rentals throughout the whole of UK, marketed by managers and owners. That's 176 properties per sq km in London compared to less than 0.5 traditional rentals per sq.km throughout the whole of the UK.
OTA properties are increasingly less like vacation rentals
Traditional vacation rentals, tend to be a second family home and often not run as maximum profit enterprises, but just to "wash its face".  Airbnb has now moved into this space with integrated inventory from managers and has adopted B&B's, introduced Airbnb Plus, bought luxuryretreats.com and more. They are combining inventory types under one banner and model. They almost certainly need guests to have one name and one term within a single platform however and to make the supply consistent.  Airbnb is doing this with it polarising brands.
As an industry, however, a simple overarching term is needed for the corporations to focus on. It makes marketing easier and it allows for commoditization and stops differentiation, reducing peripheral competition.
"I stayed in an Airbnb"
How often have you heard this? No mention of the owner, the name of the property or anything else. This is generally because its a city apartment stay, where anonymity is part of the game, often on the part of the owner!
Regional Rentals are a different proposition, they are distinctive and personal and generally legal, but when did you hear anybody say "I stayed in a Booking.com or a HomeAway?" The city stay is trending to micro-hotels, a no-brand space and is generally run for pure income purposes. It is definitely a commodity where urban stays are considered and space and where dynamic pricing is more evident. Airbnb has a 100% penetration of its own OTA  brand! Maybe an odd statement, but Airbnb has created its own dominant space.
The local, regional, personal service with longer stays and a less micro-hotel approach, dilutes this potential brand development of Airbnb and other OTAs. The inventory comes with no end of data issues and restrictions and properties are not always run for pure maximized income. Guests more importantly become frustrated as they do not understand the micro-economics and practicalities of Regional Rentals. But to make these large platforms work they need consistency across their offering and allowing a thousand different permutations affect the guest's journey and brand perception.
Airbnb has, of course, has seen a significant rise in interest, shown below, but will it plateau and does it need to harness more lucrative regional rentals and so market these more effectively?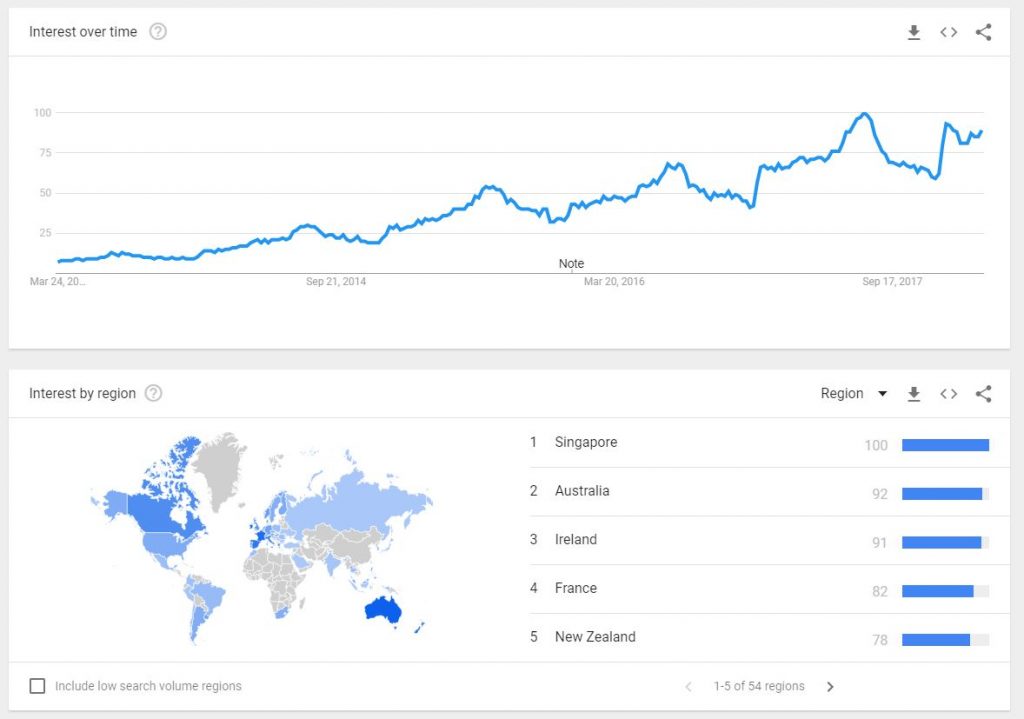 Renaming the market segments
Guests are the most important part of the business and it is easy to ignore this when under management pressures. But supply is at the opposite end of this chain. We do not want to see all properties shoehorned into a single generic search term and commoditized.
The public anticipation is driven by corporate online promises and therefore regional inventory managers are often suffering from unacceptable booking terms being applied, as listing sites transition to e-commerce businesses.  It's easy to book a property for one night, cheaply, but impossible to make it work practically across the traditional regional market.
"Short Term Rentals"
Urban accommodation is trending to a "micro-hotel", short stay affair and is suited to simple pricing, increased opportunity for last minute booking, all year around opportunity. This sector is increasingly called Short Term Rentals (STR) and guided by OTAs.  The industry leader in quoted volume is Airbnb. It is supported by an ever-growing number of local key holding, management and booking businesses relying only on Airbnb as their source of business. (Dangerous ground as the 60 and 90-day booking rules have shown, however).
Booking.com, the powerhouse of hotels have also made it their ambition to compete in this space in their drive to increase rental volumes. Check their website these days and you will see thousands of city apartments and more "vacation rentals", but they are actually called "holiday homes".
Again the rules and terms are often wildly different between these two market segments. But the actual descriptive markets and even property names are being lost and guests are fooled into believing all marketing messages apply to all bookings and properties. Listing all these together also merges the different accommodation into the same search space and continually reduces guest awareness of the specific segments.
OTAs need to simplify the search. Here's the current state of naming:
The industry terms can be confusing with a plethora of category names and these are just in English:
Short Term Rentals
Holiday Rentals
Vacation Rentals
Self-Catering
Holiday Homes
Holiday Lettings
Villa holidays
Holiday apartments
Short Stay Rentals
Airbnb (it's almost like a Hoover now)
This chart compares a few of the popular ones. We suspect holiday homes also include people looking to buy second homes too. But the trends are the same despite industry growth. Static!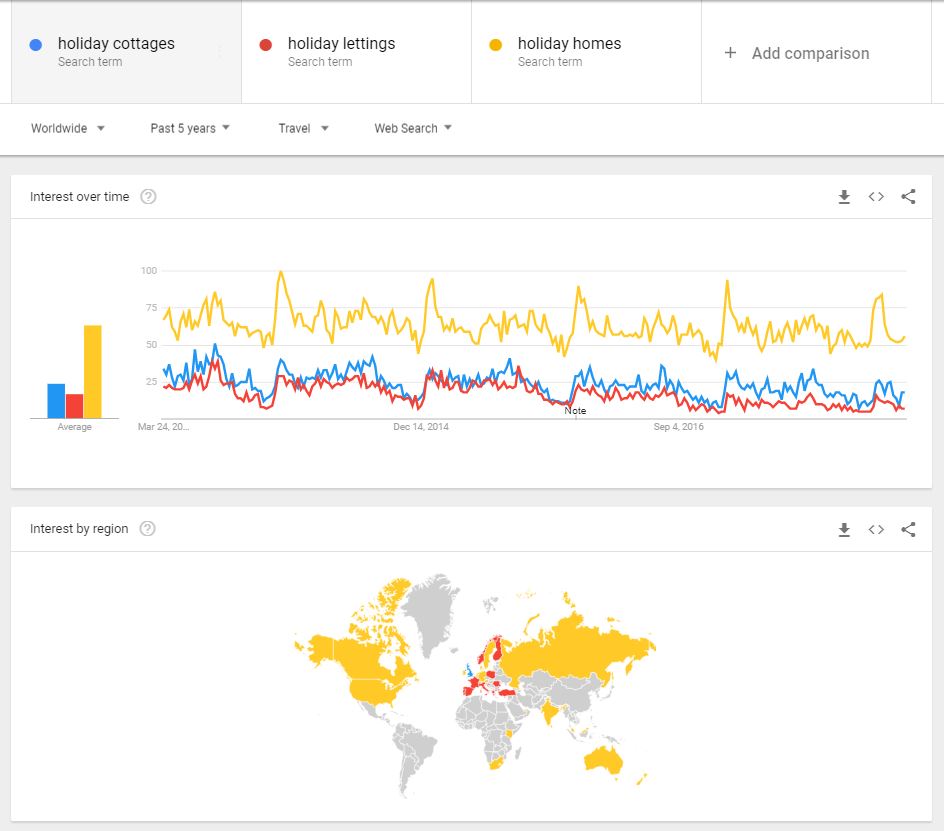 OTAs must recognize the need to harmonize terms, to simplify their lives and create a simple sales funnel. This needs to be addressed equally by the owners and managers as well rather than see an entire industry be swallowed whole by the marketing machines who will decide the primary industry names.  The danger is they will own the short number of terms for SEO dominance purposes and build this nomenclature into their marketing messages. Currently, the different terms make their lives complex and there are too many long tail terms that see leakage at the top of the search funnel.
Traditional regional accommodation, where all this started, cottages, villas and the like, out of cities, by lakes, on the seaside, in the forest, etc are known in the US as "vacation rentals" and increasingly so in Europe, but these are in danger of being swallowed into terms such as "Short Term Rentals" (STR's) or other generic terms, possibly Short Stay Rentals (SSR). You need to wonder whether this is by design, or not, but this approach simplifies the overview of corporations where all is bookable online and each property is treated as a commodity only differentiated by the photos, amenities, and reviews. Already names of properties and any distinctive elements are being removed.
The current state of search filter terms in 2018
The big companies still use a more granular approach, but change is in the air!
Booking.com has a filter "Holiday Homes", which make sense, but also has thousands of apartments, which can also be holiday homes.  They do not mention vacation rentals even in the USA. Neither do they mention Cottages, a popular UK term or any other specific rental group.
HomeAway has a granular filter for property types, but their title tags reveal the focus: In Cornwall its: "Vacation Rentals, Cottage Rentals" in Florida its "Vacation Rentals, Condo Rentals", but no overarching generic type, just HomeAway. Dotcom is "Vacation Rentals, Beach Houses, Cabins & More" Dotco.uk is "Holiday Lettings, Villas, Apartments & Cottages", dot.it is "Annunci Case Vacanza, Appartamenti in affitto". They are covering all bases but how complex!
Airbnb, its own brand, focuses on a more generic term: "Houses for Rent in xxxx" or "Flats for rent on xxxx" which shows a much more generic approach and also hits long-term residential letting searches and ignores the specific country terms.
Keyword funnel based on search:
Almost certainly the large businesses may like to affect keyword decision making processes in the future to a) simplify their lives and b) dominate organic search and make PPC prohibitory for smaller users, wiping out long tail terms in the process.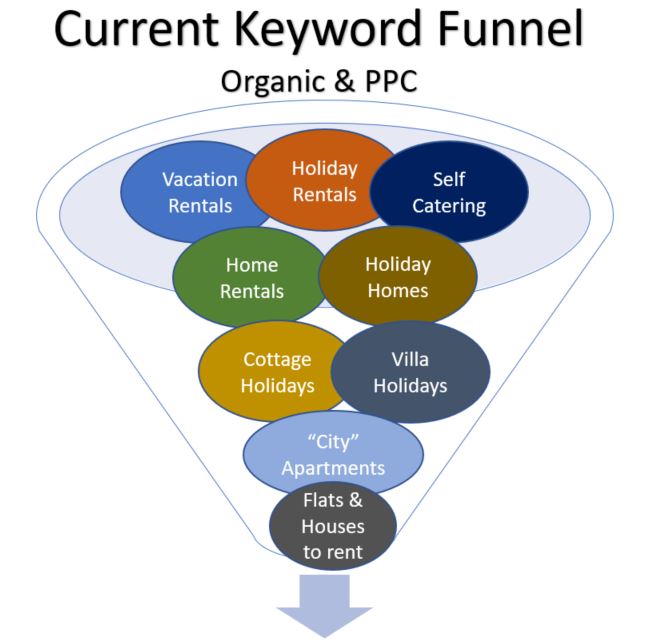 Urban Rentals & Regional Rentals
With more people talking about STRs perhaps accommodation outside cities should be called Regional (Vacation) Rentals (RR) and city micro-hotel accommodation as UrbanRentals (UR). This does not differentiate at a granular level per type of property, but in the press, conferences and the written word it will help differentiate markets, statistics, trends and polarise the aspects of each in the guest's minds.

Differentiating the context will make a big difference to those in "Regional Rentals"
Ask yourself why the focus has been on cities, shorts stays, free cancellations, cheaper pricing? The reason is that the guest understandably wants this and has been enforced by design or accident through a blurring of the lines and powerful OTA marketing. Guests now expect micro-hotel experience in a cottage in the highlands of Scotland or a chalet on a Lake in Finland, hundreds of miles from anywhere. It is often simply not possible and not wanted by owners (let's not forget the owners!).
Guests now expect a micro-hotel experience in a cottage in the highlands of Scotland or a chalet on a Lake in Finland, hundreds of miles from anywhere
Urban Rentals (UR) vs Regional Rentals (RR)
Urban Rental visits tend to be a short stay and guest returns the following year are in single digit %'s. OTAs know this and are the city powerhouses of marketing. It's questionable whether re-marketing to an OTA client is worth the extensive effort as these guests as they are hammered night and day by the OTAs for different destinations and for repeat bookings in different accommodation.
A great brand and word of mouth referrals can bring new clients, smart pricing and clever use of OTA's does work and should not be ignored. These clients are worth so much more whereas price only transient clients are valueless.
True Regional Rentals often see a much higher return of visitors (some quote 40% plus). The awareness of alternative accommodation has been born out of global marketing and these guests are also not always on vacation, they can be on business, visiting relatives or want to work away for extended periods. These guests are worth their weight in gold as they know the rules, understand the issues and appreciate that these are second family homes and may not be run purely to make money. They do of course have high expectations and owners and managers need to address this, but as they tend to be higher priced, see longer stays and need more interaction prior to booking, then it is a much better option and target audience. OTA's would be well advised to recognize this.
We would say Airbnb and Booking.com are Urban Rental OTAs and HomeAway is a Regional Rental OTA. We think all OTAs in the old "vacation rental" space could be categorized by these terms and this would focus a guests mind allowing them to differentiate the experience and commercial challenges each sector faces offering them accommodation.
Be resilient keep your local specific terms
Those in Urban Rentals are the most at risk as the hotel & apartment worlds merge. Regional Rentals, however, should continue to adopt their own local specialist terms and ensure that these are used in all correspondence, local organizations, websites, listings and more.
This polarisation and defensive position will affect OTA spend and allow niche terms and destinations to continue to focus on both historic and future opportunities. The use of local and more descriptive terms (cottage, historic houses etc) will maintain differentials and reduce commoditization. Avoid becoming generic, be distinctive!
Comments