It's Showtime! We want to demonstrate how it's done, and we are going live!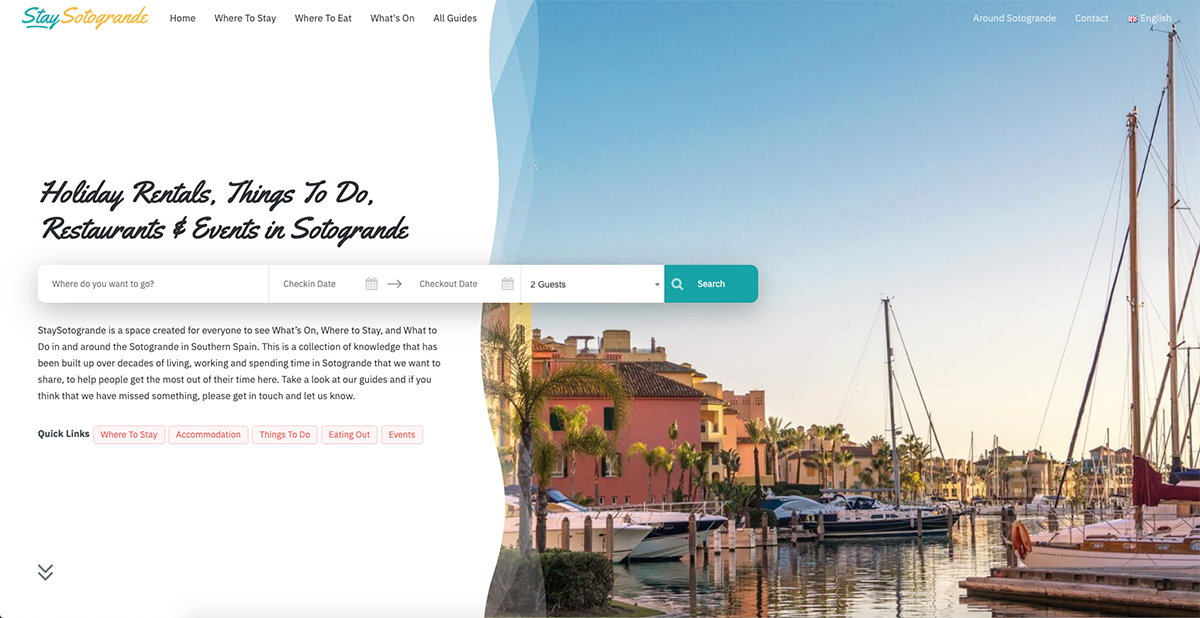 As a software company with ex-managers and property owners at the company helm, our goal has always been to provide tools to managers that would align with their business model.

This is quite the opposite of many software providers that only work if the business changes its model to fit the software product that has been developed. The problem is that every business is slightly different which means that there are thousands of edge cases that frustrate both managers and software companies alike.
However, we have been able to solve these problems for many managers who use our systems or a combination of supply tools and businesses that we integrate with.
But there is much more to running a successful business than just adopting software and we are acutely aware of the increasing complexity within the industry. This has led us to where we are now, proving our worth with a real-life example.
Remember, there is no Golden Egg!
Even if the OTAs (Online Travel Agents like Airbnb, HomeAway & Booking.com) would have you believe that it is as straightforward as list and book, the once simple holiday rental world has been turned upside down. There is an endless number of complex tasks that were once never required and these increasingly involve technology along with work that is often outside the skill set of the average person!  This has spawned a multitude of "expert" support services and increased the need for businesses to expand their horizons.
But, how valuable are these services, what exactly is needed and how effective are they in a "real world" situation?
There is no perfect answer of course, but developing a plan that provides maximum margin opportunity and greatest efficiencies, whilst improving brand and goodwill are paramount to its long term success.
Our Showcase Destination
Over the next few months, we will be developing our own, newly formed Joint Venture business (Tallis Travel Ltd), implementing and testing several systems, creating our own marketing strategy and working at every level of the business.
The quintessential elements of our approach are to work with:
A top quality management business (our JV partner), WCSBespoke,
Other integrated software companies (more details below),
Local suppliers, and, last but not least,
Create our own direct marketing for the destination itself.
Our success will be measured by :
Income generation,
Guest and owner satisfaction,
Google search positions,
% of direct bookings vs OTAs.
Our objectives are to:
Become the pre-eminent and most successful end to end holiday property management and rentals company in this destination, Sotogrande in Andalucia, Spain,
Demonstrate how all systems can work together, saving time and financial resources.
The Prerequisites of Excellence in Management
The quality of the on-the-ground service delivery to property owners, rentals and other guests makes or breaks a holiday. Once you factor in the commercial side of any rental bookings, efficiencies in terms of the cost to serve, are front and centre. For a holiday property manager, the cost of setting up a new owner and property is extensive, so client and inventory retention should be a high priority and this will only be achieved through excellence in operational delivery and efficient processes. The key areas that must be focused on are:
Professional Operational Management and Maintenance – Not just a quick check before arrival, but ongoing management throughout the year to keep the properties in perfect condition, installations serviced and ultimately reduce the ongoing maintenance costs

A "Super Team" – With the appropriate languages, expertise and local cultural know-how to get things done legally and correctly, but fast

Technology:

To drive operational efficiencies

To retain knowledge so that when staff move on, their knowledge does not go with them and onboarding any new team members is fast and comprehensive

Attention to Detail – Clients know what they like and a good Property Manager will pick these details up, making sure each guest is made to feel special and comes back

Quality of Service – Whether it is a high-end property or something more standard, quality of service within the framework of the booking requirements should never be compromised

Local Reputation – Client care and working with honesty and transparency are fundamental in ensuring your clients and local suppliers become your biggest advocates and source of new properties
Launch of the Showcase (March to June 2019)
What have we done so far and where we are going.
Stage 1: Foundations – Benchmark, Admin Set-up, and Legalities (Completed)
Destination and competition assessment,

JV agreement terms and conditions,

Bank account and payment processing (Stripe, local bank, Revolut),

Develop a strategy for property acquisition, marketing, promotion,

Create owner messaging, pricing and documentation/agreements,

Site and Booking T&C's,

Create JV corporate site to explain relationships (

tallistravel.com

).
Stage 2: Go live – First Properties (Completed)
a) Preparing the support for growth
Create a website (StaySotogrande.com is an exclusive Rentivo design using WordPress with a fully customised and hard-coded features – we will release more info on this separately),
Integrate BMS (Booking Management Software) and Operational Management Software (a combination of Rentivo and Propierge), referred to as a full PMS (FPMS),
Subscribe to marketing channels and connect,
Create destination guides and apply SEO analysis to deployment,
Research and create info on What's on, What to do, Where to eat,
Rationalise pricing at a local level; test rate levels and promotions to fit the market; process the first bookings,
Validate operational processes with the first bookings,
Select marketing channels (OTAs, theme-based platforms, luxury specialist agents),
Establish social media channels.
b) List and start distributing properties
Onboarding owners and populating FPMS and websites,
Distribute inventory to channels via Rentivo's direct connections and Rentals

U

nited for extended exposure,
Negotiate contracts with Specialist Agents,
Connection of rate management tool Beyond Pricing to listings in Rentals United.
Stage 3: Launch Website – StaySotogrande.com (Completed)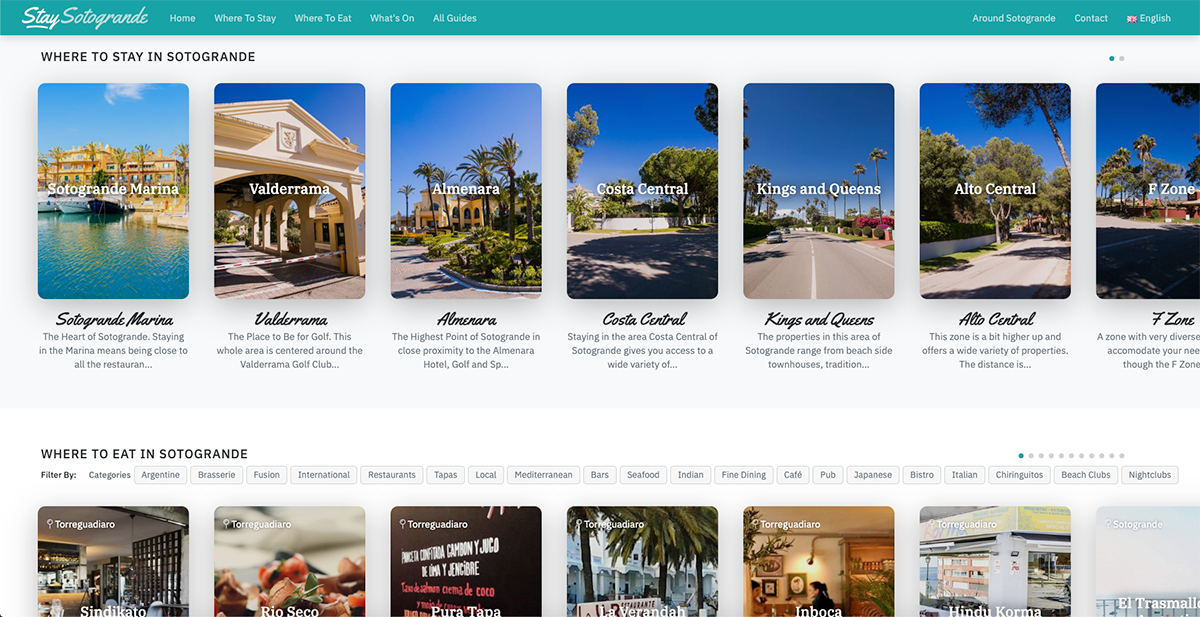 Destination site being advertised to B2C and B2B lists to create momentum,
Start of the social media campaigns,
Start approaching other owners with the business model and approach,
Launch of the Guest management app (Hello Here) in time for the peak season, a way to upsell guests services and be a mirror image of the destination site for What's On In & Around Sotogrande.
Stage 4: Iterations & Development (Underway)
Increase inventory at the various rate levels to cover a broader spectrum of the audience,
Refine marketing,
Increase distribution selectively,
Work on site link popularity,
Increase social exposure and initiate blog,
Review and refine the guest experience and website flow,
Add local business incentives.
We are only at the very beginning of our journey so if you would like to keep up to date with our progress, you will find all the latest news in our monthly newsletter so make sure you subscribe.
Comments