This site came onto our radar after HomeAway customers flagged their property as being listed:


Company overview
In December 2015 Tansler won the General Catalyst Award for Travel Innovation and The Most Innovative Emerging Company at the Phocuswright Innovation Summit with an Auction site for Vacation rentals. The overriding drivers for guests are: the commentary of "Save time. Save money. Haggle free" in addition to their site strapline "Their Place Your Price". They are pitching again next month for more awards.
http://www.arda.org/arda/news-information/blogs.aspx?blogid=2354&id=5451
The business had seed funding of $800k in 2013 from Karlani capital and a further $1.3m from a number of angel investors including Ken Hamlet, Former CEO of Holiday Inn® Hotels; and B Anthony (Tony) Isaac, extended stay pioneer and co-founder of Lodgeworks. Total raised to-date is $2.1m.
Tansler is an anagram of Rentals and claims a patent-pending process that enables consumers to set their price, choose multiple homes and submit one binding offer. Owners/Managers compete for the booking through a 24-hour 'reverse auction' and the first one to accept the offer ends the auction and confirms the reservation. This new approach claims to save consumers 10 to 50 per cent on more than 500,000 rentals in 150+ countries worldwide.
Jeremy Bernard, CEO and founder said: "While it takes minutes to book a flight or hotel, it takes hours and sometimes days of emailing, haggling, and waiting to book a vacation rental, and that's unacceptable"
"At Tansler, we set out to improve the process for both sides of the transaction. The result is that owners/managers are delighted to receive the entire, non-refundable payment at the time of booking, while the consumer enjoys big savings and quick booking."
The founder's history from Crunchbase:
Jeremy Bernard is the CEO and Founder of Tansler. Jeremy is a serial entrepreneur with over 20 years of experience conceiving and successfully executing multi-million dollar businesses across tech and real estate. Prior to launching Tansler, Jeremy was a partner and principal investor in several opportunistic real estate projects in NYC and Las Vegas. Before that, Jeremy was the CEO and Founder of Hypnotic.com. – a pioneering internet company that, back in 1998, streamed user-generated short-form video content. Hypnotic also produced several feature films including The Bourne Identity and popular branded content campaigns including Reebok's Terry Tate, Office Linebacker series.
The site launched December 2015.
Guest process
Guests can use a search by location with dates and has a standard mapping facility. The difference with this site is that you can add your own price you are prepared to pay. Other sites allow a filter by price, which then shows properties within your budget based on standard tariffs and special offers.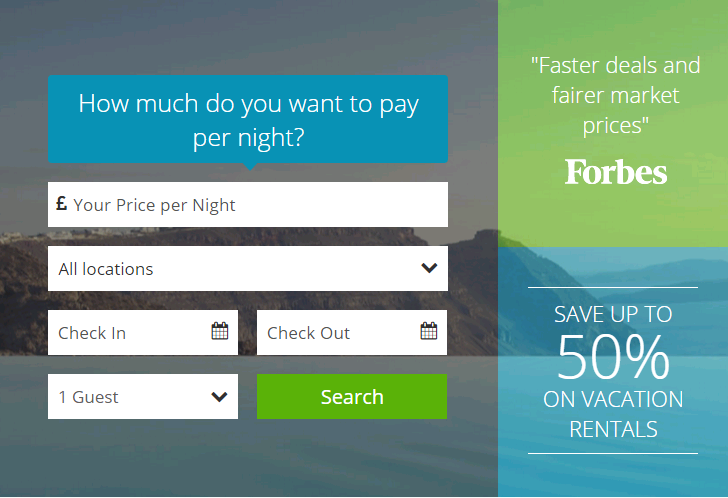 In the example above the site quotes in £Sterling as we are a UK business and it has identified our location, we ran this through some proxies and USD and EU are displayed:
NOTE:  The FAQ section states
Can I Pay With Any Currency?  We currently support only US dollars in our transactions and payments. We plan to add more currencies in the future, and in the meantime, renters can view property prices in multiple currencies to help them gauge prices in their local currency.
With many start-ups they will need to focus on specific destinations to avoid significant cash burn and Tansler seems no different with the desktop version and we can see from the drop list some of the key areas are US (it's a US company) and others are Spain and Italian cities, presumably the non-US focus.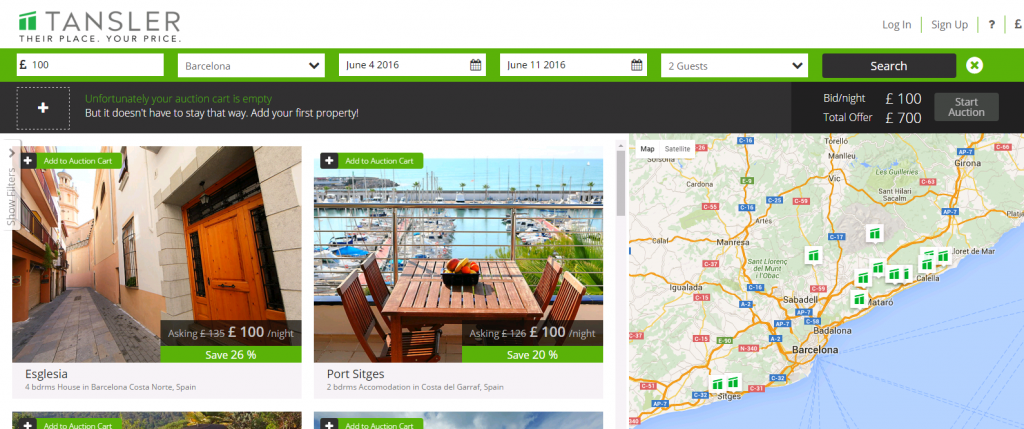 At £100 per night in Barcelona in June we were offered 3 pages, with 14 per page = 42 properties, the largest discount based on the price we were offering was this property if the price was accepted.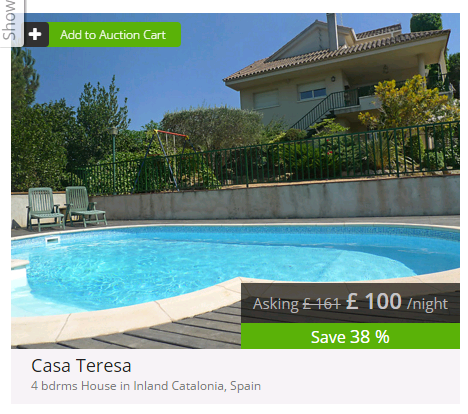 Reducing our budget to £50 reduced the display to 28 properties and up to £200, just six properties.
NOTE: On clicking to page two we noted that the number of pages increased to 297. 

On clicking on page 297, the map relocates to the US and flags Florida. Most of these properties seem to be in the US, example shown below, despite the Barcelona search. We assume this is a bug and will be rectified and is not an uncommon browser issue.

We selected Casa Teresa shown above to get a flavour for the display information: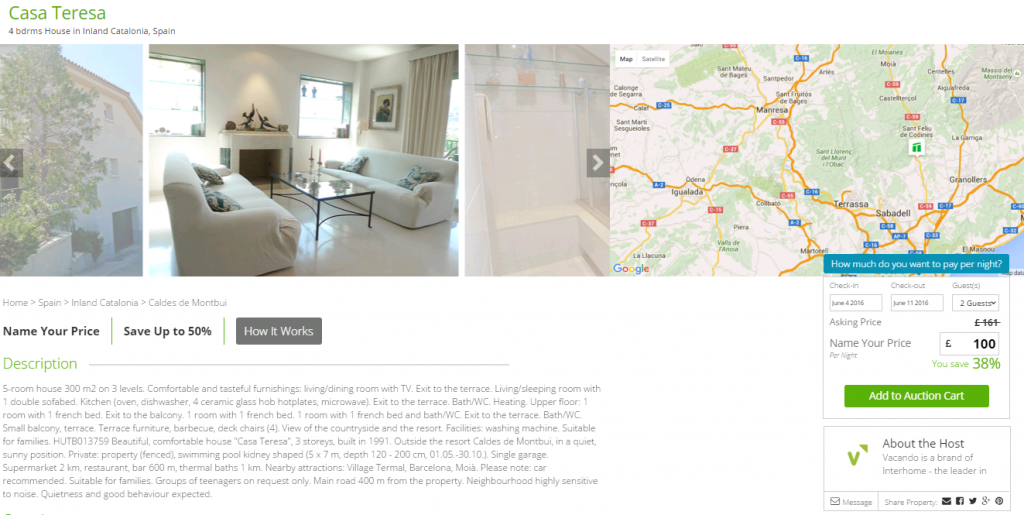 This display is fairly standard, photos are 340 x 255px and 13 in number.
NOTE: Some properties we checked had very slow load times and a few images we inspected of several mb's in size. We are assuming the system does not shrink photo file sizes from independent uploads, but have not checked.
Descriptions and date appear to be imported for this property from its supplier, Vacando (Interhome).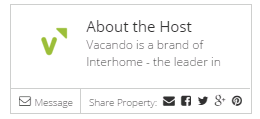 The property may also be found on the following site, distributed from Interhome. We checked these for price comparison and there is little difference.
http://www.interhome.com/spain/inland-catalonia/caldes-de-montbui/holiday-house-casa-teresa-es2825.200.1/ -EU1437
http://www.atraveo.co.uk/986245 – EU1437
http://www.en.e-domizil.ch/holiday-house/1677099/holiday-home-casa-teresa-caldes-de-montbui-province-of-barcelona-catalunya-spain/#costs CHF 1582
http://www.locasun.co.uk/259734-Rental-Villa-Caldes-de-Montbui.htm  – EU 1437
NOTE: We found the property on at least 30 other sites, all of which will have had a feed from Interhome (Vacando). Price parity seems apparent, with Casamundo being the cheapest in the list we reviewed.
One interesting HomeAway site shows the property twice, both look like they are on expensive subscriptions.

The primary one from Interhome:
https://www.homelidays.es/alojamiento/p2430335?flspusage=fl which came in at EU1437
and the second from TravelOpo
https://www.homelidays.es/alojamiento/p1943972?flspusage=fl which came in at EU1417 and forgets to mention the cash resort deposit of EU300

MAJOR NOTE: This does highlight the duplication on properties on the major platforms through distribution and price edging to get a booking by these secondary platforms unable to reach good direct search positions or contract properties directly. This is not connected to Tansler.
Assuming the selected property is of interest and the guest wishes to "barter", which essentially is what auction sites are, then the guest adds to the Auction Cart which is updated. You can continue to add more properties and then "Start the Auction"
At this point  a page is produced with your offer price and some clear messages, which pleased us, as many sites leave these to the checkout button and are found in T&C's.


All the homes selected appear on the page in this gap.

This leads to a payment screen and the offer is made to the owner who responds accordingly within the system.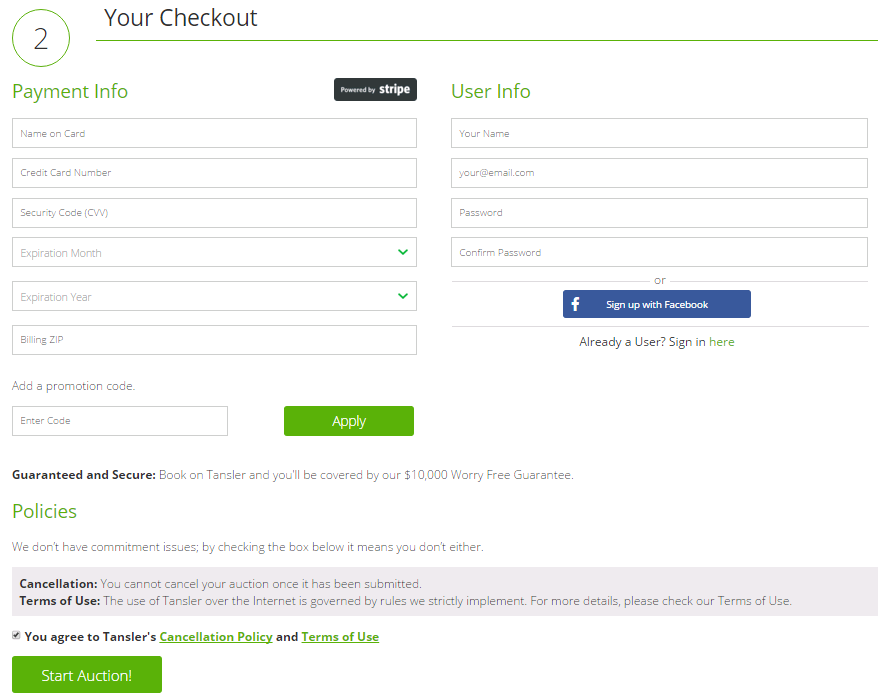 Once again T&C's need approval, and link to this section.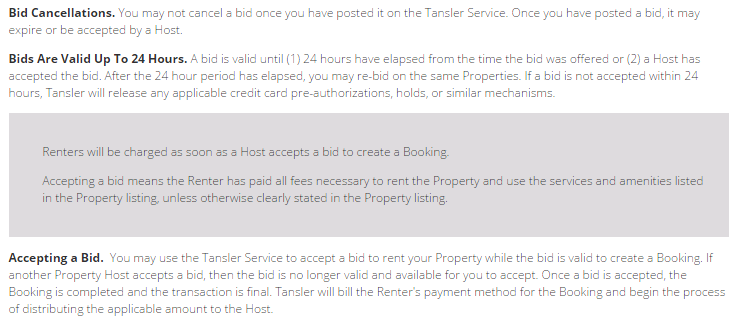 NOTE: We did not continue any further and owner/guest interaction screens are not available, however the communication is obviously mediated and the level of correspondence between guest and owner is limited due to the lack of booking fields for this, but the messaging system can be used.
Host process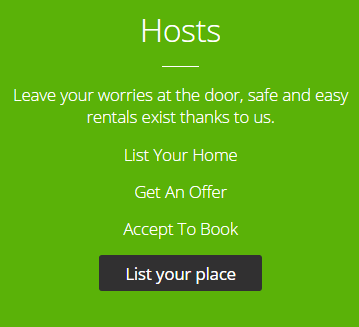 The following are some notes on the process.
Terms, we have read the Terms and Conditions and these we believe are the salient points. There are many disclaimers of course as this a "neutral marketplace".
You agree that we may display your Property listing in prominent locations on the Tansler Service at our sole discretion. This service is currently free of charge, but we reserve the right to charge for this service in the future.
Payment to Tansler shall be considered the same as payment to the Host. Hosts agree that once Tansler accepts payment from the Renter, the Host may not prevent a Renter's access to the Property according to the Booking for the reason that the Host has not yet received payment.
All Bookings are final. Bookings are non-cancellable, non-refundable, non-changeable, and non-transferable by the Renter or the Host. You will be charged for any Bookings you make, regardless of whether you use the Property. Tansler will not provide a credit to you for any unused Bookings.
Monetary transactions take place in U.S. dollars.
Tansler will initiate the remittance of the collected fees to Hosts within 48 hours of a Booking of their Property. 
Adding properties
NOTE: We did not use the initial proposal/system (image below) as it appears it is a scrape of existing sites, which contravenes other sites terms and conditions.  We are familiar with companies who do this and we assume that agreements have been made between these parties, in this case Airbnb is the example.

 A few spelling mistakes in the admin system (not uncommon either)

The following is the amenities list, fairly basic by VR standards.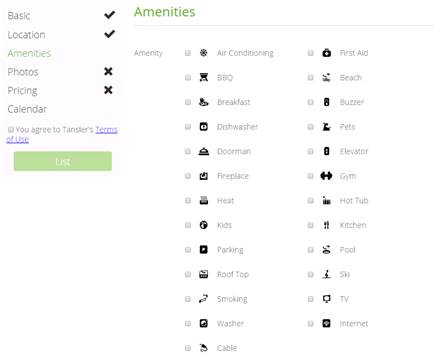 NOTE: After adding details on the front page, the location and the amenities and moving to the photo page we used the "Back" button to check something and lost all details entered and had to restart the process. 
MINOR NOTE: Adding photos could benefit from a timer, as the delay on uploading multiple properties made us think the site was not working.
Pricing
We all know pricing is one of the most important elements and the upload starts:

We were not entirely sure what "Base price of property" is as nearly all clients run on seasons or periods. Nomenclature on a global basis is necessary an we assumed a per/night price.
We added a per night number and a breakage deposit, then moved onto the calendar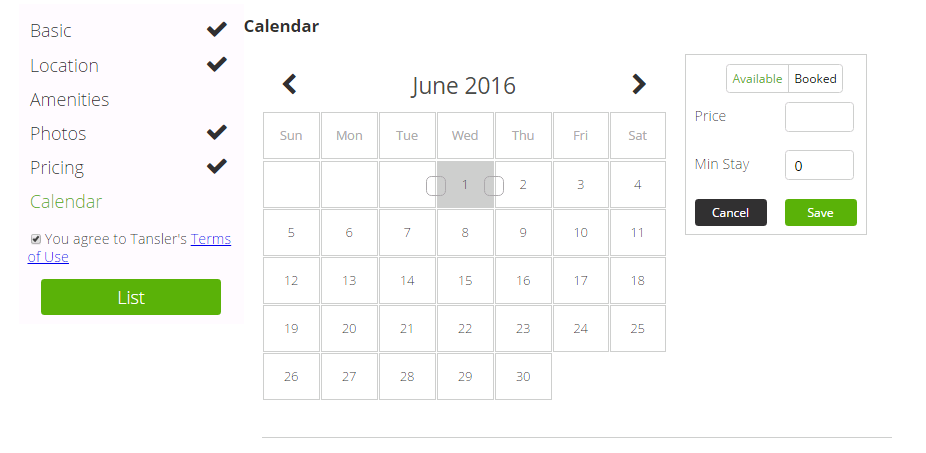 MAJOR NOTE:  We just gave up on this, at this point and we tried to block out calendars (an iCAL link would have saved a lot of time) which didn't work using the slider box.  Dates were entered to be blocked out and prices entered for various months, but no display or stored information was shown at this point. Teething problems we assume.
Also if an owner is expected to run month through month entering dates like this without season groups or periods it will not work. Airbnb model it may be akin to, but is simply too difficult without the speed and entry issues on Chrome being more efficient. A manager with volume properties would not use this and is for individual owners.  You may notice, although amenities were added, they were not ticked on the above image.
We then created a listing and went back to edit it. The amenities are added but are not ticked and the calendar showed entries, which we changed to 7 day minimums. The slider does not do partial rows very well however and was quite annoying and frustrating to use.
Profile
There is a profile section, aka Airbnb, which is displayed on next to the property advert.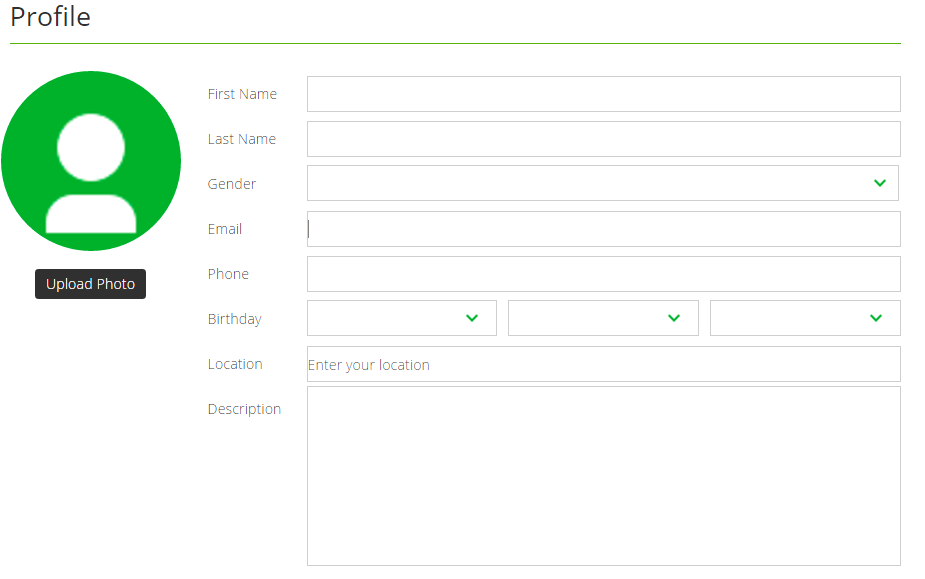 Online presence
As you can see from the lists of links above there are literally hundreds of sites competing for business. Nearly all rely on property feeds for inventory and hope to book sufficient based on volume, exposure and site drivers which for Tansler are a guest's desire to get a preferntial price.
The most significant metric is traffic and search presence. Tansler present themselves as an Auction site, their Title Tags: are: "Get Discounts on Vacation Rentals | Affordable Rentals at Tansler", "Bid now for vacation rentals"
Assuming keywords relate to commoditising vacation rentals and driving guests to name their price, search positions on these keywords below may be suitable for analysis:
We have chosen these and used Google.com for search position. We have used Vacation Rentals as the main over-riding rental term as this is a predominantly US site and in Europe other key words are used (holiday rentals/homes/self-catering etc.).
We have used Moz.com for these results: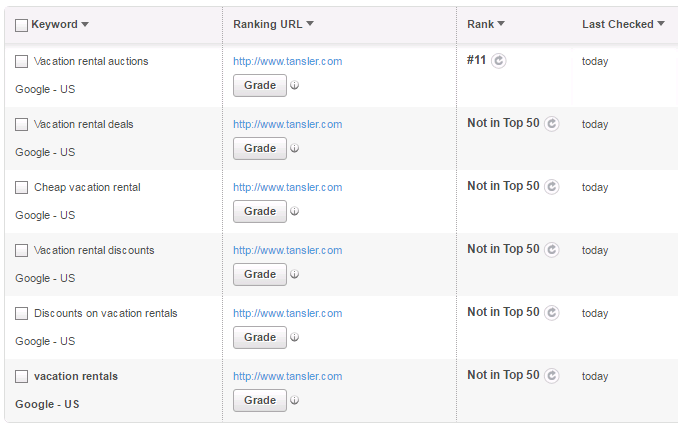 Top position was #11 for "Vacation rental auctions". We ran many other searches based on individual location tags and no pages were in the top 50. In reality of course this is related to how difficult it is to get key word ranking and how hence how many people search for it. This is the keyword difficulty chart also pulled from Moz. The lower the search volume the easier the placement.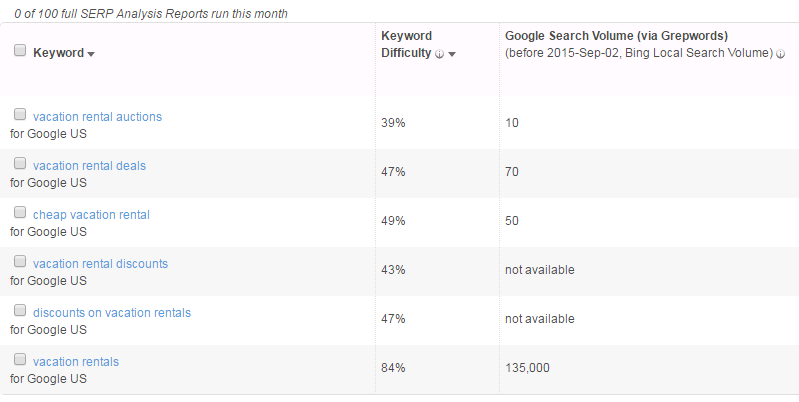 For those interested in page/domain authority and link metrics, this compares Tansler to Airbnb (who the press have compared them to over the last 2 years).
Tansler

Airbnb

Commercials
Tansler currently only takes payments for bookings in USD, which limits its reach and the exchange rate mechanisms for a booking payment are not clear. The original 2013 concept still holds true in their FAQ's.
It's free for owners to list a property on Tansler. Once a booking is completed, owners pay a service fee of 3% and renters pay a service fee of 6%. The 3%, the FAQ's say is to cover processing costs.
NOTE: The fee may appear small but a discount has been applied to secure a booking initially.
Guests get their card billed immediately upon booking acceptance and Tansler "will initiate remittance of the amount due to Hosts from a Booking within 48 hours". As the company uses Stripe and remits via banks, expect 10-14 days before payment.
This is somewhat similar to Airbnb except Airbnb payments are delayed until after arrival.
FAQ's
We often find interesting elements that are in the FAQ's but not elsewhere, we have extracted a few:
Email us anytime at 

[email protected]

or contact us via live chat between 9 a.m. and 5 p.m. Eastern Time
We will automatically block any messages that share private contact information before a booking has been completed.
Only one auction can run at a time
Renters pay a 6% service fee as part of each booking on Tansler to help us improve our service and ensure 24/7 customer service for all users.
Cleaning fees are always shown in the property descriptions but are not included in the renter's bid. Upon a successful booking, the host will provide instructions on how to pay the cleaning fee.
Tansler does not require renters to pay a security deposit on properties they book
Analysis
Conceptually auctions are nothing new and there are plenty of other more localised sites that have set up auctions and time-share is well known for this. Association with time-share is never a good thing as it highlights volume commodisation, with oversupply.
Tansler is actually a "Reverse Auction", not an "Auction". As Wikipedia explains:
A reverse auction is a type of auction in which the roles of buyer and seller are reversed. In an ordinary auction (also known as a forward auction), buyers compete to obtain a good or service by offering increasingly higher prices. In a reverse auction, the sellers compete to obtain business from the buyer and prices will typically decrease as the sellers underbid each other.
This is the fundamental proposition of the site, "Your Price, Their Place". This naturally assumes offering a fixed price per night to a number of properties which will result in an opportunity to secure a deal. The quoted savings are up to 50%.
To achieve traction the site will rely on volume inventory and Tansler quotes 500,000 properties available, although we struggled to find more than seven thousand world-wide. We did not search each region in detail however.
Technically the site has some way to go to allow manual upload of inventory from individual owners due to the inevitable complexities and current issues noted above. Managers, who are are expected to grow to over 60% of the market, will almost certainly not bother to upload and would rely on existing PMS's, channel managers and distribution mechanisms. Updating calendars and prices must be done by iCAL and/or channel feeds across multiple sites.
This leads to the inevitable need to work with sites that already host inventory or channel managers connected to PMS systems. Vacando (Interhome) is a supplier and one of the most prolific distributors of inventory as can be seen from the above url's.
Price & discount controls
The contracted asset manager and the owner is invariably the controller of the property prices and the micro-economics of the property size, mortgage, management fees, running costs and owner's financial requirements.  This will dictate the maximum discount unless the properties are leased on fixed rates, which is becoming more popular in city condo blocks.
These types businesses have more leeway than traditional VR properties, which still constitute the bulk of global inventory. Normally peak season prices are fixed and only discounted slightly. Out of season prices will therefore have a maximum discount before the costs outweigh the benefits of a booking, but repeat channel inventory/duplication may see higher prices if the site allows unfettered inventory import.
Anecdotally and from a number of our manager's commentary, out of season discounts max at 20% and this is often due to masked price rises, so effectively much less in reality.
The very nature of distribution will mean that channelling properties sees significant price increases as the property is re-distributed and the price increases can be significant as each channel adds a margin. We have seen over 60% price increases recently as one site pushes to another and onto a major OTA which then adds a guest fee. This is driving to meta-search territory.
Site property details
I am sure this has already been fed back, but vacation rentals are complex animals and each is unique and therefore they come with many online requirement and extras. Simple pricing, nightly rates, no extras, terms, amenities, security deposits, cleaning etc. need more thought.
Airbnb as they move into the professional arena have identified this as one of their own issues and are adapting quickly.
Supplier polarisation
Tansler is likely to polarise into a site with major inventory from
Channelled properties: These will be from super managers and agents (who have limited discounts), OTA's who seek extra exposure, but will have very complex data and booking arrangements with an owner.
A minority of inventory from owners who struggle to book their properties via the major listing sites or direct, which would indicate that perhaps this is not the best inventory.
Owners as a market segment as can be seen from recent commentary are generally very unhappy to have their homes being marketed as a commodity and discounted. We interviewed a few small managers and owners who see a reverse auction, where they discount heavily, as both unnecessary and extremely unwelcome.
One comment from a mid-sized manager:
Their web site tag line "Their place, your price" leaves a bad taste in my mouth.  I want my price not the guest's. There have been a number of similar ideas from people specialising in our market niche and I have never considered using them.
One comment does not stop a marketplace. However, the positioning of the brand is contentious to owners and very guest centric, which would indicate that the focus is automated manager inventory.
Benefits
The owner or managers gets paid before arrival, (provided the booking is an estimated 10 days prior to arrival) and the booking almost deals direct. There is a question over merchant of record as with all the aggregated sites who take payment.
The fees that are taken are less than many large OTA's (but price is discounted). These major sites do however have very great exposure and fixed prices with little negotiation and have made public that increased commissions are for increased marketing.
Summary
The site will need to see more technical development work and increased functionality and brand positioning to accommodate the owner market.
The business will also need a sizeable spend on search positioning and brand awareness.  With Google's removal of the right hand side ads, prices on PPC seem to have increased and this space may now be reserved for Google's own venture into accommodation.
Before this inventory needs increasing quickly, which we would expect to come from channelled properties. This inventory is likely to be fairly rigid on pricing "in season" and and supplied from companies currently seeking even more exposure.
These businesses are the habitual distributors basing bookings on pure volume and global reach, but have very limited discount options as resellers and no local or property knowledge.
Finally convincing a broad spectrum of owners to adopt an "auction" option, in the current climate, where they already feel that the OTA's are trying to create a VR commodity market themselves is a very tough ask indeed. The staff support infrastrucure to accommodate an owner centric model would also need to be substantial.
We expect any significant investment to push to a guests desire for a deal and channel suppliers whose unbooked inventory may be opportunistic and last minute.
References:
https://www.tnooz.com/article-tag/tansler/
https://www.crunchbase.com/organization/tansler
Note: We could not source the patent information using public libraries but is likely due to the registration information and our search criteria.
12th April 2016, Rentivo Site Review Team
Comments