Last month I was at an event happily chatting away to some managers,  networking and talking about the latest industry developments and upon finalising a great discussion with one of the managers, she handed me a business card. I had to hold in my shock for the contents I saw printed on the card.
*******@hotmail.com
It had a free ISP email address (hotmail.com) as the contact email for her business!
Why's this bad?
Her business was a fifteen property booking company and, presumably she was communicating with guests and owners all from her free internet provider's email.
I didn't quiz her about her email address, but if you are handing out business cards with a free email as the contact, I'd stab a guess that perhaps you just don't understand the importance of why you should not do this.
To name a few reasons; it's unprofessional, it does everything to counter guest trust, your ISP could shut it down on a whim, you don't and can't control the deliverability of your emails and I guarantee you are losing bookings if you are responding to your enquiries via an AOL/BT/Comcast email address. The biggest issue with using a free email is that it gives the impression to prospective guests that you are not serious about doing business.
So, before you print off your new business cards, or print some fresh decals for your cleaning and maintenance van, you might want to consider setting up your own email for the company.
The solution
Get your own company email address. We use Google Mail for all of our company email. We put our trust in the worlds largest email provider. (They give 30 day free trials, and then charge per user. It varies per country but it's about $4.50 per month).
All email sent via @rentivo.com  is handled and routed on Google's enormous network.
I'm going to show you how easy it is to set up.
During the registration process, you will be asked if you want to use an existing domain, or let Google register one for you. If  you already have a website up and running, chances are you won't need a new domain, so you can just verify your existing domain and use it within Google Mail.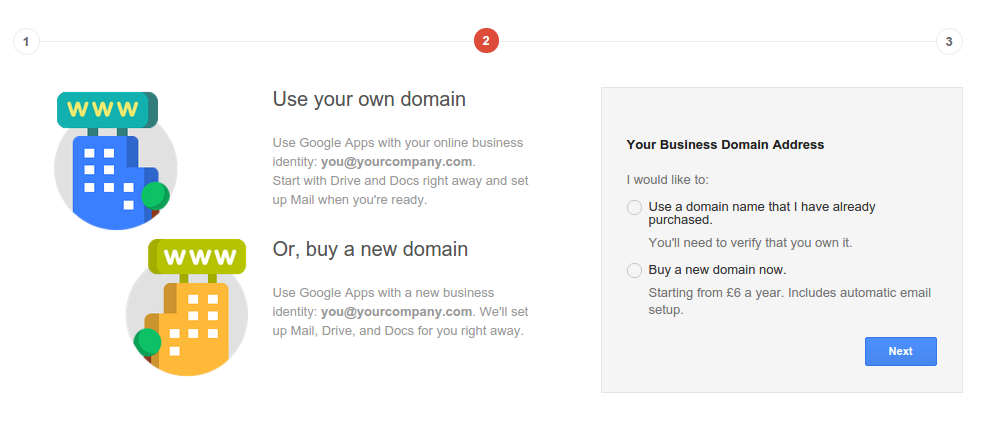 Step 2. Verify your domain
The domain verification is where you confirm that you control the domain to Google. This can be done in any number of ways, such as uploading a file to your website, adding a <meta> tag to your website or adding new DNS records.
I always prefer the DNS record addition because it's quicker.

Step 3. Add MX records for your Google Apps Domain
The way that mail is routed to the Google server's is through adding MX records to your domain. Don't worry if you feel this is too complex, essentially your domain, such as example.com has an "address book". The address book is your DNS and it says where all of your websites and mail should be routed. By adding MX records to your "address book", you are telling every email service out there that you expect incoming email to be sent to these particular servers.
Instructions per your domain host provider:
Create the following new MX records in this order. You may need to specify "MX" as the DNS record type.

Add the Google Apps MX records with the highest priority, which is the lowest number in the priority column. If your host allows only one MX record, enter ASPMX.L.GOOGLE.COM.
| Priority | Name | Value | HOST | ADDRESS | Destination |
| --- | --- | --- |
| | | |
| | | |
| | | |
| | | |
| | | |
Once you have saved your MX records, press the confirmation button in Google and they will do the quick scans to make sure that everything has been configured correctly and your mail is ready for sending.
Step 4: Wait
DNS updates can sometimes take a while. When you change your "address book" by adding a new record, servers from around the world need to be notified for updates. This process can take a few hours. In practice it's usually instant, but certain ISPs can take abnormally long to update.
Step 5. (Optional) Set up a custom mail login page.
When you set up your email on Google, you can log in to your email using http://mail.google.com/a/<yourdomain.com>
For example, we use http://mail.google.com/a/rentivo.com for our company login.
If you update your DNS "address book" you can use any domain you want. Personally, I like using mail.example.com so I navigate to the Admin center for custom URL and update the Gmail URL.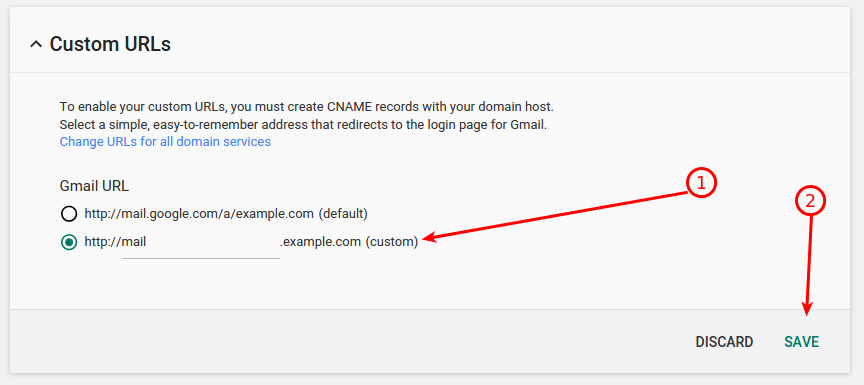 You then just need to add a CNAME record on your domain DNS provider to point to ghs.googlehosted.com

After you've hit save, you can then access your mail using:
http://gmail.yourdomain.com
That's it. You are now all set up to send and receive email through your Google Email Account.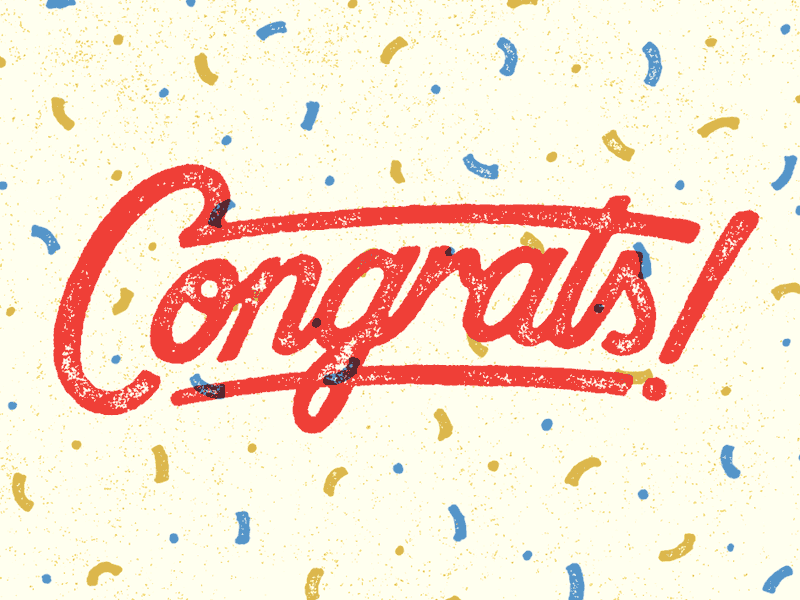 Frequently Asked Questions
This page will help you get up and running. It contains all of the FAQ on Gmail. 
– Yes you can use Outlook/Thunderbird/Apple Mail.  (I prefer using the Gmail client because you get some awesome plugins/addons).
– Yes you can syncronize email to your phone using the Gmail Account.
– Yes you can add multiple inboxes to a single Gmail login. For example, I have my personal email address [email protected], and I have support@ chris@ emails coming in. This is great if you already use Gmail and want to continue using your personal email address.
– The spam prevent tools on Google are insanely accurate. They help keep out fake emails perfectly.
Pro Tip
If you use the Gmail client and use Chrome/Firefox there are a number of fantastic plugins that you can use which integrate directly with your Gmail inbox. My personal favourite is YesWare!
YesWare is an integrated email tracking and analytics tool which helps improve your sales productivity by enabling template responses and reminders and mail merge tools.
You can create easy to edit canned responses for your rentals or other sales processes and quickly optimise your hand-crafted responses to guests.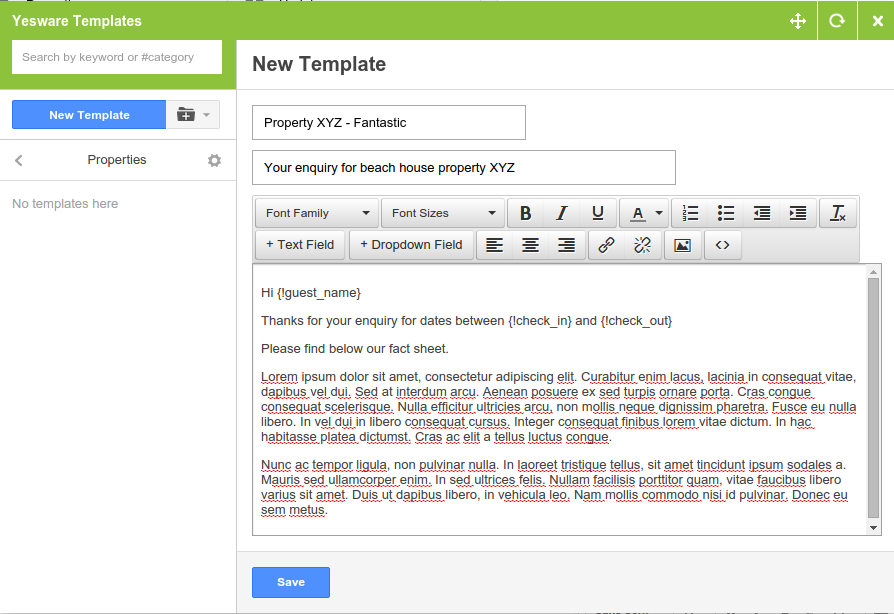 What's more, the built in YesWare tool let's you set reminders and follow-up emails that haven't been opened or replied to. We love this feature for tracking open rates on our emails and knowing if it's appropriate to follow up with an email or just let it sit for a few more days.
Comments