Nope, we aren't talking about crop circles but just as mysterious!
One our clients just asked a question of HomeAway's "Blue Statistics Circle" There is a big blue "Booking Statistic" circle above a search on a destination. This number changes based on dates selected.
76% booked?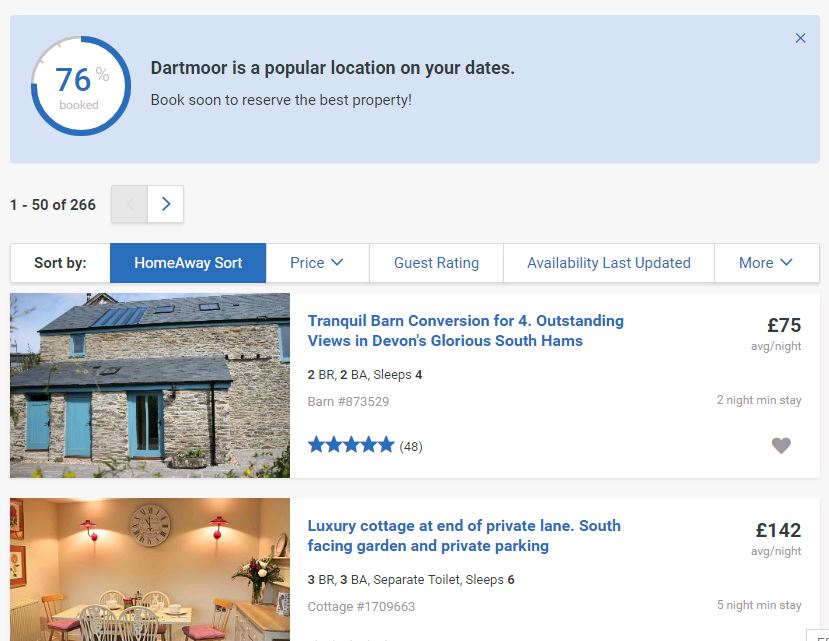 The search in question for November 2017 (long way off) and shows 266 properties and says 76% booked for Dartmoor. Even in the depths of winter (February 2017) it says 61%!
There are probably less than 150-180 properties in that region (they have extended the region for some reason ?Best Match). Local tourism stats and rate/calendars scrapers show 20% average in this month and so do all our partners numbers.
How is this calculated?
Is this a clever way of driving bookings and based on a real algorithm?
Is it the equivalent of BCOM's "last room booked 2 minutes ago, hurry"?
Is it based on the fact that 76% of these properties had at least one booking in a year?
August is the busiest period, so for this week we would expect almost 100% occupancy, which seems correct at 97%. There are however 28 places free, which must represent, based on my high school maths, about 1/30th of the total properties. 30 x 28=560 properties.
However if 24% equals 266 properties on the November search, then the full number must be closer to 1000 properties on Dartmoor! Getting a bit crowded now on the moors. Sir Arthur Conan Doyle would not be impressed.
Is this a ploy to increase bookings?
The guest apparently seemed to think it was going to be a hive of activity, rather than a cold, wet, dark moorland? Why the apparently, completely inaccurate numbers ~ with  no explanation?
All ideas welcomed?
Comments